31 January 2023
Avion Tourism Magazine celebrates its 20th birthday
A story within a story; that of the magazine and of Milan Bergamo Airport
Avion Tourism Magazine
, which was launched in 2003, immediately established itself as a free tourist publication that was practically one of a kind and exclusive in Italy. 20 years have passed since 2003 for both
Milan Bergamo Airport
, which has chosen to offer a free airport information service to its passengers, and for
Avion Tourism Magazine
, which was conceived not as a company house organ, but rather as an independent, specialised periodical.
Cover selection, Avion Tourism Magazine Special edition for Milan Bergamo Airport. Copyright © Sisterscom.com / Avion Tourism Magazine.
This significant anniversary gives us the opportunity to tell the story of the magazine from its very beginning up to today, sharing the experience of an emotional journey, a long voyage, exploring the content from the various issues and the developments that have kept it in line with the times while remaining constantly focused on its main objective of providing a free-press service, offering
tourist and airport information for passengers
in transit through the
airport
and in particular for those who over the last
20 years
have continued to choose to fly from
BGY
.
Avion Tourism Magazine
and
Milan Bergamo Airport
have, in fact, accompanied their readers and passengers worldwide, offering them a view of unique destinations, cultures, landscapes and traditions, encouraging passengers to explore new
destinations
and discover new travel experiences.

Aircraft apron at Milan Bergamo Airport​​​​​​​. Photo: Copyright © Sacbo
Parallel to the history of the magazine, we will also be looking back over the important
history of Milan Bergamo Airport
, which over the last 20 years has experienced a period of significant growth, continuing to expand the terminal to offer quality services and improve the experiences of its passengers, expanding the range of
destinations
and
airlines
and thus consolidating its position as one of the leading airports in Italy and Europe.
This long journey will be completed by a series of interviews with the people who, with their foresight, have contributed (either directly or indirectly) to the creation and publication of the 78 issues of Avion Tourism Magazine dedicated to Milan Bergamo Airport and, above all, have worked with devotion and passion over the last 20 years to creating a great and efficient airport.
Edited by editorial staff, Avion Tourism Magazine
Visual: Copyright © Sisterscom.com / Depositphotos
Milan Bergamo Airport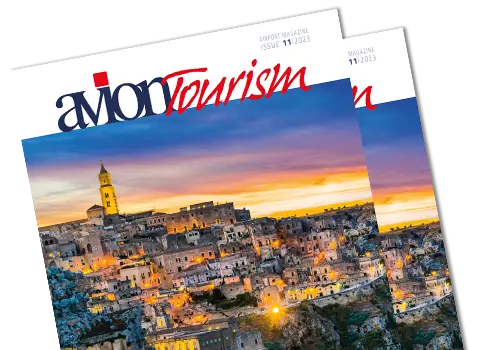 AVION TOURISM MAGAZINE
in digital version
On this issue: The World Heritage Sites of Basilicata and Puglia.