15 November 2023
Interview with Matteo Baù
Commercial Non-aviation Director at Milan Bergamo Airport
Mr. Baù, you began your professional career in the airport in 2003, and rapidly became Commercial Non-aviation Director. Tell us about the main activities that your job involves.
My work consists in the management and development of non-aeronautical activities for
Bergamo Airport
. Together with my team, we aim to obtain the best balance between the quality offered and the profitability of assets, in the belief that innovation, suitability of offer to customer type, and a careful choice of partners are fundamental elements for a successful commercial proposal. I believe it is important to have an open vision towards business, and to favour the development of new activities and ways to provide services. I feel that this is the only way to propose services that remain appealing and that are in line with the evolution of the market.
This does not apply exclusively to the
spaces inside the terminal
, the
food outlets
, the
duty-free
area and the
shops
, as n
on-aviation
covers all the activities in the airport aimed at serving passengers,
airlines
and operators, and therefore ranges from pure
real estate
, with the provision of offices and spaces for
handlers
or
courier
warehousing, to the development of models for the management of activities such as, for example, on-board refuelling or
general aviation
. It is a stimulating and extremely varied job in a field that is of strategic importance for airports, as it represents the most profitable business area.
Over 20 years, Milan Bergamo Airport has undergone significant structural works that have allowed for the development of airport travel retail, in which you have played a significant and leading role. Tell us about the evolution of retail outlets in the airport, and the prospects for future development.
Originally, the airport was not designed to handle the number of passengers that have chosen us over the years, or - more significantly - to offer the range of ancillary services that are an essential feature of modern airports. In a series of successive phases, we have developed the airport infrastructure and created a commercial offer that allows passengers to reach the gates with ease along an immersive, engaging and pleasant route. The gallery combines traditional retail outlets, where purchases are premeditated, such as newsagents and duty free, to shops that encourage impulse buying through a varied range of product types and price ranges. In this way, our commercial proposal is able to meet the desires and the budgets of each passenger.
We have also paid extensive attention to the offering of quality food and drink, where possible typical products from around Italy, which represents an excellent opportunity for foreign passengers, as well as to the range of food proposals from the various fast and slow bar and restaurant segments.
We are now proud to present our customers with a commercial offering that is considered one of the best in Europe, as certified by ACI World.
For the future, our plan is to constantly innovate both the retail and food & beverage formats together with leading international partners in the sector, and to also expand the non-aviation activities outside of the airport area, with the aim of diversifying and extending the range of SACBO's commercial activities. One example is the direct development of hotel accommodation, which is due to open in time for the Milan Cortina Winter Olympics.
Passengers want a travel experience that is easy, pleasant and comfortable, and airports provide a range of services that satisfy their expectations. What services are offered by Milan Bergamo Airport that are under your management?
I strongly believe that a quality airport offering must guarantee efficient operational performance, as well as a wide range of ancillary services that provide passengers with a comfortable and immersive travel experience. When passengers perceive increased quality in the airport customer journey, this also has a direct reflection on their willingness to spend, and therefore on the airport's capacity to produce profit.
We now offer a wide range of services, from the more traditional types, such as VIP lounges and fast-track lanes for security controls, to the more innovative forms, such as fast check-in or BGY Top. The first, through the check-in lounge, provides check-in services via a dedicated counter, avoiding queues, and the second is a personalised support service from parking to beneath the aircraft, and vice-versa. Particular attention has been focused on the design of the airport in terms of children's and entertainment areas, and even in the layout of the smoking areas, which are among the few in Italy to be open air.
Over the last 20 years, Avion Tourism Magazine has evolved in line with Milan Bergamo Airport and is now an html digital information tool that accompanies the passengers not only within the airport, but also during their flight and at their destination, as it can be accessed both online and offline. How important would it be for you to offer passengers information regarding the services provided by the airport, engaging with them even before they arrive at the airport?
Undoubtedly, one of the difficulties in marketing any airport is engaging with users in order to provide them information and propose the services we have mentioned. Passengers are customers of the
airlines
, who therefore have privileged channels of dialogue, while the
airport management company
only encounters them as they pass through the structure, without having any direct information regarding their identity. In this situation, and with the proven inclination of younger generations towards virtual interaction, it is fundamental that airports develop all possible digital channels in order to provide passengers with a complete airport experience that is tailor-made to their needs.
Avion Tourism Magazine
is undoubtedly an added service that can lend value to exclusive and digital interaction with users, but it can also service as a
digital point of access for passengers to the airport channels
. There are definitely many opportunities and technological tools available, but I believe that the revolution currently taking place has not yet achieved the technological passage necessary to create a new paradigm in the way that
airport services
can be provided.
AI is an emerging technology that has the potential to transform the aviation sector, and can be used to improve safety, efficiency and available services. Do you think that Milan Bergamo Airport may also, in the future, use this technology, in particular to personalise the experience of passengers according to their needs and preferences?
Artificial intelligence is one of the many technological tools available, and probably has the best possibility for development. It is currently used for operational safety and security applications, and in terms of the commercial sector, studies are under way for evolved customer care systems that would use this technology to provide automated information, but with a formidable level of reliability and empathy, limiting the range of enquiry to airport documentation, the regulations of the various entities involved, and airline procedures. It will also be possible to automatically propose commercial services correlated to the needs manifested by customers through generic requests for information. This is an imminent future step, and - something I am in favour of - a first pragmatic step towards an evolution in marketing that is increasingly profiled and even predictive, but for the moment, Bergamo Airport, and the airport sector in general, must still construct and consolidate a digital ecosystem, and develop methods of direct and large-scale interaction with customers that serve as a foundation for the more evolved forms of technology.
Interview by Angela Trivigno
Avion Tourism Magazine
Photo: Copyright © Sacbo Spa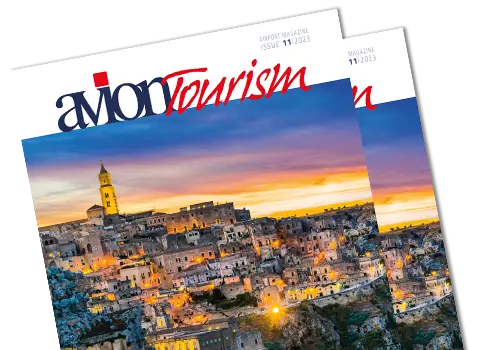 AVION TOURISM MAGAZINE
in digital version
On this issue: The World Heritage Sites of Basilicata and Puglia.