26 February 2021
Dima Leu participates to Milan Fashion Week womenswear's calendar
A second release of the season, to present its collaboration with Marzotto Textiles and the lines dedicated to tailoring and luxury sportswear
Dima Leu who debuted in January 2021 with his Dima Leu AW21 Vol 1 at Milan Fashion week menswear season will join again Milan's official calendar to present a second release for the season with the support of CNMI. For its fifth anniversary the brand, launched in February 2016, presented fashion movie Wool Only on Camera Nazionale Della Moda Italiana's digital platform on February the 25th.
As a second release of the season, Wool Only marks a move away from the STRIIPES collection presented in January to showcase a blend of Dima Leu Homme and SportSuit, the lines dedicated to tailoring and luxury sportswear.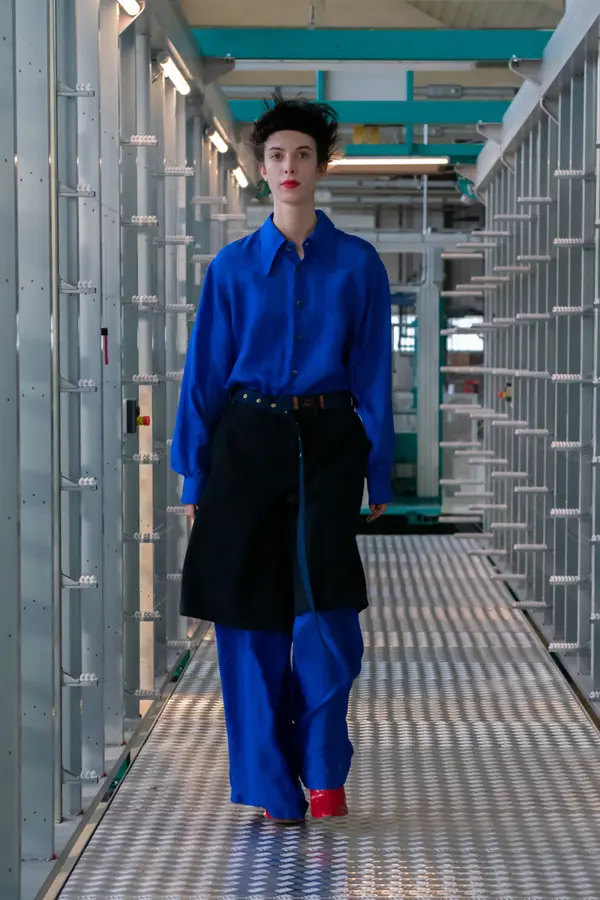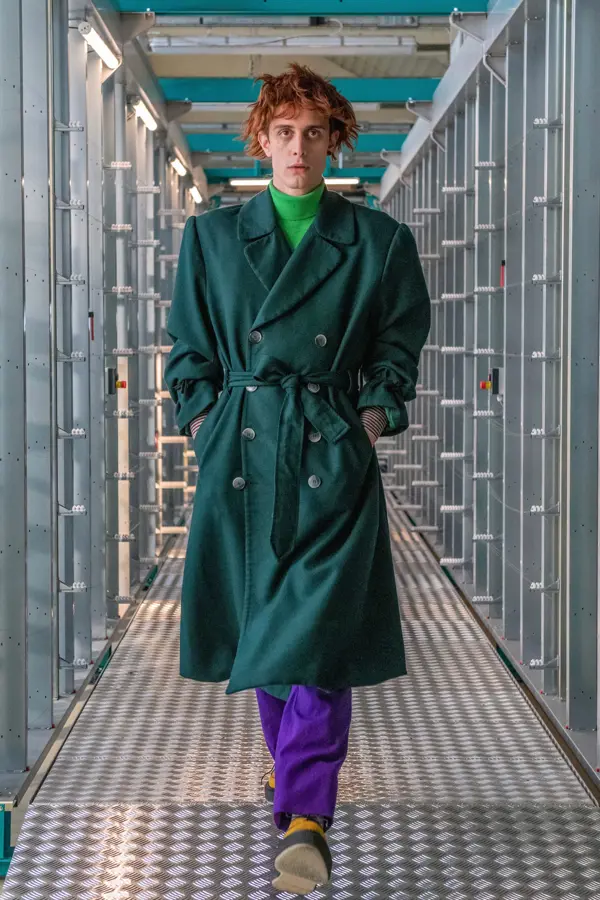 Dima Leu. Photo: Copyright © Dima Leu.
WOOL ONLY - THE COLLABORATION WITH MARZOTTO
The collection evolves around Leu's research on wool fabrics and represents his tribute to what he believes the most "primordial, human, and resilient fabric". The designer's interest in wool and its possibilities results from the encounter with the classic archive fabrics of the Marzotto' Forniture Civili repository, the company's uniform supplies archives. The collaboration with Marzotto allowed Leu to learn more about the different structures and weights of the fabrics produced by the textile group for civil use and to get access to inedited colour palettes.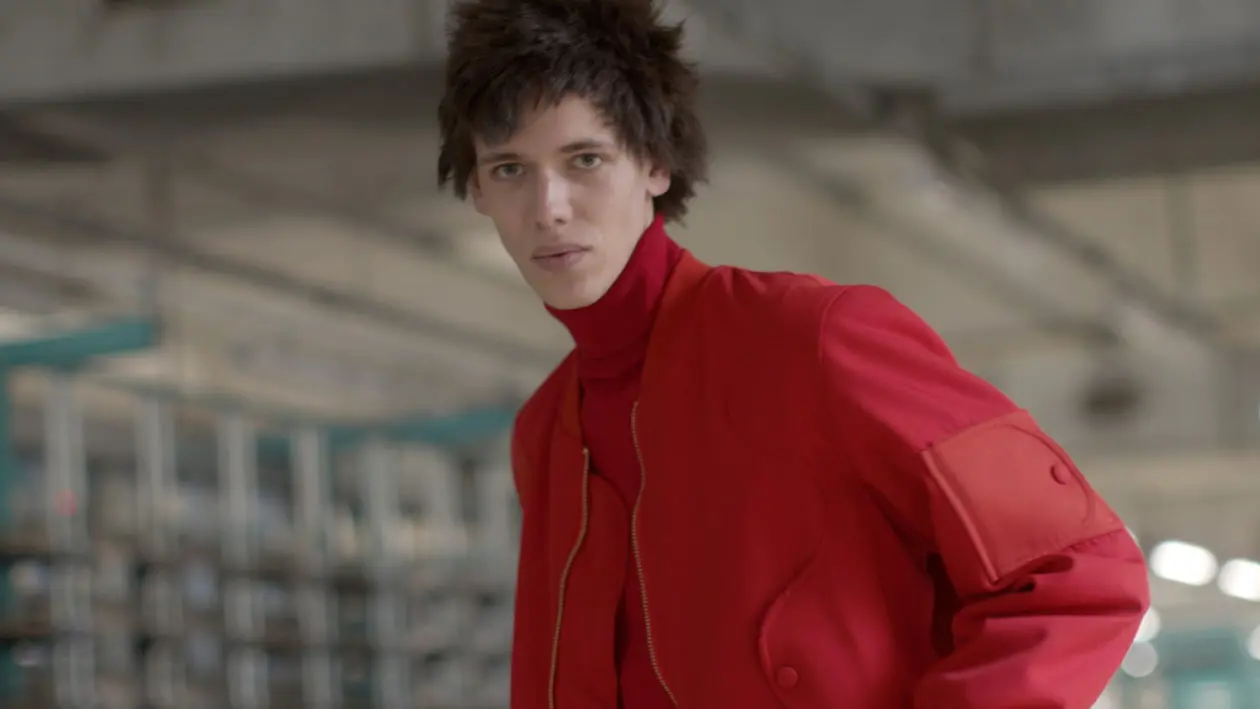 Dima Leu. Photo: Copyright © Dima Leu.
"At Marzotto we take great pride in supporting new talents. It was a great pleasure for us to support Dima Leu on this journey. Dima is a young designer who showed a unique ability to reinterpret and honour our fabrics with a contemporary feel. Our heritage and our efforts in research and development of improved/new fibres have found new fulfilment through his creative experimentations" said Paolo Vazzoler, Marzotto Textiles's B.U. Director.
The opportunity lights in the designer a desire to develop an entire collection from wool and to experiment around its possibilities across a whole wardrobe's categories. The entire second release is indeed conceived from a reinterpretation of inedited raw materials manufactured according to traditional techniques and equipped with quality and structure made to last beyond merely transitory fashion trends.
"These five years from the first launch of the brand have been incredibly intense and full of experiences. It is a great pleasure to be able to celebrate this anniversary by taking part to Milan official calendar. I am particularly grateful to Marzotto for welcoming me into their world and for granting me special access to their private archives thus opening up for me unique opportunities to experiment. It was an unforgettable experience" said the designer.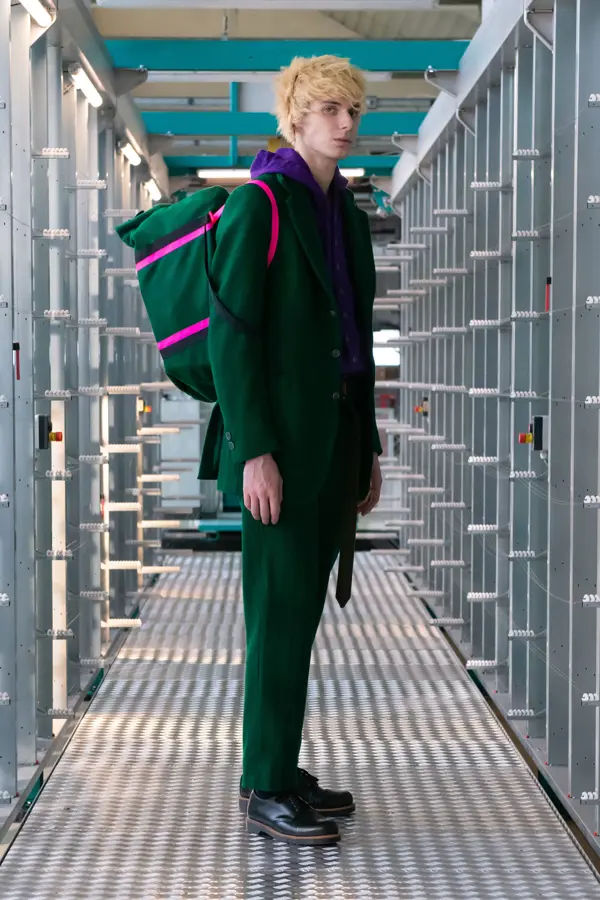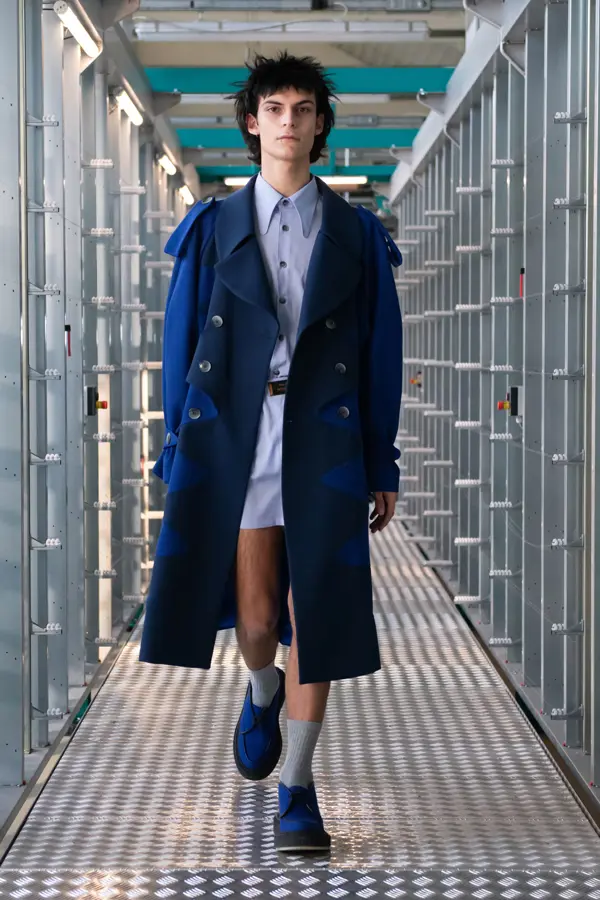 Dima Leu. Photo: Copyright © Dima Leu.
WOOL ONLY - DIMA LEU AW21 FASHION MOVIE
With the intent to celebrate the collaboration with Marzotto and tribute the archive, Wool Only, the fashion film directed by Mihael Kacic, is set in the group's historic manufacturing headquarters in Valdagno, and shot among the operating warping machinery.
The aisles between the creels become main catwalk for the collection with the intent to re-contextualize the final garments right where the fabric saw its inception "Yarns create infinite lines that flow in a continuum of movements through time, absorbing the best of each era in an infinite path. The collection is intentionally presented inside the historic Marzotto manufacturing site, a place that is intertwined with the past and that offers new opportunities for the future" according to Dima Leu.
The concept of infinity which even resonates in a special hand-drawn pattern of the collection, seems to express the designer's insight that from the same yarns and materials and essentially the same artisanal knowledge and techniques of the past, there are still endless opportunities to create unlimited creativity for the future. A co-ed collection with an intentional focus on menswear style, to make male garments centrepieces in a womenswear season.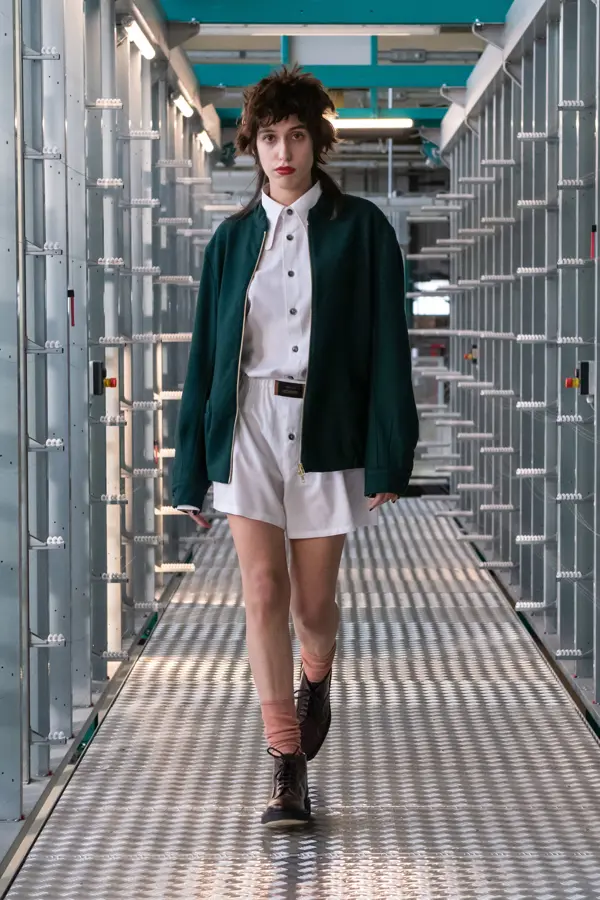 Dima Leu. Photo: Copyright © Dima Leu.
On the runway, a vibrant and dynamic progression styled by Francesco Casarotto, further animated by playful wigs created by costume artist Lorenzo Zavatta. An opening sequence of casual and comfortable styles, featuring soft shades of ecru, light pink and light blue, leaves its way to a crescendo of contrasting bold colours applied to deconstructed pieces expressed in layered and relaxed silhouettes. These translate into a series of monochrome and more fitted formulations of tailoring with experimental lapels moulded after botanical shapes. In the finale, six models in Dima Leu Homme, wearing hand-painted headpieces created by artist Meital Katz Minerbo and inspired by the floral realm, leave the catwalk to wonder around the factory space.
Made with a combination of naturally dyed mixed silk and synthetic fabrics, the headpieces are worn like attributes suggesting liberation from dichotomy towards multiple approaches of identification among which Botany and Plants. The collaboration with the artist allows the collection to further embrace the botanical realm and express the idea of transmutation from humans to plant.
The spirited rhythm of the catwalk is sustained by a song from the 70's by Maria Sole with the aim to underline the surrealism to bring a catwalk into the factory.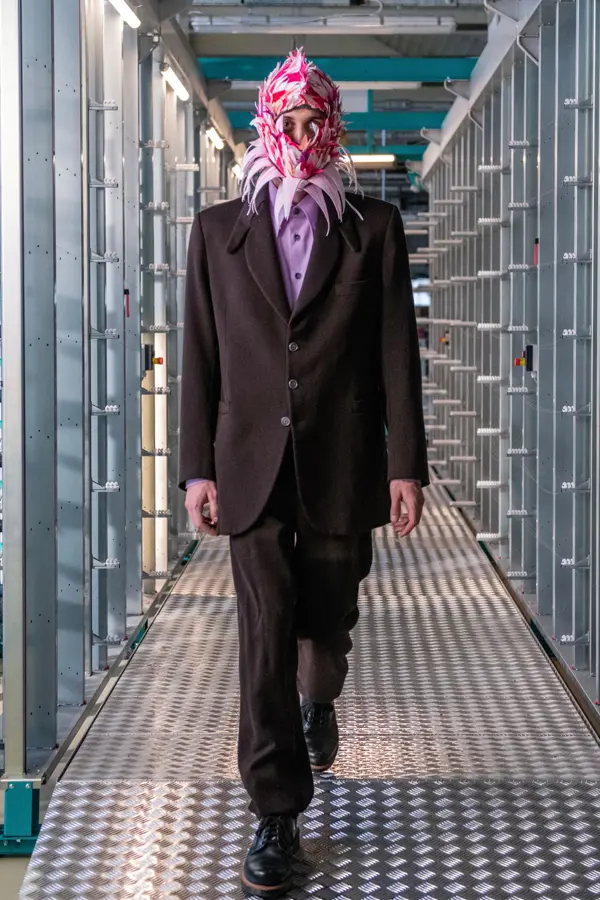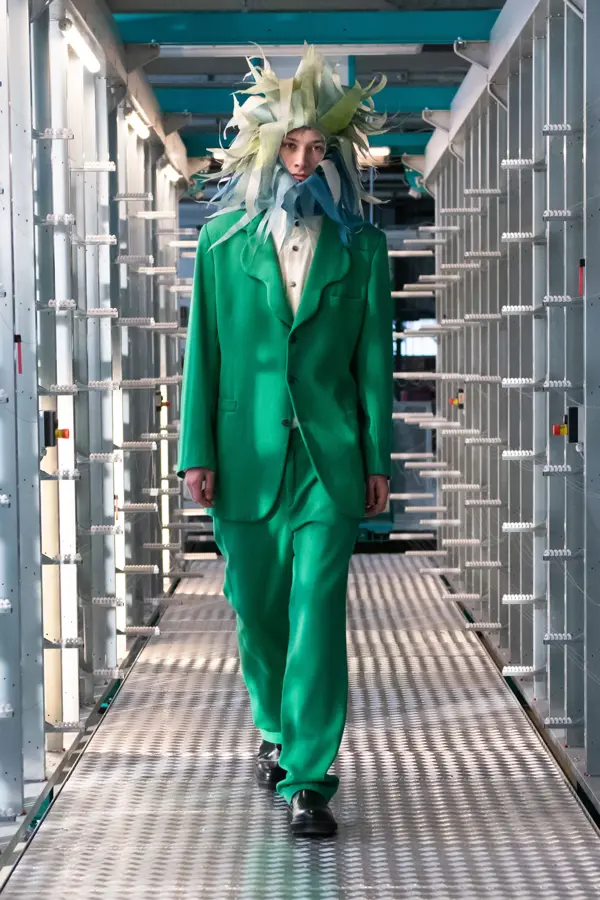 Dima Leu. Photo: Copyright © Dima Leu.
WOOL ONLY - DIMA LEU AW21 COLLECTION
The encounter with the archives brings Leu back to the black and white pictures of the Moldovan photographer of the 30s Zakaria Cushnir. The collection of distressed wool suit fabric recalls the photographer's images featuring heavily distressed jackets and suits becoming almost integral part of the personality and of body of the subjects, with the clear intent to make fashion garments no longer mere subjects to transitory trends and to bring them back to a more deeply human dimension.
Evident is the resolution of the designer to reinvent shapes and clothes seen in the portraits of the photographer and to express the rigorous divergence of black and white photography through combinations of bold and contrasting colours.
The distress treatments make the wool even softer, more pampering and comfortable around the body, providing a new expression to the brands' continuous search for a more comfy, contemporary and versatile reinterpretation of tailored garments. Dima Leu's iconic mixture of sport and tailoring acquires nowadays new meaning and becomes more relevant in the new normality imposed by the pandemic, which blurring the distinction between private, work and social interaction environments, imposes on formal-wear a need for comfort, and to sportswear a need for sophistication and elegance.
With this intent, Dima Leu Homme takes distance from the more usual approach of previous collections to propose as centrepieces seven experimentations on the most formal element of a classic tailored blazer, the lapel. Wool acts as a new trait d'union between the experimental tailoring of Homme and the luxury sportswear of SportSuit, showcasing constructed blazers with a subtle sporty touch provided by hoods and zippers, as well as more traditional casual styles, such as bombers and joggers.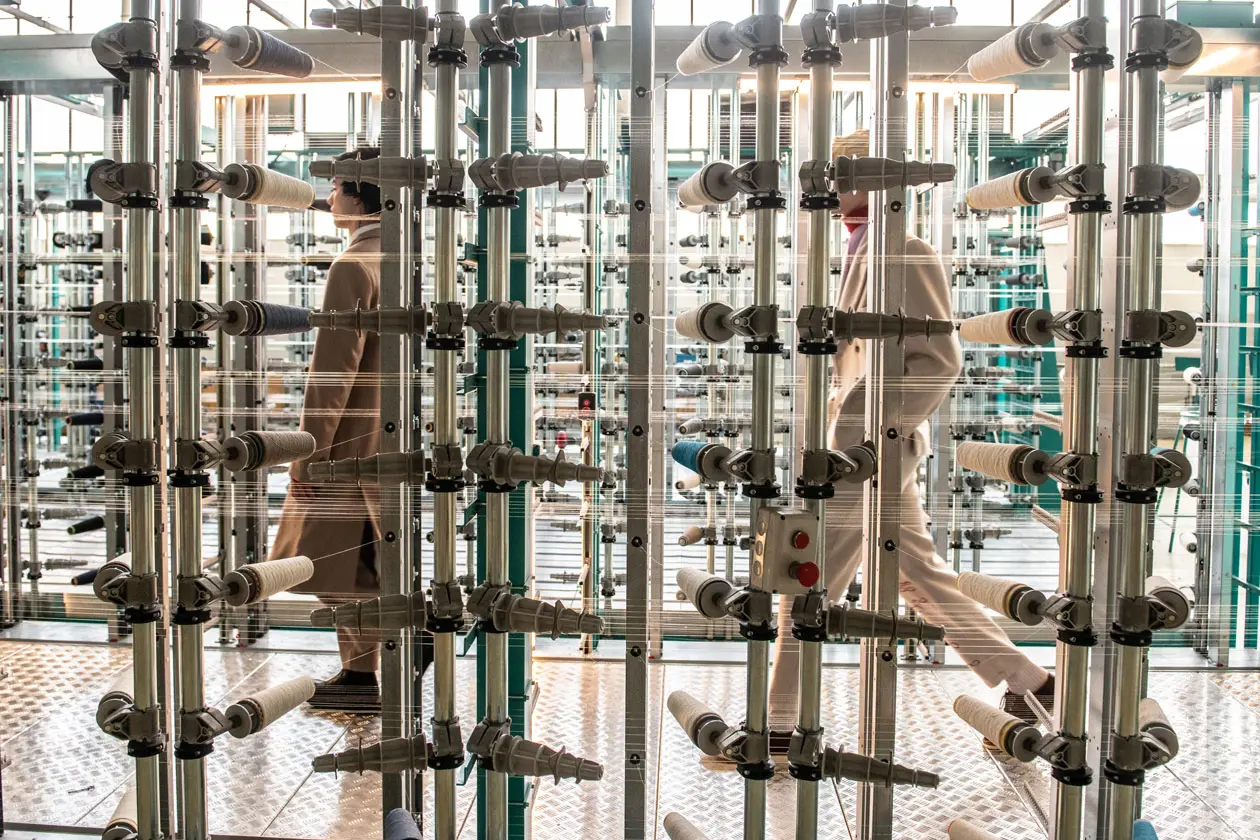 Dima Leu. Photo: Copyright © Dima Leu.
The colour palette reflects the shades of the archives combining classic wintery tones of navy blue, black, brown, grey and dark green with bold hues of workwear and civil supplies, such as fire red, royal blue, powder pink, purple, emerald green and optical white. Working with wool allows the designer to play with warm and subtle, yet more intense colours, and to indulge in his signature colour combinations.
Wool become protagonist even in shirts through the use of a unique shirt fabric, called Touch 96, produced by Marzotto, that matches comfort and high performances in a single wool fibre. Dima Leu AW21's wool fibre shirting features a light blue, white, pink, lilac classic shirting soft color palette, which is also applied by the designer to the creation of playful and versatile underwear styles. AW21 Vol 2 goes beyond the tribute to the wool of the Marzotto archives to explore the infinite possibilities in the new applications of wool fibres. Leu' s curiosity about the potentialities of wool fabrics applies also to an accessories line featuring sophisticated sport-bags and playful fabric belts with snap buttons. Dima Leu AW21 bags reinvent sports volumes through the use of sophisticated materials, luxury zips and viscose linings. The colourful fabric belts are an attempt to rejuvenate the formality of the classic buckle belt and to create a hybrid and versatile piece of accessory.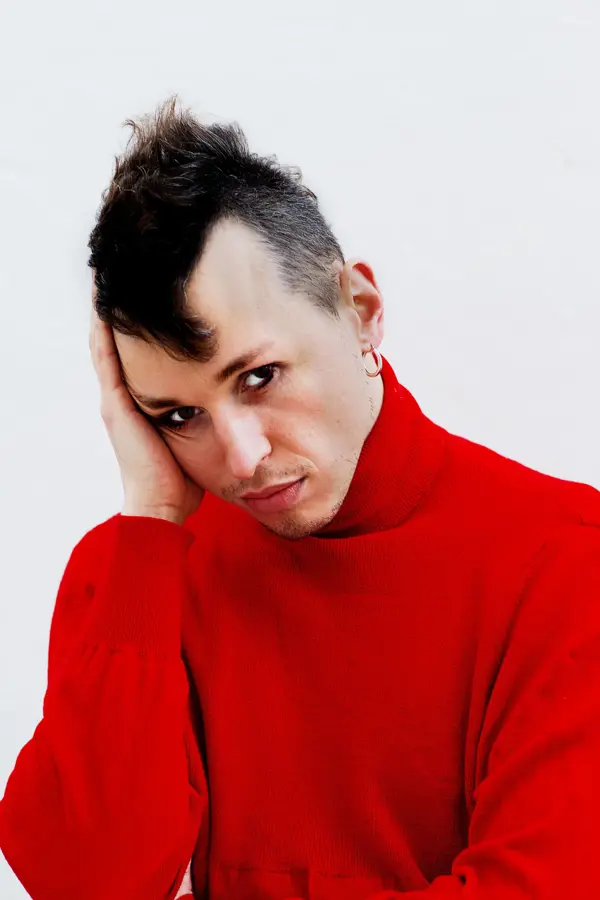 DIMA LEU
Dima Leu
is a
Moldovan fashion designer
. At the age of 15, he moved with his family to
Venice
where he continued his education. After studying economics, driven by a strong desire for change, he embarked on a course of study in fashion at the IUAV University of Venice.
Subsequently several experiences as designer assistant for luxury brands and as fashion consultant, in 2015 the designer launched his own brand, Dima Leu. After focusing mainly on a tailoring path, the first Dima Leu collection represented a challenge for the designer who wanted to elevate sportswear with a contemporary twist.
Leu, who has chosen Italy as his permanent base, combines the constant
quest for innovation
with references to his childhood time, from his
training in classical music
, to
Moldovan heritage
and
post-Soviet culture
. In September 2020, the designer was awarded the menswear category Who's on Next? 2020 prize, a contest powered by Vogue Italia and Altaroma. In January 2021 Dima Leu debuted in
Milan
menswear calendar with the support of CNMI.
"In recent years fashion has witness a vibrant blending of menswear and womenswear, with calendars adjusting to redefine and better represent these blurred boundaries.
Somehow we have become used to see womenswear in the menswear season, but not much menswear in womenswear editions. I believe these clear divisions have been for long outdated, and have become increasingly meaningless in this particular historical contingency.
As young designers we should be able to redefine such schemes and be free to reinvent paradigms" said Dima Leu.
Established in 2015, Dima Leu is a menswear brand that appeals to both men and women for a sophisticated reinterpretation of sportswear. The collections combines the freedom that sport garments grant to the body with the style of dobby fabrics. The garments are comfortable, and yet, thanks to their construction and the chosen fabrics provide an alternative to the tailored suit. The choice of sportswear garments represents for the designer a key to communicate through a more understandable language to new generations, giving them the opportunity to familiarize with fine fabrics and artisanal quality, but also encouraging a more responsible consumption. Since its inception, Dima Leu has embraced the sustainability concern in manufacturing processes and sourcing of materials, introducing limited edition capsule collections produced exclusively with dead-stock fabrics made in Italy. Starting from SS20, upcycling, re-made and the exclusive use of archive fabrics have become a distinctive mark of the brand through the collaborations with Italian textile producers.

Edited by Lisa Maria River
Text source and photos: Dima Leu Press Office
Photos: Copyright © Dima Leu
All rights reserved. Reproduction prohibited.
AVION LUXURY MAGAZINE
in digital version
DESTINATIONS Aruba, un viaggio ai Caraibi. HOTELS Un Bvlgari Hotel a Roma. JETS La serie Phenom 300 di Embraer - La cabina Executive di Bombardier. CARS Bugatti Chiron Profilée -1000 Miglia Experience UAE.
YACHTS Grande 26M di Azimut - Nautica e benessere con Arcadia. WATCHES Planetarium Dunes of Mars Limited Edition.