10 December 2019
Bvlgari Serpenti - Myth and Mastery
In Venice until March 1, 2020, Bvlgari's fine jewelry
Bvlgari and T Fondaco dei Tedeschi by DFS, the lifestyle department store in the heart of Venice, present Bvlgari Serpenti - Myth and Mastery from 4th December 2019 to 1st March 2020.  The exhibition will focus on the sinuous symbolism of the snake.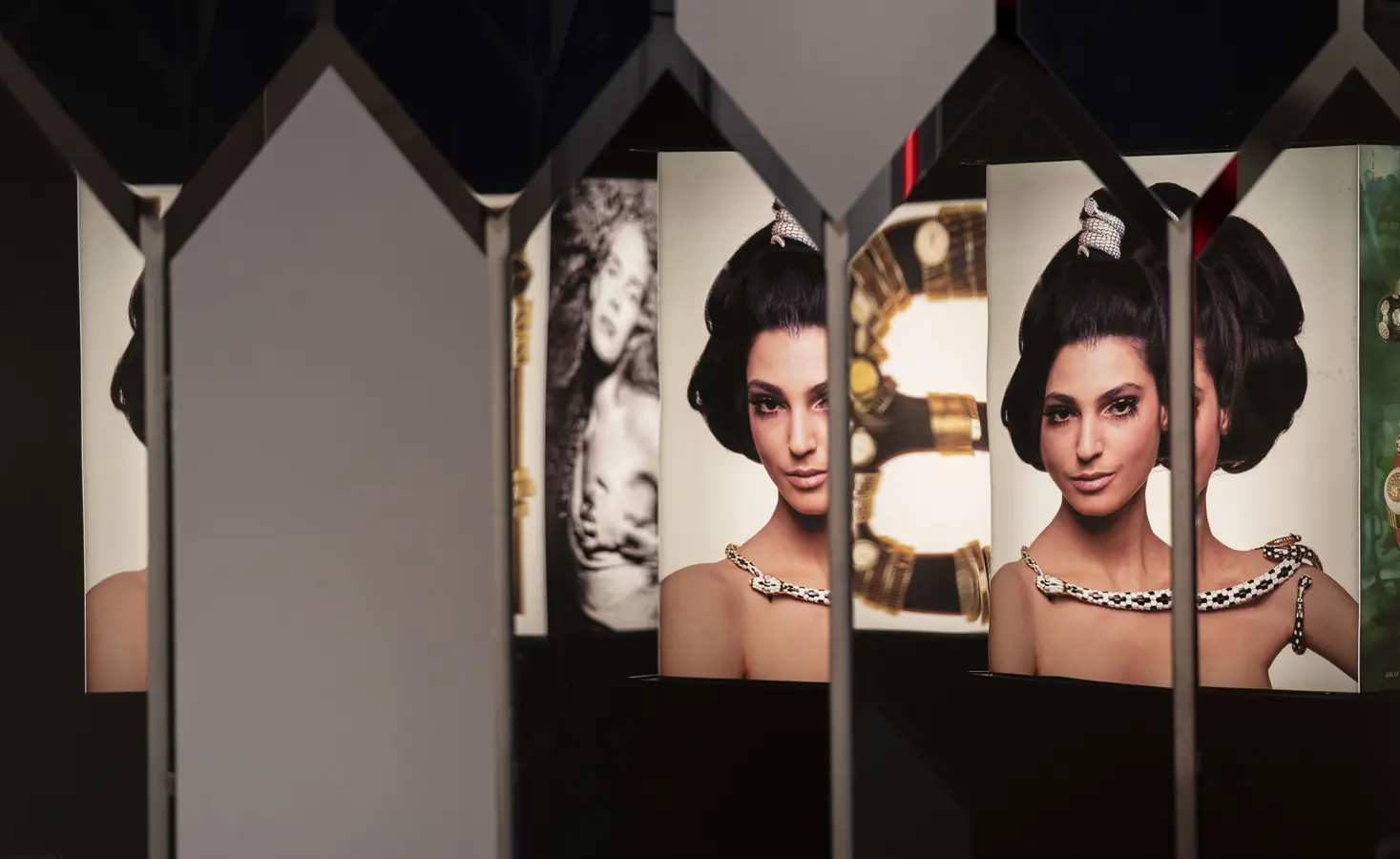 Exhibition Bvlgari Serpenti - Myth and Mastery @Fondaco dei Tedeschi.
The spaces of the Event Pavilion on the fourth floor of the Fondaco will provide an atmospheric setting blending ancient with modern, intertwining history, myth and fine jewellery in a quest to explore this symbol with its centuries-old charm.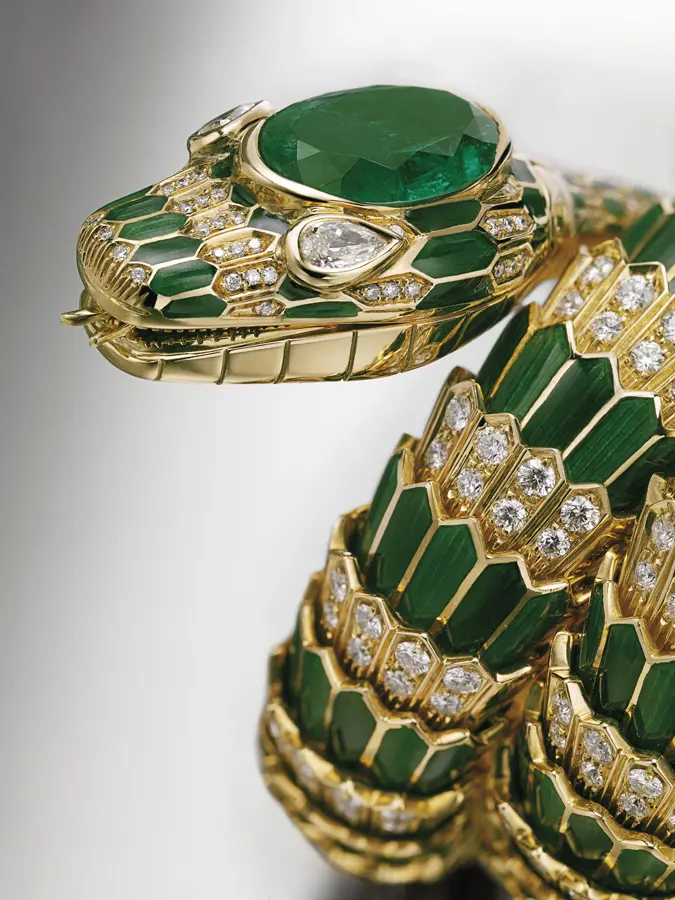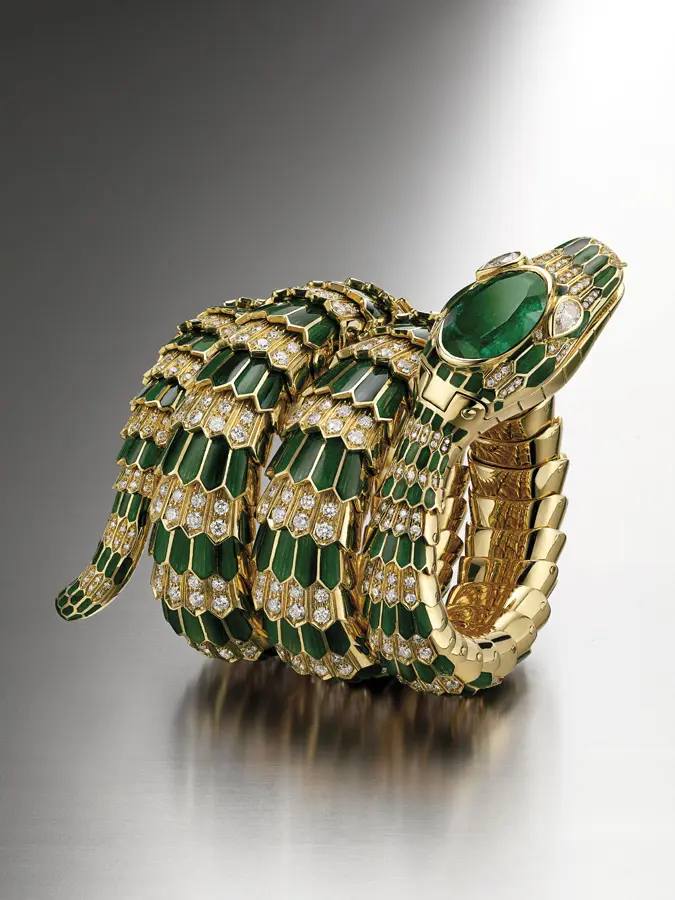 Close-up Serpenti bracelet-watch in gold with green enamel, emerald and diamonds, ca. 1965. Bvlgari Heritage Collection. Not fot sale.
The exhibition
These magnificent Bvlgari Serpenti creations range from the early more stylized models made with the Tubogas technique to the more realistic ones emblazoned with gold flakes or polychrome enamels. The collection highlights how the snake motif continues to evolve, as it always has to this day, fuelling the inexhaustible inspiration of the Maison.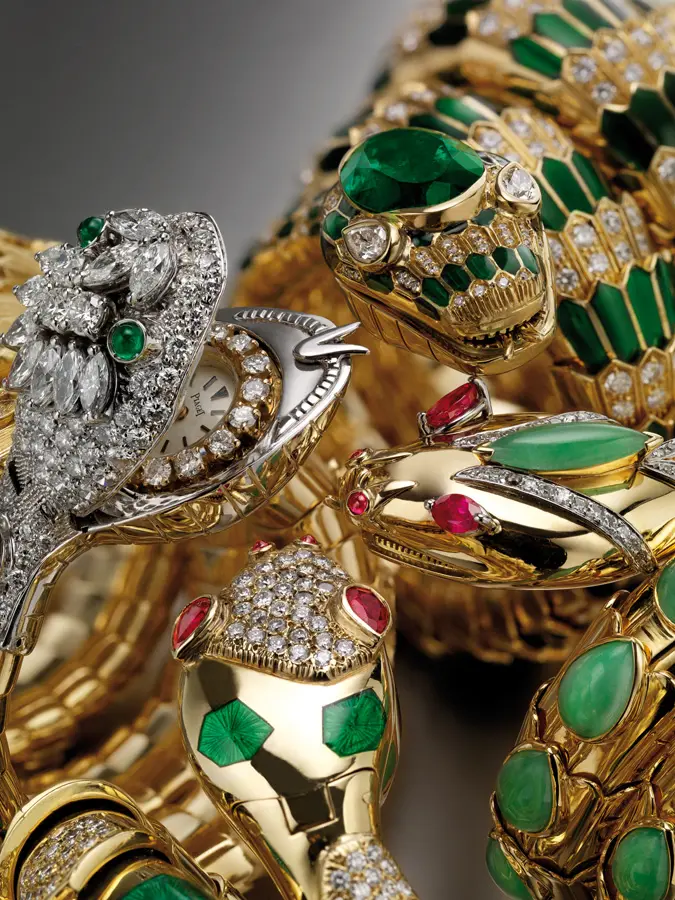 Composit of Serpenti bracelet-watches from the 1960s, Bvlgari Heritage Collection.
Five totems will feature images shot by great photographers who have immortalized muses of the world of cinema and fashion wearing Bvlgari Serpenti creations of yesterday and today.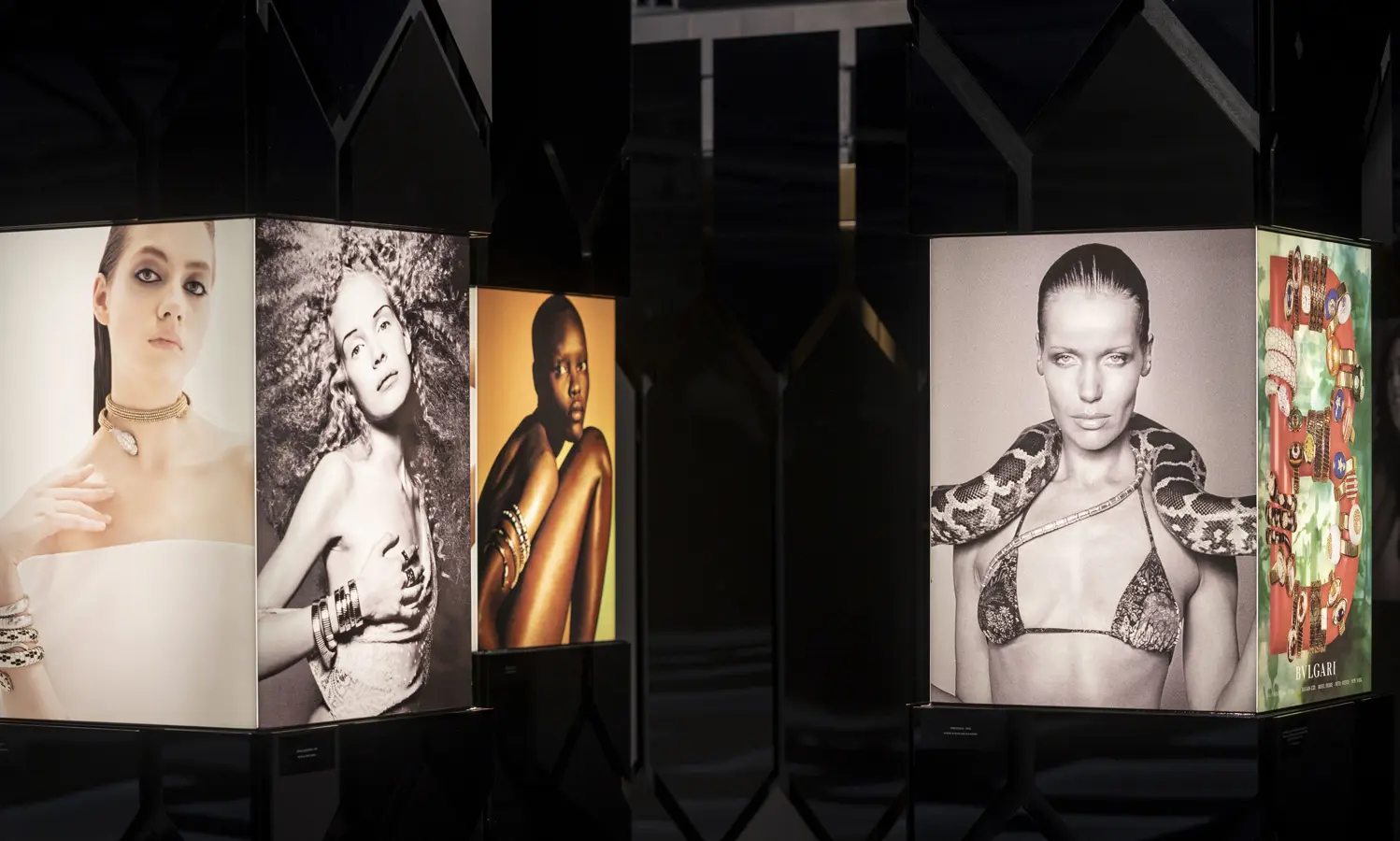 Exhibition Bvlgari Serpenti - Myth and Mastery @Fondaco dei Tedeschi.
A video panel will show an anthology of historical images and works of art inspired by the myth of the snake, completing the narrative and offering an opportunity for reflection on the different cultures of the world.  All around the space, the snake scale motif will envelop and immerse the visitor in a fascinating universe of beauty, creativity and craftsmanship.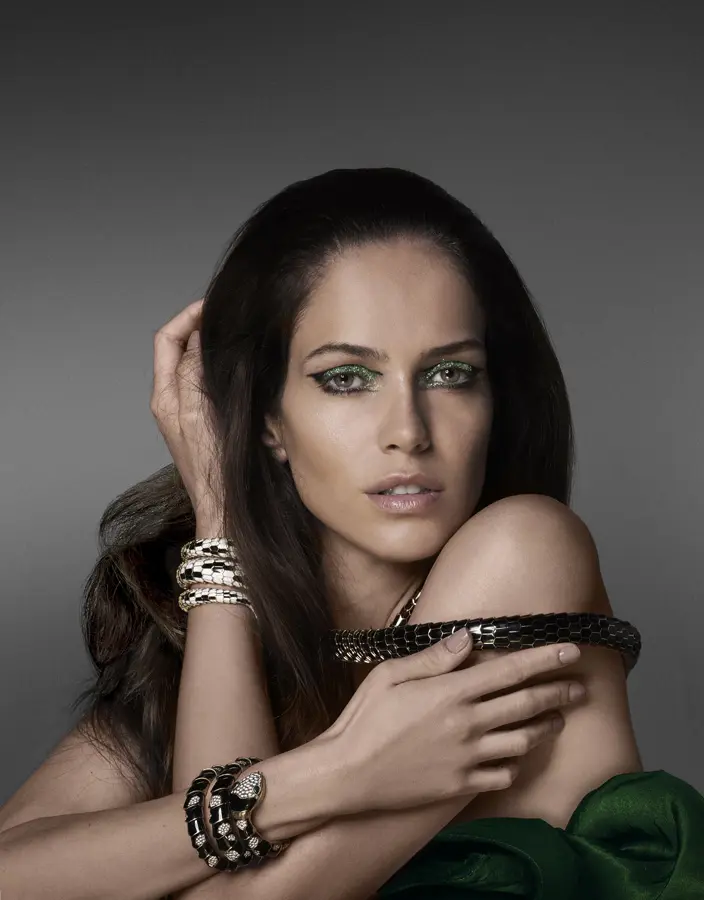 Amanda Wellsh by Gian Paolo Barbieri, 2016.
The Bvlgari Serpenti
An emblem of seduction, rebirth and transformation, for centuries the symbol of the snake has been interwoven with the history of humanity, capturing its imagination in the East as well as in the West.  Since ancient times, the ability of this reptile to renew itself by shedding its skin, to remain in contact with the ground and yet rise up from it, to coil itself sinuously and to vanquish threatening predators has nourished myths and legends, inspiring a whole gamut of artistic achievements.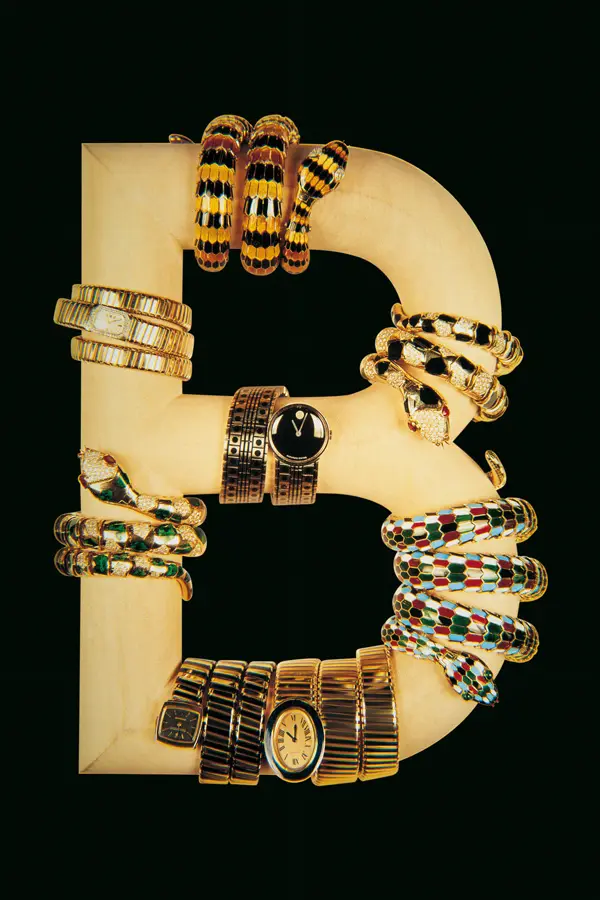 Bvlgari advertising campaign form the 1970s.
The expressive power of this evocative symbol, was grasped by Bvlgari in the 1940s.  They reinterpreted it for the first time in jewellery with their supple bracelet watches that over the decades were to become icons of creative audacity.
Bvlgari Serpenti - Myth and Mastery pays tribute to a motif that has enhanced the company's international reputation. The exhibition shows how snakes have captured the imagination of Man, who has venerated them over the centuries as a powerful protective force, as messengers from other worlds or indeed as veritable divinities.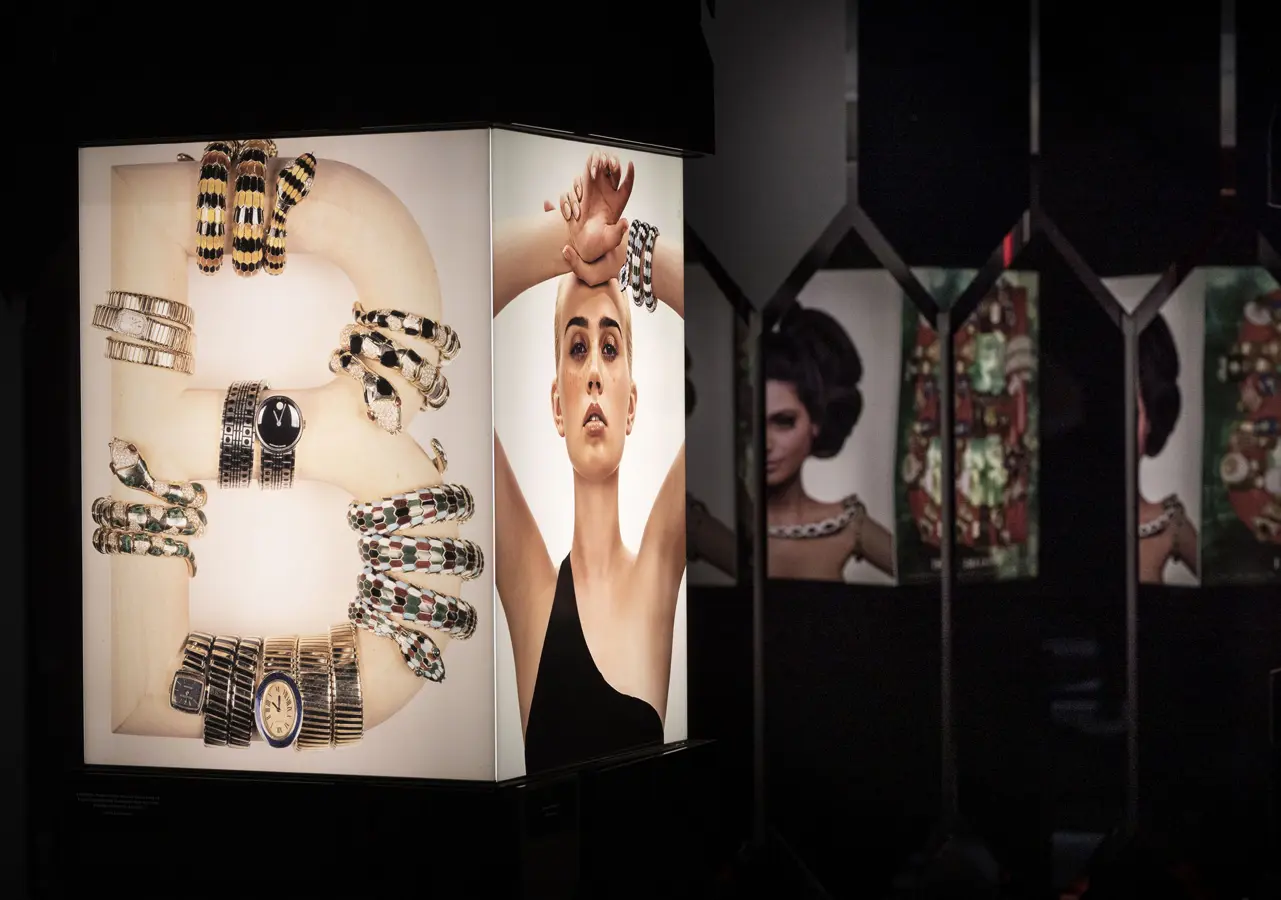 Exhibition Bvlgari Serpenti - Myth and Mastery @Fondaco dei Tedeschi.
Exhibition information
Bvlgari
Serpenti. Myth and Mastery
. 
4th December 2019 to 1st March 2020
. T Fondaco dei Tedeschi -
Venice
, Calle del Fontego dei Tedeschi (Rialto Bridge). Open: 9:30 – 19:30. 
Admission free
.
T Fondaco dei Tedeschi
The building that houses
T Fondaco dei Tedeschi
was erected in 1228 to accommodate foreign merchants. It quickly became one of
Venice's most important places
of commerce between East and West, where merchants came to trade in metals and
precious stones
, rare spices, silks, glassware, brocades, velvets and fine lace. Twice destroyed by fire, it was rebuilt in its current form in 1508.  Radical structural changes were made in the early twentieth century and in 1925, ownership passed into the hands of the Italian Post Office. Edizione Property bought the building in 2008, and engaged the Dutch architect
Rem Koolhaas
from the firm OMA to renovate it. English designer
Jamie Fobert
was commissioned by DFS Group to redevelop the interior spaces and furnishings for their first lifestyle department store in Europe, T Fondaco dei Tedeschi, which was opened in 2016. Visitors to the Fondaco dei Tedeschi experience a thoroughly
authentic Venetian experience
. Here they will find the
finest Italy
can offer: high-quality products and renowned international brands from the world of fashion, accessories, beauty treatment and gastronomy; there is also a choice selection of local crafts, exquisite cuisine from a
Michelin-starred chef
, alongside centuries of history, architecture, art and culture. T Fondaco dei Tedeschi has in fact made its name as a vibrant cultural centre for the
city of Venice
; the
Event Pavilion
on the fourth floor is home to contemporary art exhibitions and a lively calendar of events which attract an ever more numerous and loyal following.
Edited by Lisa Maria River
Source text and photos: © Bulgari Press Office; T Fondaco dei Tedeschi Press Office; Exhibition Press Office.
Photos: © Bulgari; © T Fondaco dei Tedeschi. All rights reserved.
Copyright © Sisterscom.com
Find an hotel in Venice
AVION LUXURY MAGAZINE
in digital version
DESTINATIONS Aruba, un viaggio ai Caraibi. HOTELS Un Bvlgari Hotel a Roma. JETS La serie Phenom 300 di Embraer - La cabina Executive di Bombardier. CARS Bugatti Chiron Profilée -1000 Miglia Experience UAE.
YACHTS Grande 26M di Azimut - Nautica e benessere con Arcadia. WATCHES Planetarium Dunes of Mars Limited Edition.