11 July 2020
Ulyana Sergeenko Couture Autumn-Winter 2020-2021
Intuitively, from the very beginning, the fashion house of Ulyana Sergeenko has been creating a look for a woman regardless of time
The heroine of Ulyana easily changes her mood, scenery and cities, sometimes even times and entire eras, but from the very first day she remains true to herself. She does not adapt to momentary trends, appreciates the sincerity of history, the purity of the idea. She seeks and finds them in the things that she surrounds herself.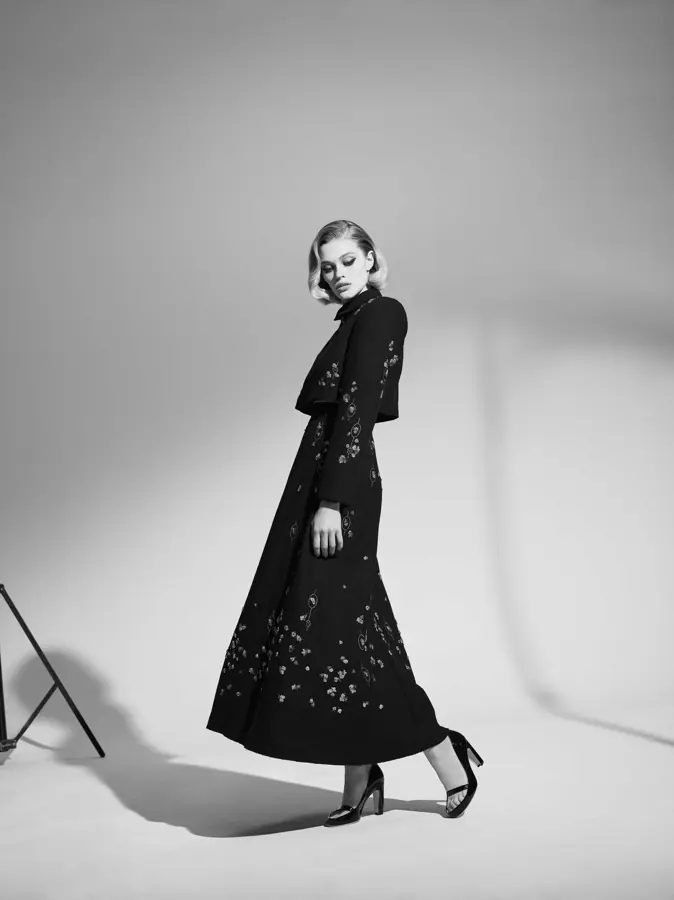 Ulyana Sergeenko Couture Autumn-Winter 2020-2021. Copyright © Ulyana Sergeenko.
Her wardrobe consists of dresses that fits every occasion, tailored jackets and two-piece suits. Their complexity lies in the high quality of the fabrics and impeccable tailoring. Attention to details and to decorative embroidery is of paramount importance. This season she has decided to minimize the colorful tones of the new collection in order to show the beauty and magnificence of every little detail of hand-embroidered ornaments. Black and white colors become a perfect duo for seamstress to play with textures, introduce the delicate laces and show the diversity of embroidery. All these elements set the mood of the collection.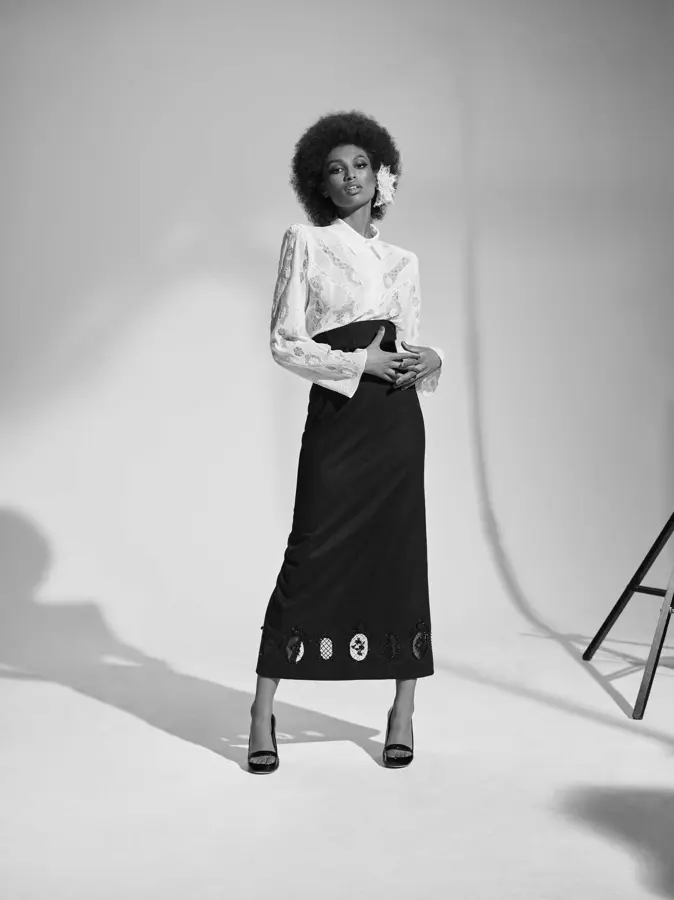 Ulyana Sergeenko Couture Autumn-Winter 2020-2021. Copyright © Ulyana Sergeenko.
Pieces by Ulyana Sergeenko, Kresteckaya stitch technique
Fall collection of Ulyana Sergeenko features pieces created with the Russian folk art of the Krestetsky stitch. This craft appeared in the Novgorod province in 1860, when a peasant woman began using the soaked in water flax straw to make white fabric for tablecloths, valances (descending frill, fringe), towels and other items that served to decorate the house.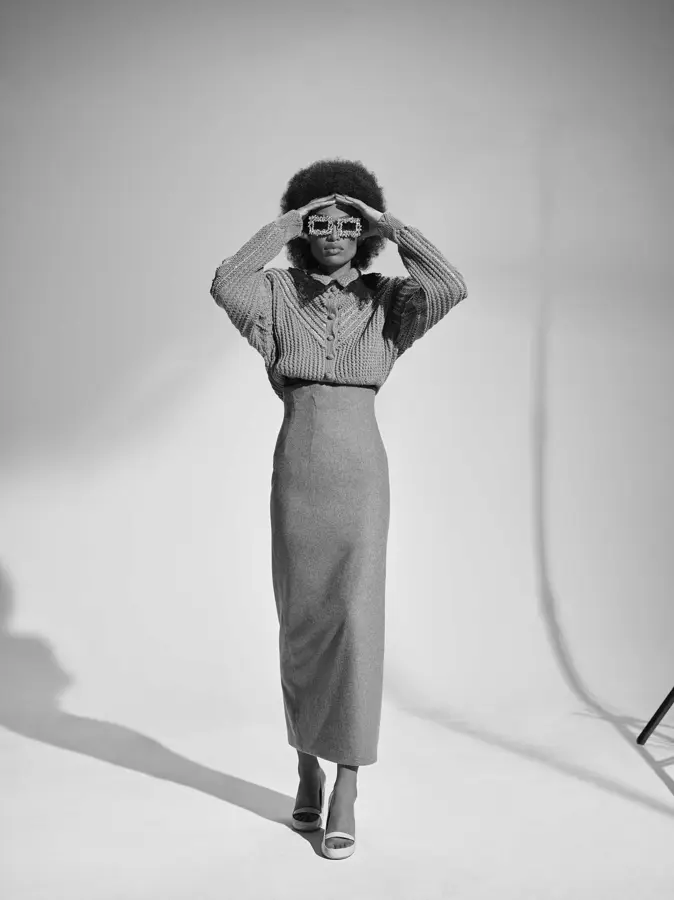 Ulyana Sergeenko Couture Autumn-Winter 2020-2021. Copyright © Ulyana Sergeenko.
Unique patterns of the Krestetsky stitch are created from plain hand-woven natural fabrics, by pruning, pulling and further weaving of diagonal strands. Based on the ornament, typical for the craft – clear geometric shapes – the fashion House developed the designer drawings, which formed the basis of decorative elements of several pieces, among them: a black linen apron with open-work fringe and an ornated lace element in the middle, a collar embroidered with ornaments that imitates the letters of the name Ulyana, black and white cropped shirts with plenty of Krestetskaya embroidery - on the front and the back, on collar and sleeves.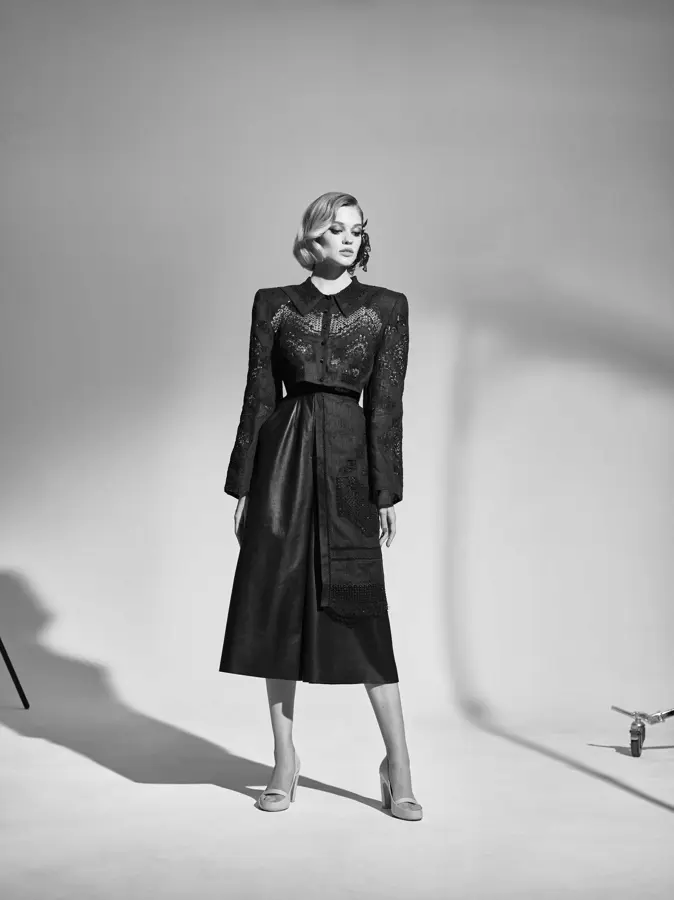 Ulyana Sergeenko Couture Autumn-Winter 2020-2021. Copyright © Ulyana Sergeenko.
Details and techniques
One of the main stylistic approaches of the new collection is lacemaking techniques - from decorative ornaments made with Krestetskaya stroshka and Vologda lace to creating an entire piece by mixing these techniques. The collection includes lace collars adorned with beads, embroidery, white ribbons from Vologda lace. As an option of wedding gown, the collection presents a pure-white full lace dress which is embroidered with lace medallions, beads and sequins. During the creation of a new collection the seamstresses obtained one of the oldest traditional lacemaking called frivole, which can now be produced at the atelier of Ulyana Sergeenko Fashion house.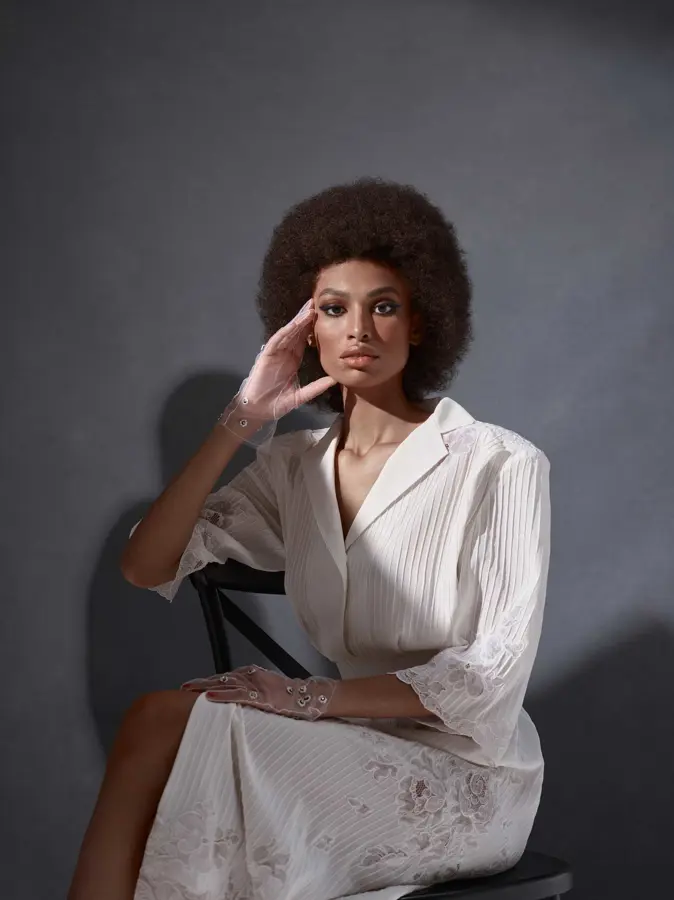 Ulyana Sergeenko Couture Autumn-Winter 2020-2021. Copyright © Ulyana Sergeenko.
The texture of several shirts of the collection is achieved by lace ornaments - lace strips of different patterns are stitched together into a single fabric; lace details in the form of roses, floral ornaments are implemented into the texture of the fabric. The collection also includes lace underwear created by using the technique of combining various lace, as well as quilted bras with lace inserts.
Materials: fabrics with rich finish such as silk, wool, linen, crepe, lace, Krestetskaya Stitch, hand-knitted Vologda laces, leather.
Colors: monochrome - black and white, this duo is delicately diversified by other color accents such as powdery pink, red and violet.
Аccessories
Mono earrings bring solemnity to the reserved look and strict lines. The earrings are embroidered with Vologda lace by hand and then formed into magnificent lace cloves. Apart from massive earrings, the heroine of the collections embellishes her hair with headbands embroidered with flowers. They are created by stitching together layers of lace, satin ribbons and an embroidered net. Sometimes she lover to wear lovely hats made of light organza flowers.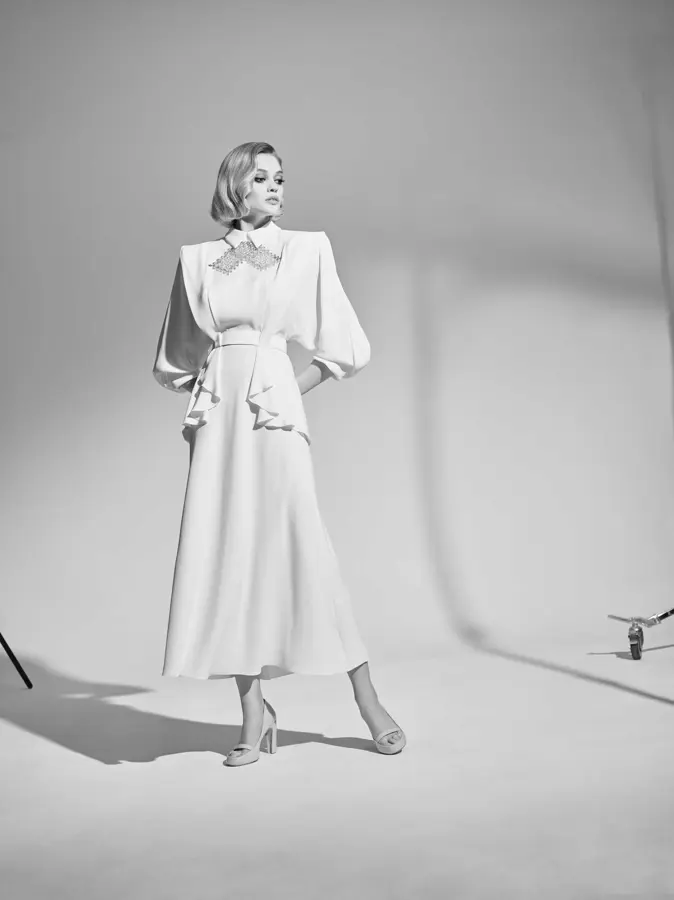 Ulyana Sergeenko Couture Autumn-Winter 2020-2021. Copyright © Ulyana Sergeenko.
Looks of the collection are complemented by torba-bags: these small bags on laces come in velvet and lace which is generously embroidered with beads, knitting, braiding, lace cornflowers. These ornaments resonate with the ones on the lace gloves which are also decorated with beads and gentle flowers. Heroine confidently wears court pumps with stable heels. They do not slide off owing to a small strap. Shoes are made of artificial patent leather of different colors - black, beige, brown and burgundy.
AVION LUXURY MAGAZINE
in digital version
DESTINATIONS Smart working alle Maldive e alle Mauritius. JETS Il lancio del Falcon 6X di Dassault Aviation e l'AS2 Supersonic Business Jet. CARS La Jarama GT di Lamborghini e la Wami Lalique Spyder. YACHTS Lussuosi superyacht e jet privati. WATCHES Ore e minuti preziosi. HAUTE COUTURE Dior Women Haute Couture, Spring-Summer 2021.