18 February 2023
Dior Haute Couture Spring-Summer 2023
The Printemps-Été 2023 collection shakes up the vision of haute couture which can become a radical gesture of awareness of one's own value and strength
For Maria Grazia Chiuri, each haute couture défilé is an opportunity to explore the complex thought processes connected to a garment constructed for a body. The couture garment is a body-garment. A body-home. A body-manifesto.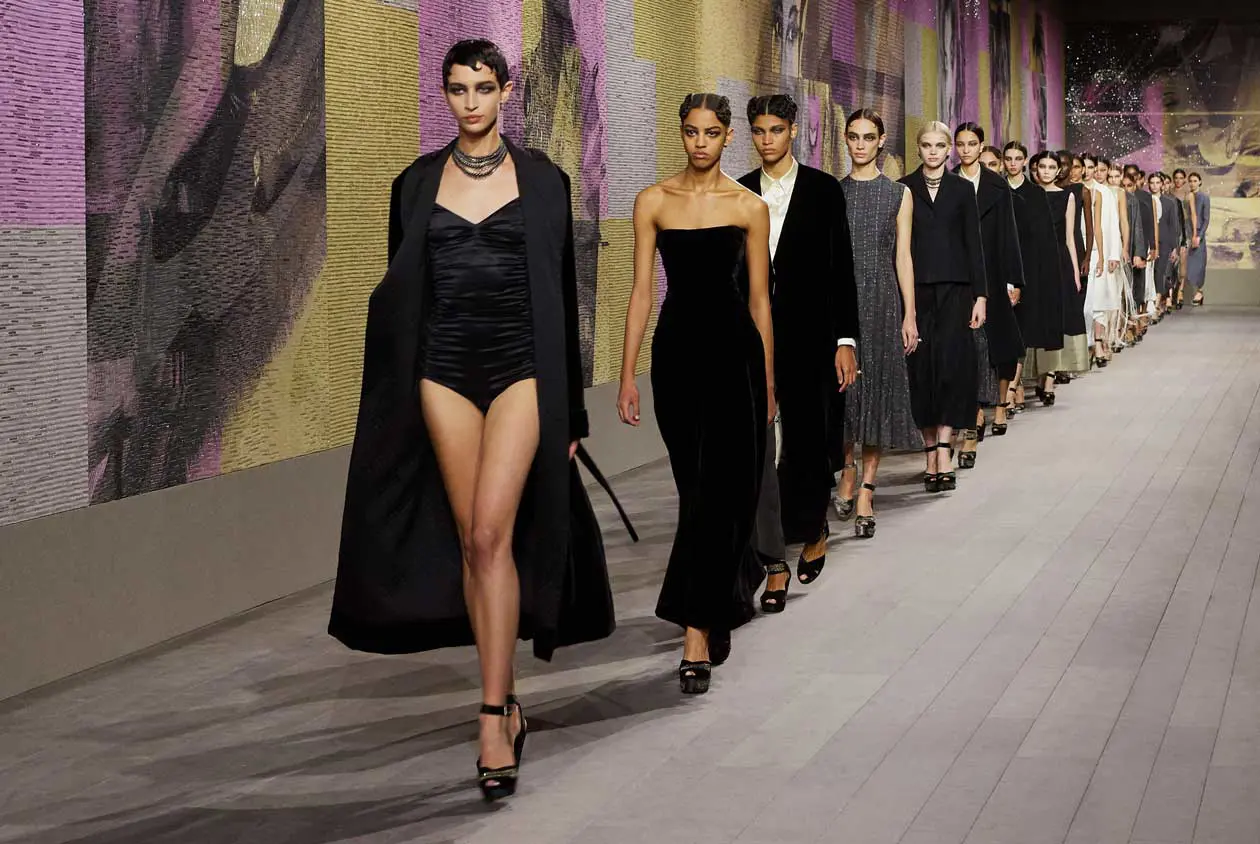 Dior Haute Couture Spring-Summer 2023. Copyright © Dior.
This Dior spring-summer 2023 collection is guided by Joséphine Baker, the African-American singer and dancer who left the United States in the mid 1920s for the cosmopolitan city of Paris, which was a dream destination for artists, writers and fashion designers. A glamorous icon, she embodies the modernity of those years, the transgression of stereotypes and prejudices, the mixing of cultures and shared experiences that notably animated the vibrant world of cabaret. Having acquired French citizenship, she was acclaimed by post-war Europe and performed at the Strand Theatre and Carnegie Hall, New York, dressed in French fashion, such as the Dior creations that crowned her charisma and success.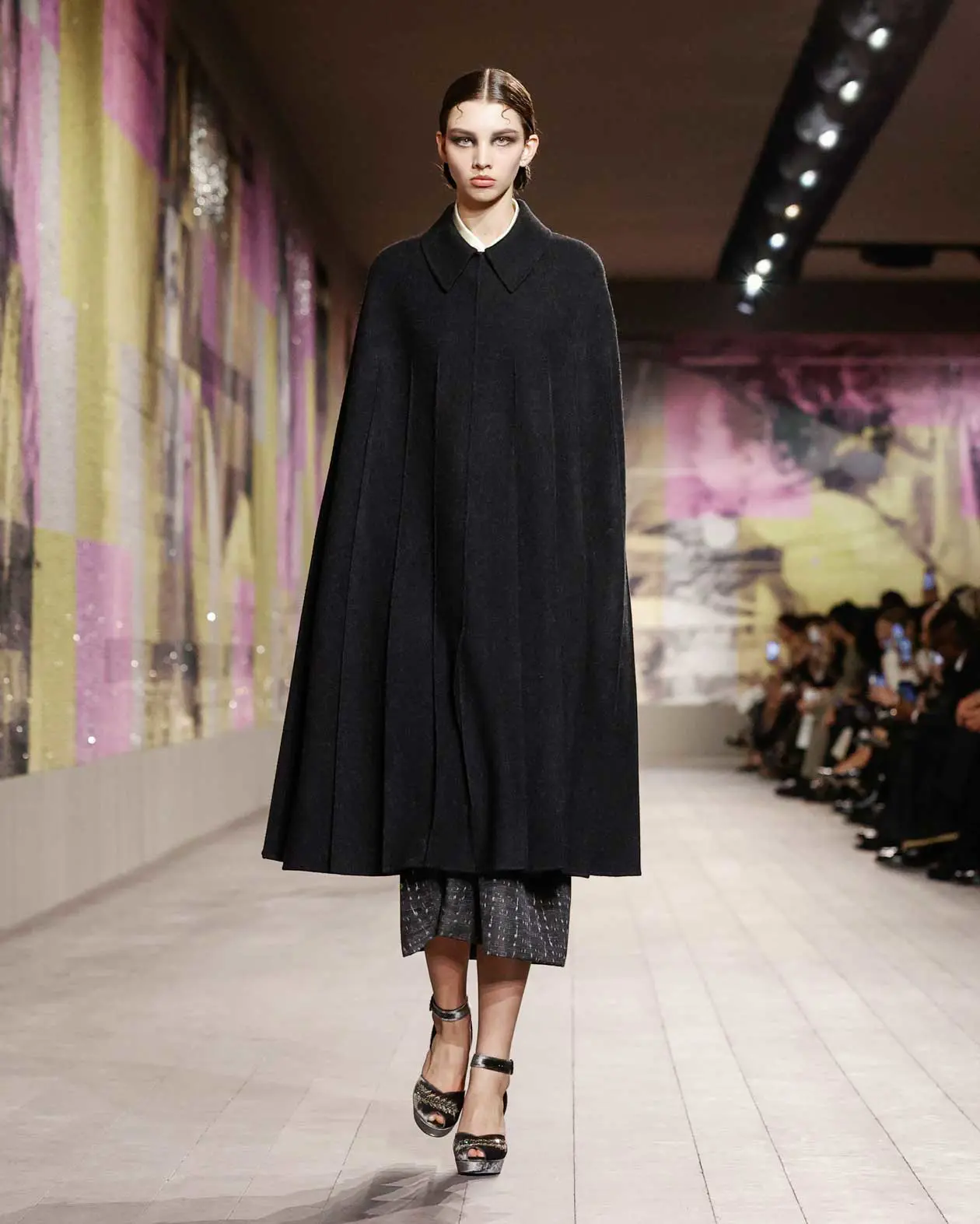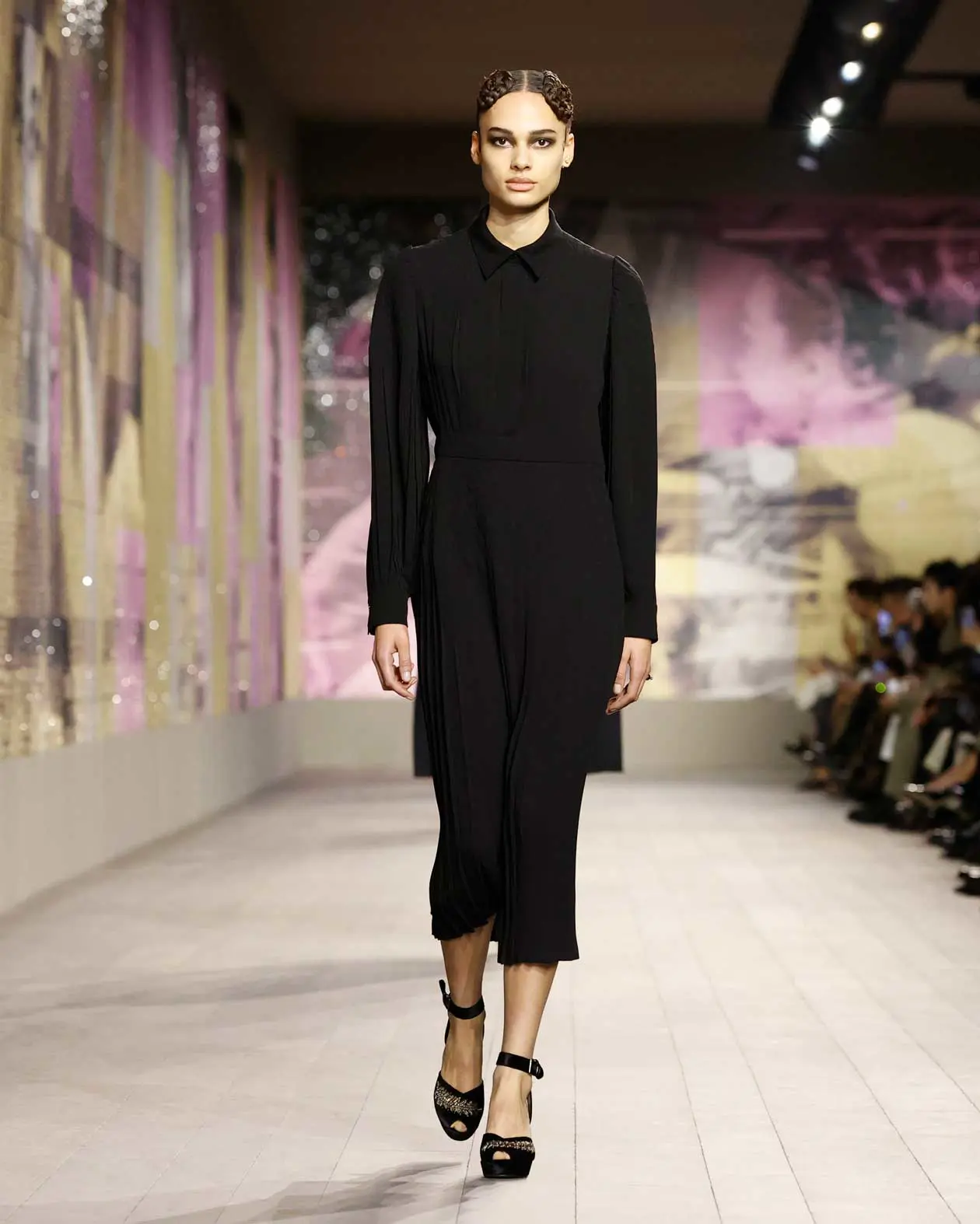 Dior Haute Couture Spring-Summer 2023. Copyright © Dior.
The photographs of Joséphine Baker, whose energy is emphasized by their black and white tonality, compose a form of sartorial biography (capturing her as a dancer, entertainer, member of the French Resistance, civil rights activist for the African-Americans, humanist and universal benefactress), the exemplary story of a pioneer, a role-model. The cozy, intimate dressing room that precedes her entrance on stage is evoked by a series of coats, reminiscent of the bathrobe, which conceals and protects.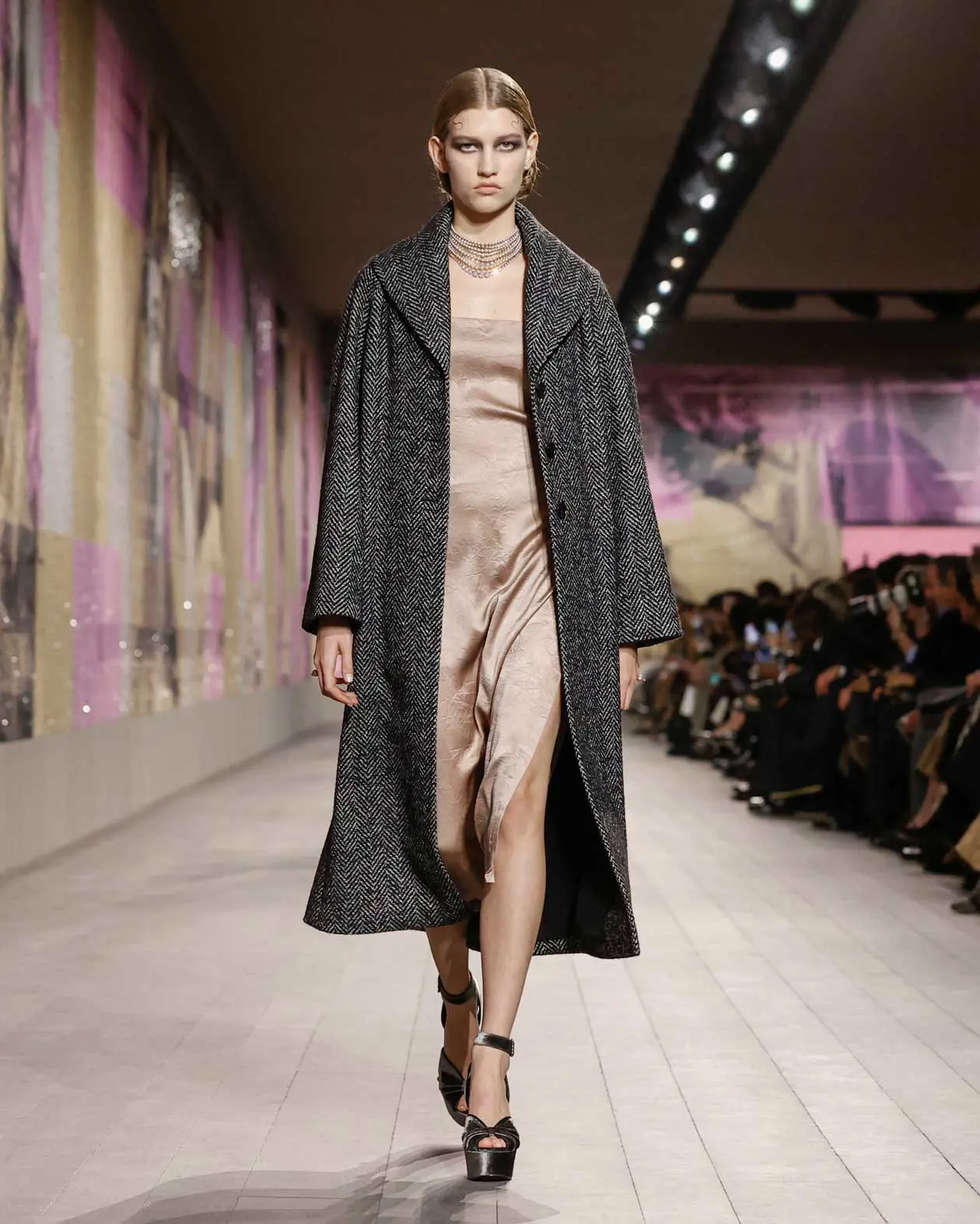 Dior Haute Couture Spring-Summer 2023. Copyright © Dior.
Made of light velvet, crumpled and dynamic, or quilted, they open onto pieces of light satin underwear that are transformed into protagonists themselves, their powdered hues and black providing a contemporary interpretation of 1950s classics.
The clothes glide over the body and caress it. In silk, in velvet, often with a creased effect, a syncopated rhythm, breathing vitality into the fabric. The embroidery is delicate. Tiny silver studs and sequins occupy the space and absorb the runway lights to reflect them onto the audience. Fringes in shades of silver and gold accompany and magnify the choreography of the movements sketched by the body.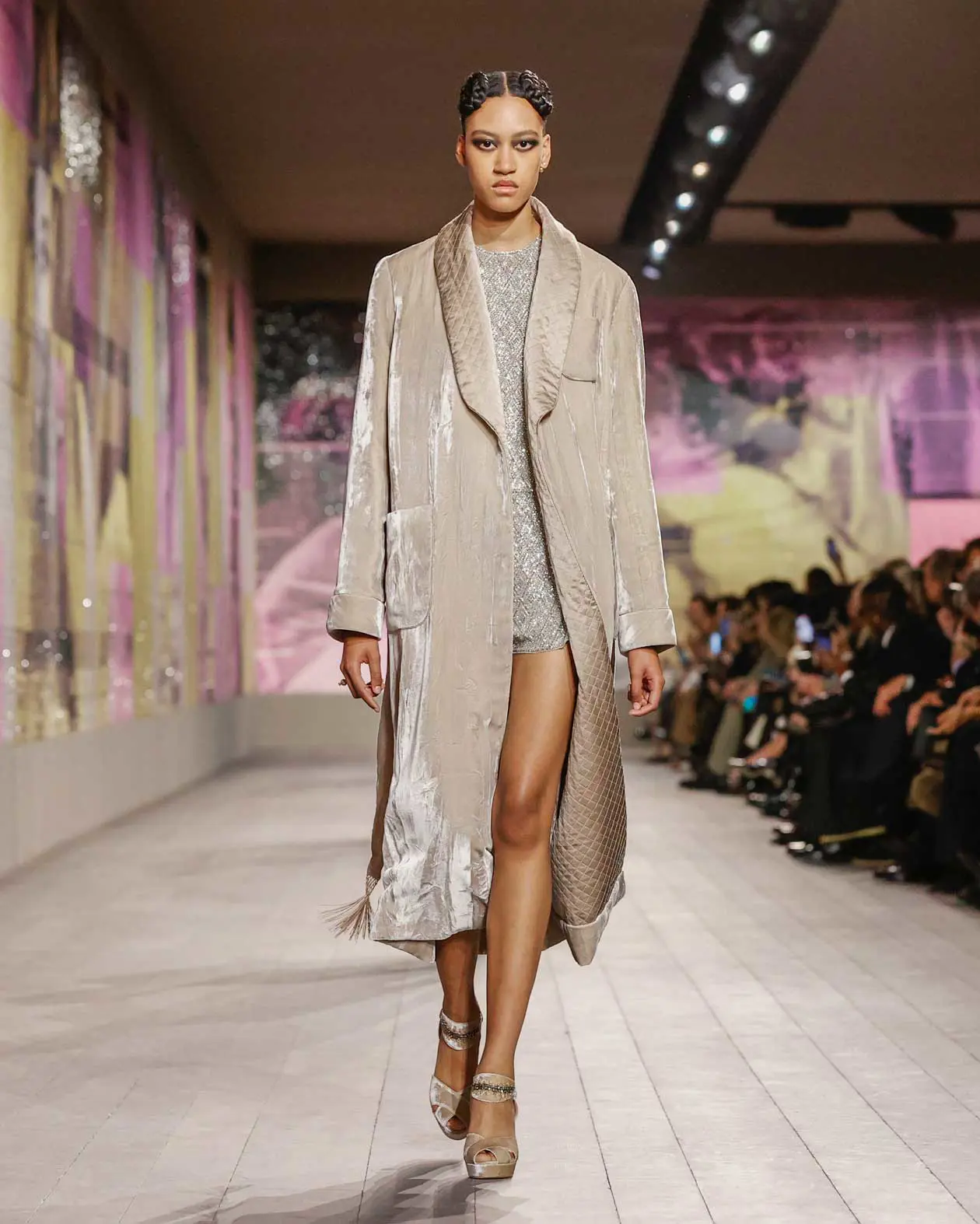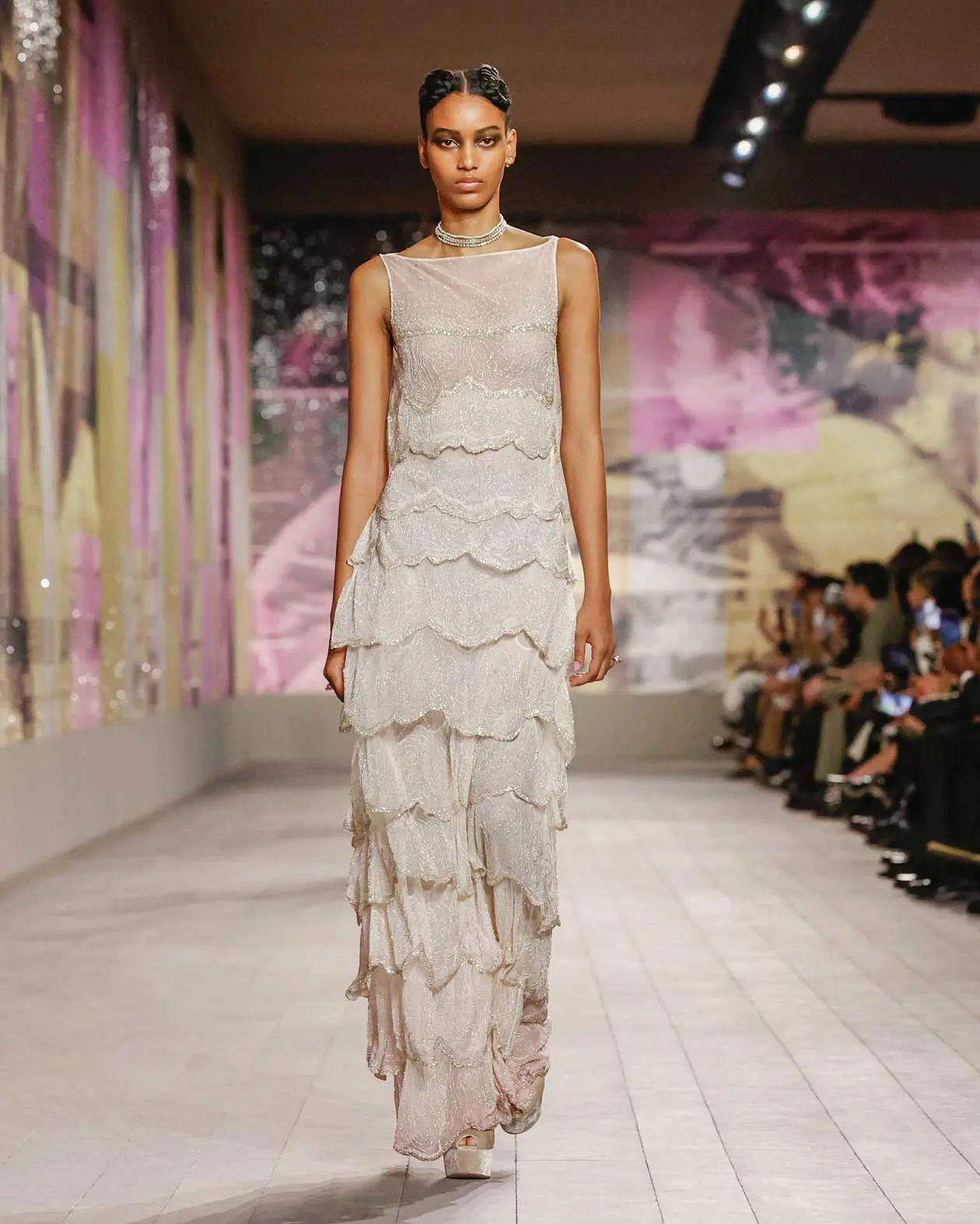 Dior Haute Couture Spring-Summer 2023. Copyright © Dior.
The suits and coats pay tribute to the masculine fabrics dear to Monsieur Dior. The length, always above the ankle, reveals shoes with heels and imposing soles. The show's staging by African-American artist Mickalene Thomas, celebrates black and mixed-race women, like Joséphine Baker, who evolved into powerful figureheads by breaking racial barriers and going against the grain. She unveils the deep meaning of this collection and shakes up the vision of haute couture, the essence of fashion that can become a radical gesture of awareness of its own value and strength.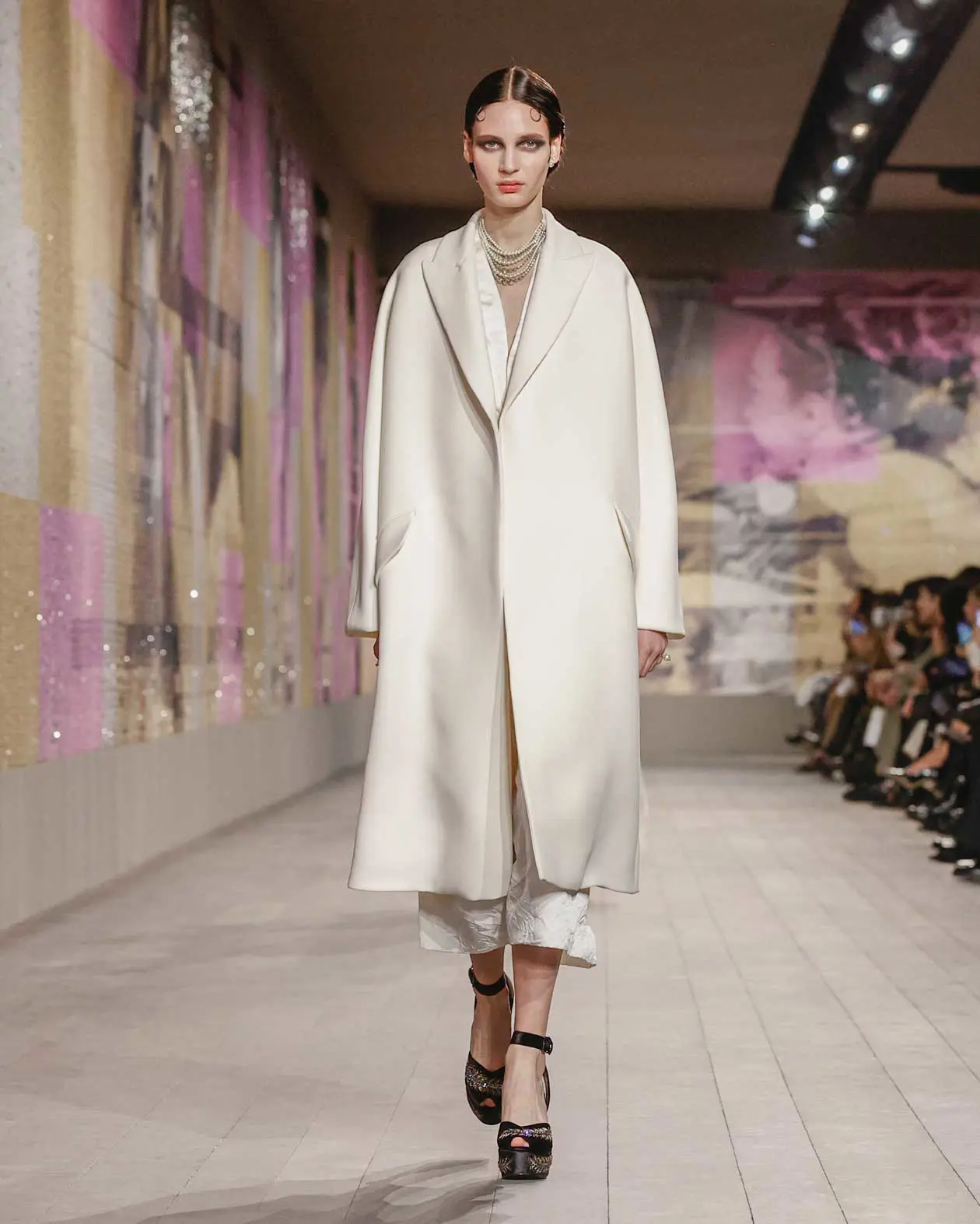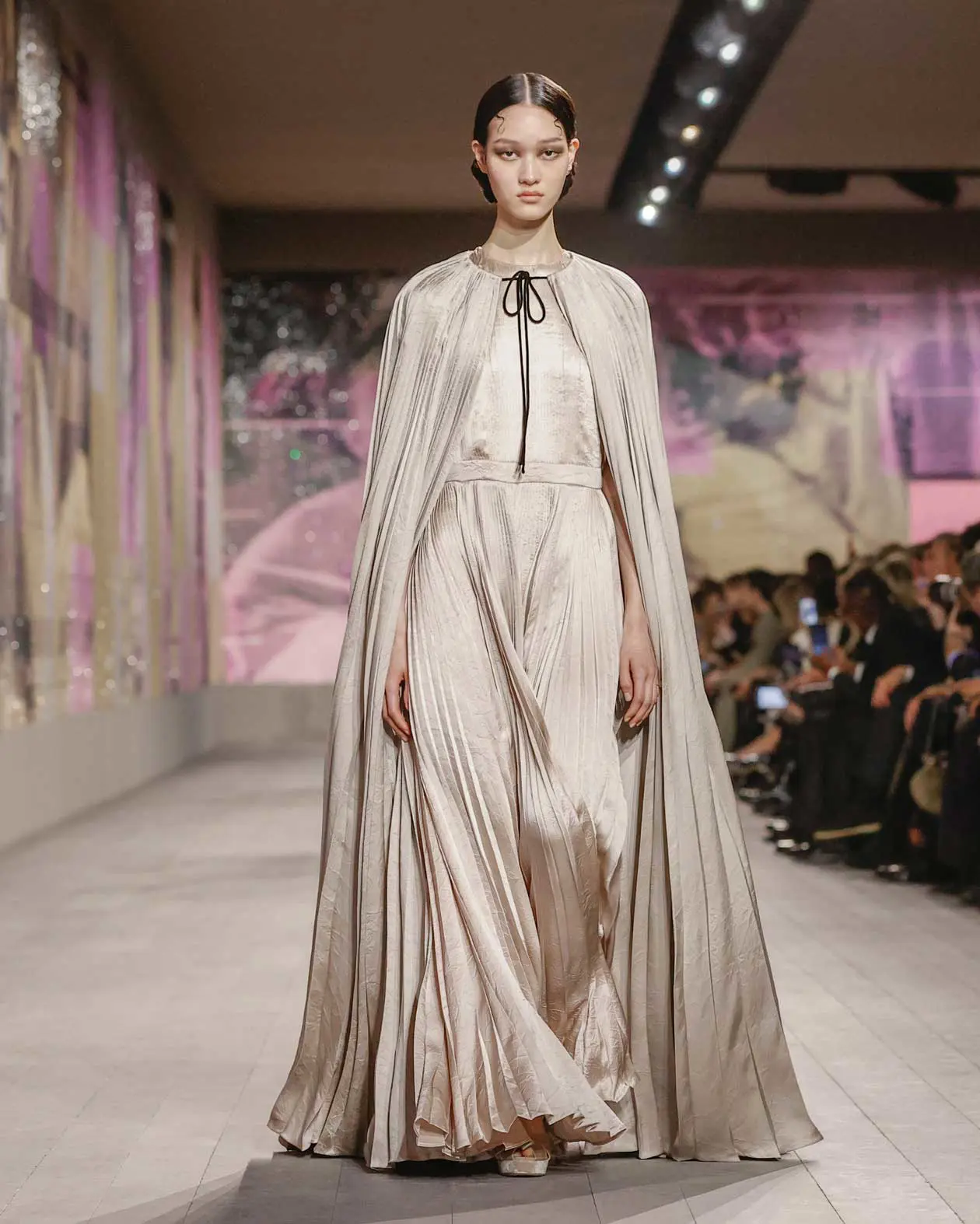 Dior Haute Couture Spring-Summer 2023. Copyright © Dior.
For the staging of the Dior haute couture spring-summer 2023 show, Maria Grazia Chiuri has woven a new creative dialogue with Mickalene Thomas, an emblematic African-American artist, born in 1971, with whom she had previously collaborated on the Dior cruise 2020 collection, unveiled in Marrakech, Morocco. On that occasion, the Creative Director of Dior women's lines had given her carte blanche to reinterpret the iconic New Look silhouette.
Mickalene Thomas' work explores themes of celebrity, femininity, and power, challenging the male gaze while questioning the predominant canons of art history. She expresses herself through painting and devises collages by mixing printed images, photographs and other material elements, often using iconographies of renowned artists, in order to contest social norms and ideals of feminine beauty over the centuries.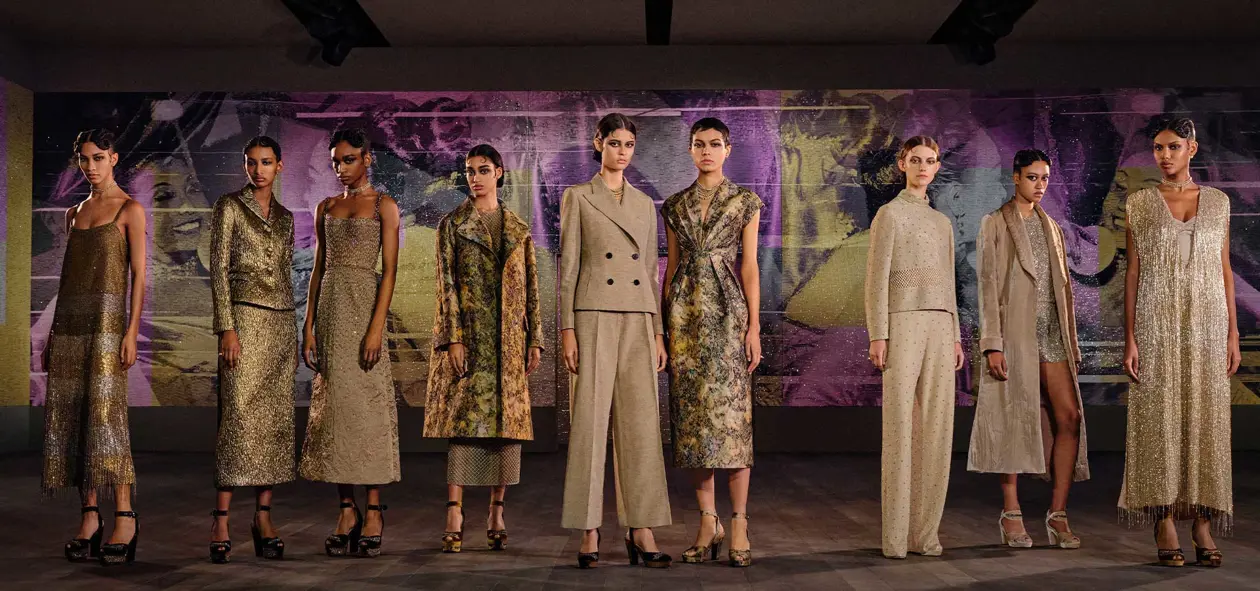 Dior Haute Couture Spring-Summer 2023. Copyright © Dior.
Envisioned specifically for this Dior show, her decor epitomizes a new pantheon of women, born out of a conversation dedicated to the importance of black and mixed-race female figures who have become exemplary by choosing to think and act differently. Giant portraits of a series of exceptional public figures - elaborated with embroidery conceived by the Chanakya ateliers and Chanakya School of Craft on a printed textile base - take over the show's setting. They are a heterogeneous, eclectic group - a source of inspiration on all continents - who have queried the status-quo and achieved feats. As well as Joséphine Baker and Nina Simone, they include supermodels Donyale Luna and Naomi Sims, Dorothy Dandridge, the first African- American woman to be nominated for a Best Actress Oscar, and Hazel Scott, the first African-American woman to have her own television show.
"These women have broken many barriers in television, film, fashion and social activism. It is because of their determination and sacrifices that I am able to make this work and be the artist I am today," says Mickalene Thomas. The portraits carried out by Mickalene Thomas represent: Joséphine Baker, Diahann Carroll, Dorothy Dandridge, Marpessa Dawn, Ophelia DeVore, Lena Horne, Eartha Kitt, Donyale Luna, Josephine Premice, Hazel Scott, Nina Simone, Naomi Sims, Elena Williams.
AVION LUXURY MAGAZINE
in digital version
DESTINATIONS Aruba, un viaggio ai Caraibi. HOTELS Un Bvlgari Hotel a Roma. JETS La serie Phenom 300 di Embraer - La cabina Executive di Bombardier. CARS Bugatti Chiron Profilée -1000 Miglia Experience UAE.
YACHTS Grande 26M di Azimut - Nautica e benessere con Arcadia. WATCHES Planetarium Dunes of Mars Limited Edition.