13 July 2022
Dior Autumn-Winter 2022-2023 Haute Couture Collection
The tree of life: a call, a warning, to make traditions and gestures shine through, allowing us to recover a balance, if only momentarily
The tree of life is at the heart of Ukrainian artist Olesia Trofymenko's work, and the starting point for the Dior autumn-winter 2022-2023 haute couture collection designed by Maria Grazia Chiuri.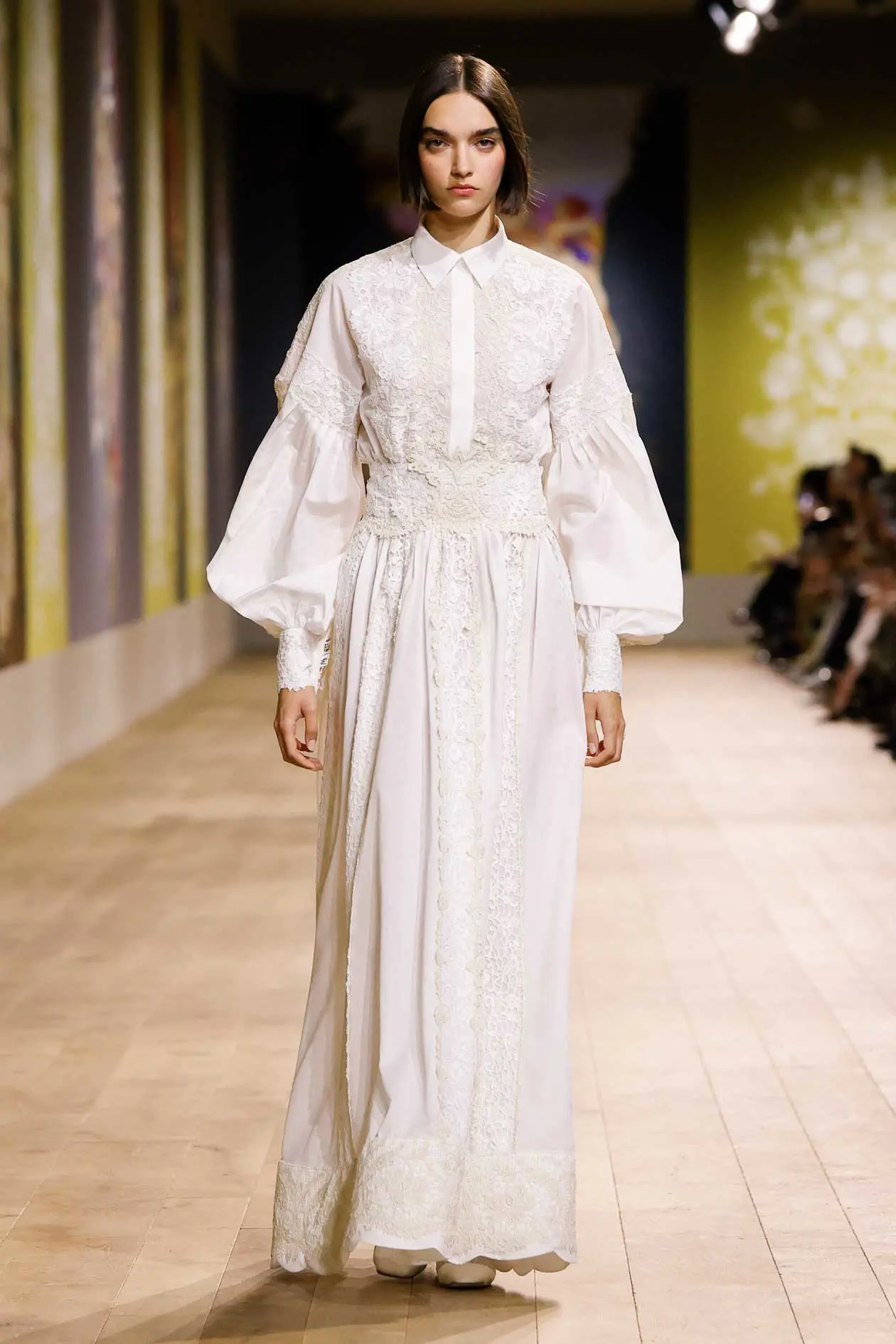 Passage 2 - Numéro 519. Silk and cotton veil dress inlaid with an ecru and white floral guipure band. Copyright: Dior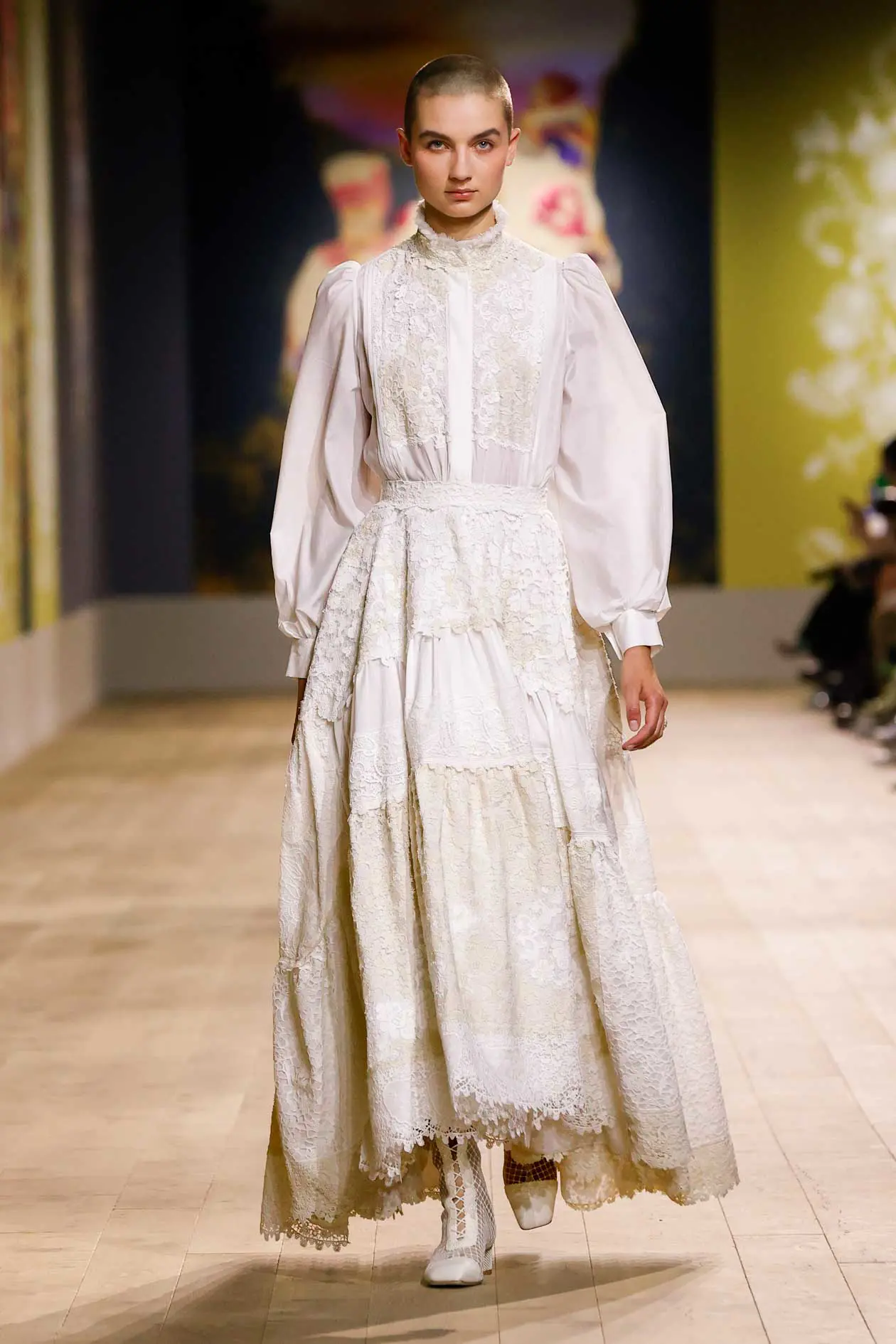 Passage 1 - Numéro 518. Shirt and skirt in lace patchwork and braids of ecru and greige guipure. Copyright: Dior
Painting and embroidery give an emotional charge to this image that is a symbol for different far-flung cultures and mythologies. The tree of life connects all forms of creation; it supports the sky and connects it to the earth through its branches and roots. Olesia Trofymenko's emblem is in line with stylistic codes shared by many lands.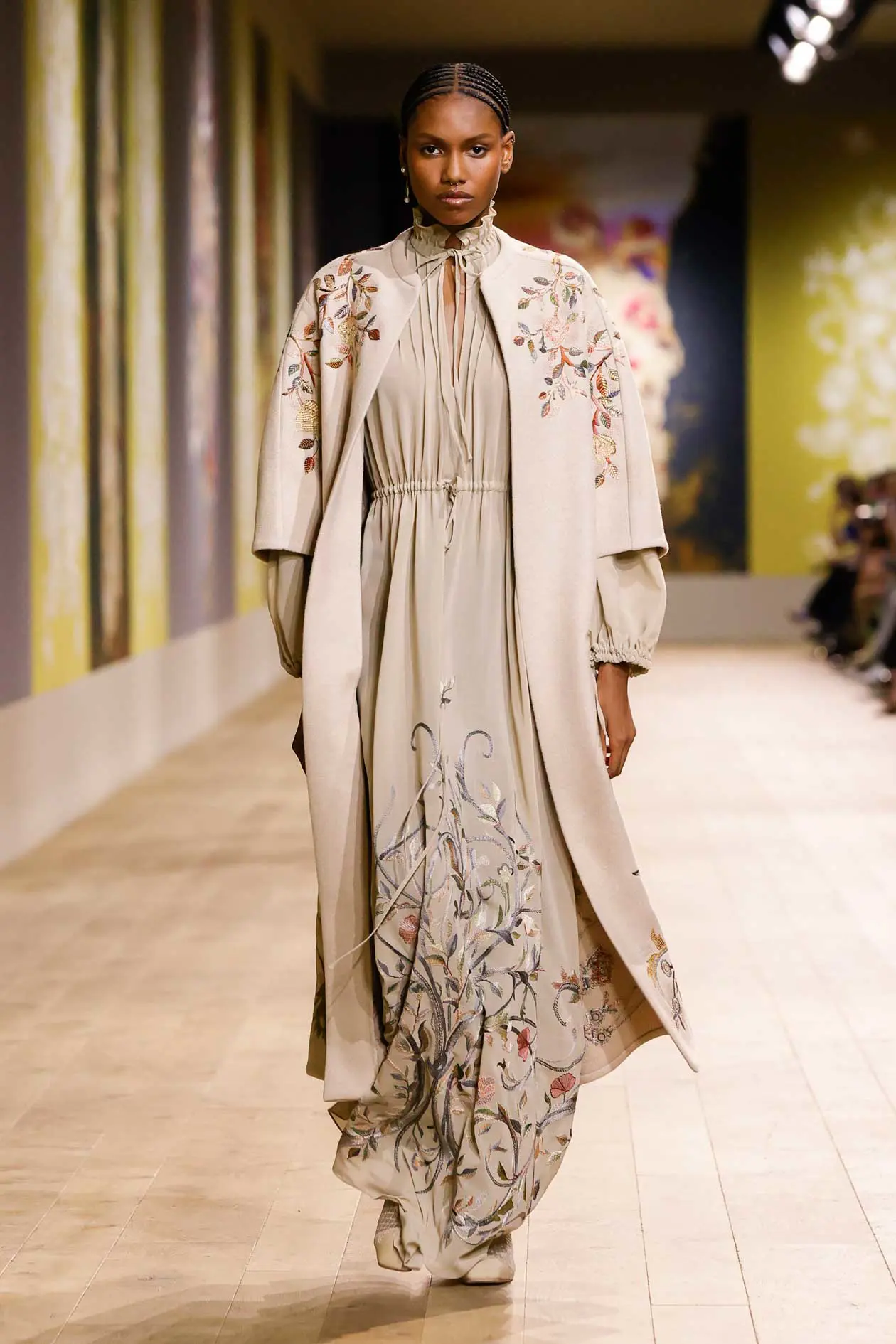 Passage 12 - Numéro 529. "Tree of life" embroidered coot in polychrome silk needlepoint with dress embroidered with foliage scrolls in matte threads matching the "tree of life" coat. Copyright: Dior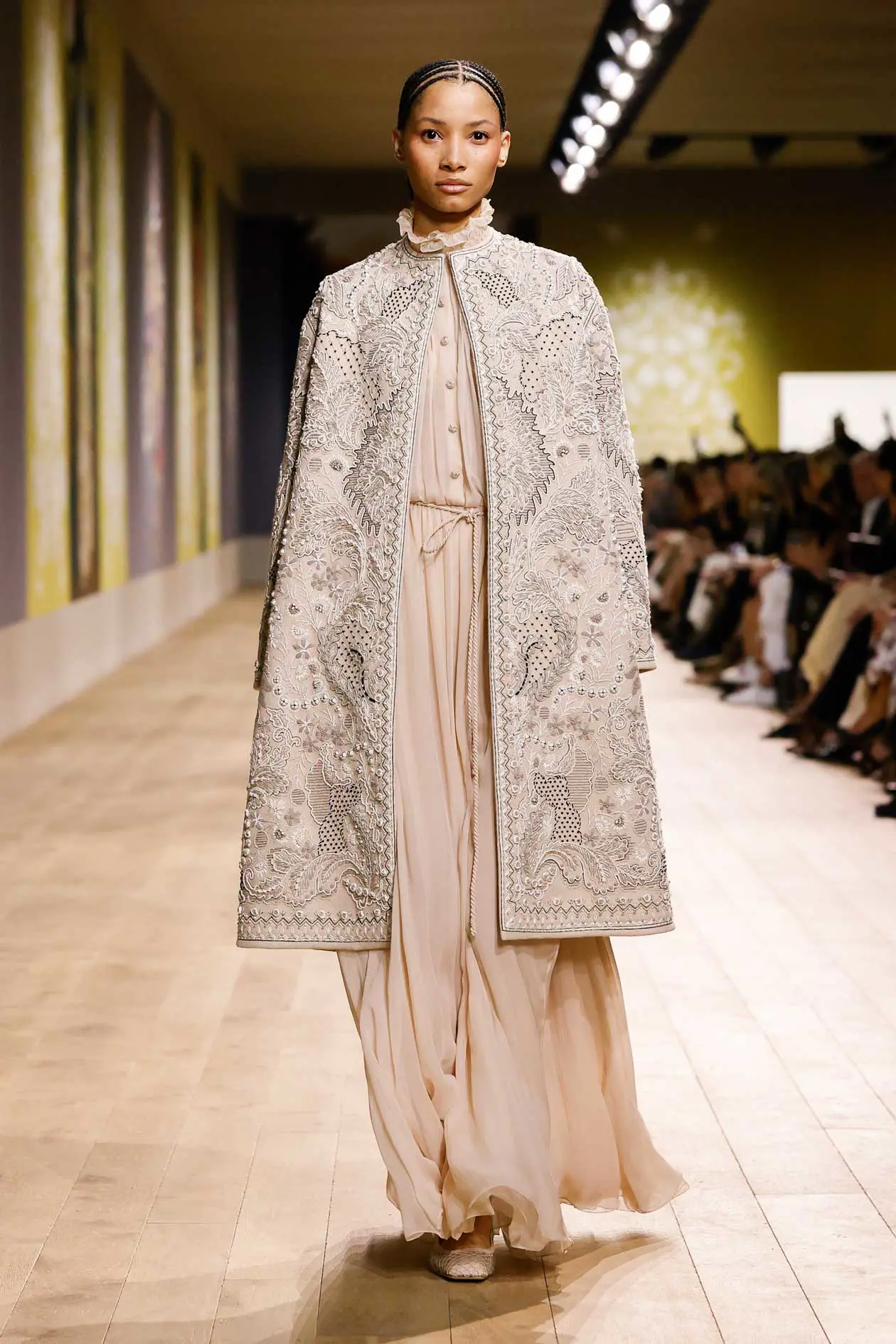 Passage 21 - Numéro 538. Giant beige lampas cashmere coat of various ganse braids and cotton cords in ecru shades highlighted with black, over beige chiffon dress with smocked effect. Copyright: Dior
Maria Grazia Chiuri contemplates fashion through the filter of art, exploring this territory of tradition(s) that appear both enduring and revolutionary, iust like couture.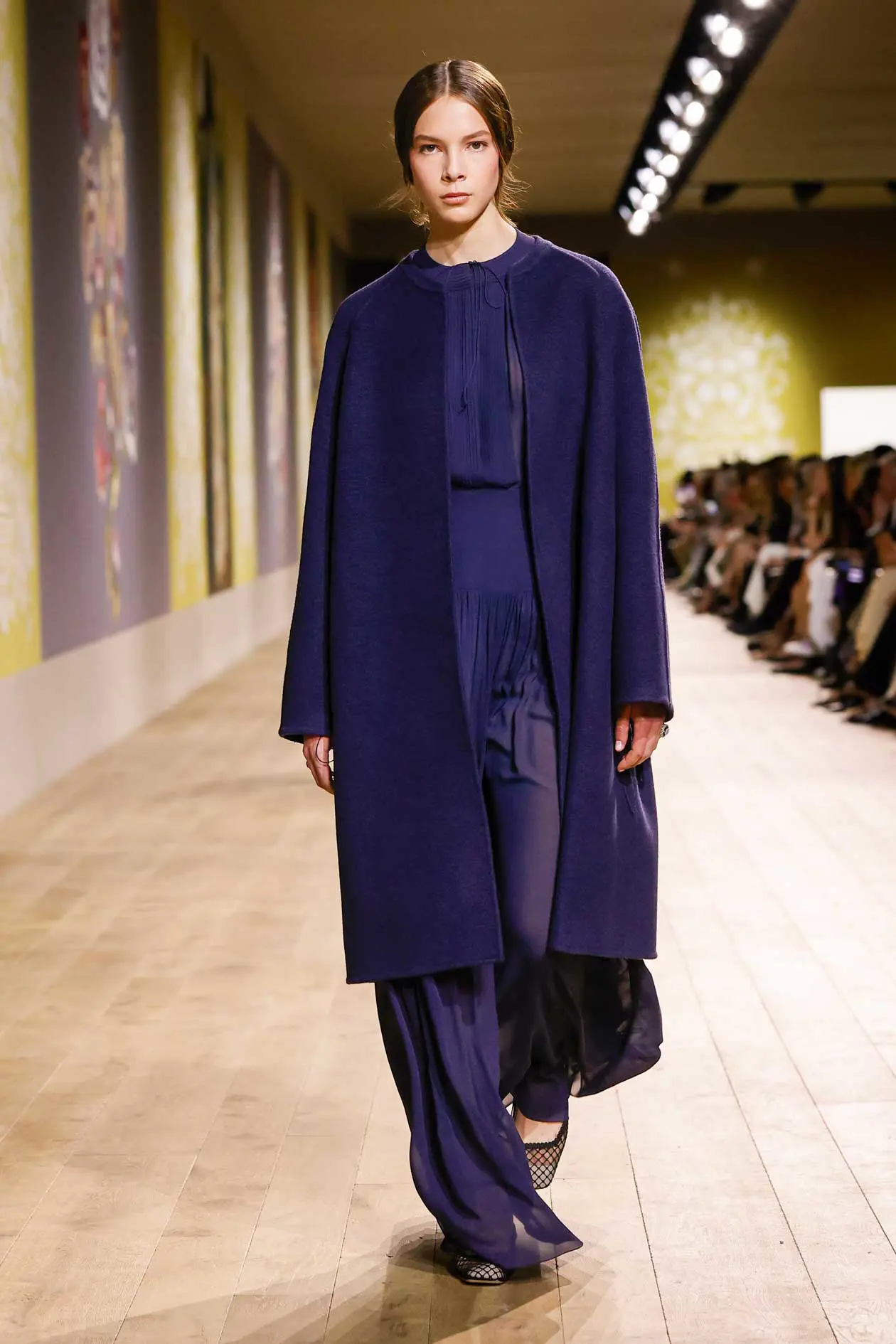 Passage 49 - Numéro 566. Cashmere coot with navy astrakhan effect over pleated skirt
and navy silk georgette shirt. Copyright: Dior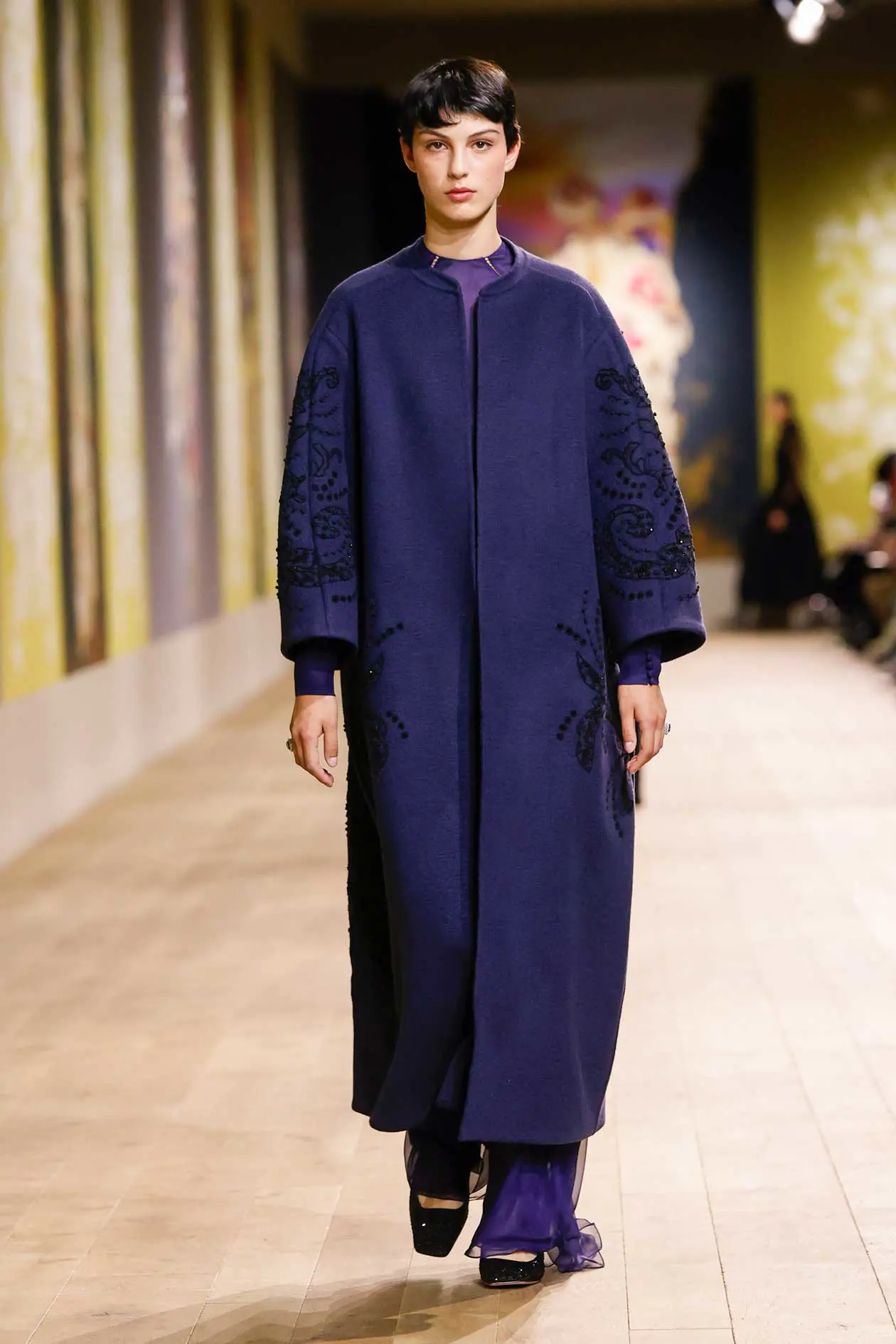 Passage 51 - Numéro 568. Cashmere coat with giant lampas openwork pattern in block gonse braids enhanced
with jet, and navy chiffon dress and entre-deux finishings. Copyright: Dior
This Dior collection is thus composed of a series of pieces through which resonate the imagination of different folkloric customs inspiring all cultures in an open dialogue.
The Dior Haute Couture Autumn-Winter 2022-2023 show from Maria Grazia Chiuri
The branches, the trunk, the roots of the tree of life. A vision that features freely on several garments thanks to the profusion of sumptuous embroideries made of cotton threads, silk threads, and yarn. Beige nuances are sometimes punctuated with a touch of black or blue. These embroideries, requiring the time necessary to achieve ultimate excellence, are deployed on cotton fabrics, wool crepe, silk, and cashmere.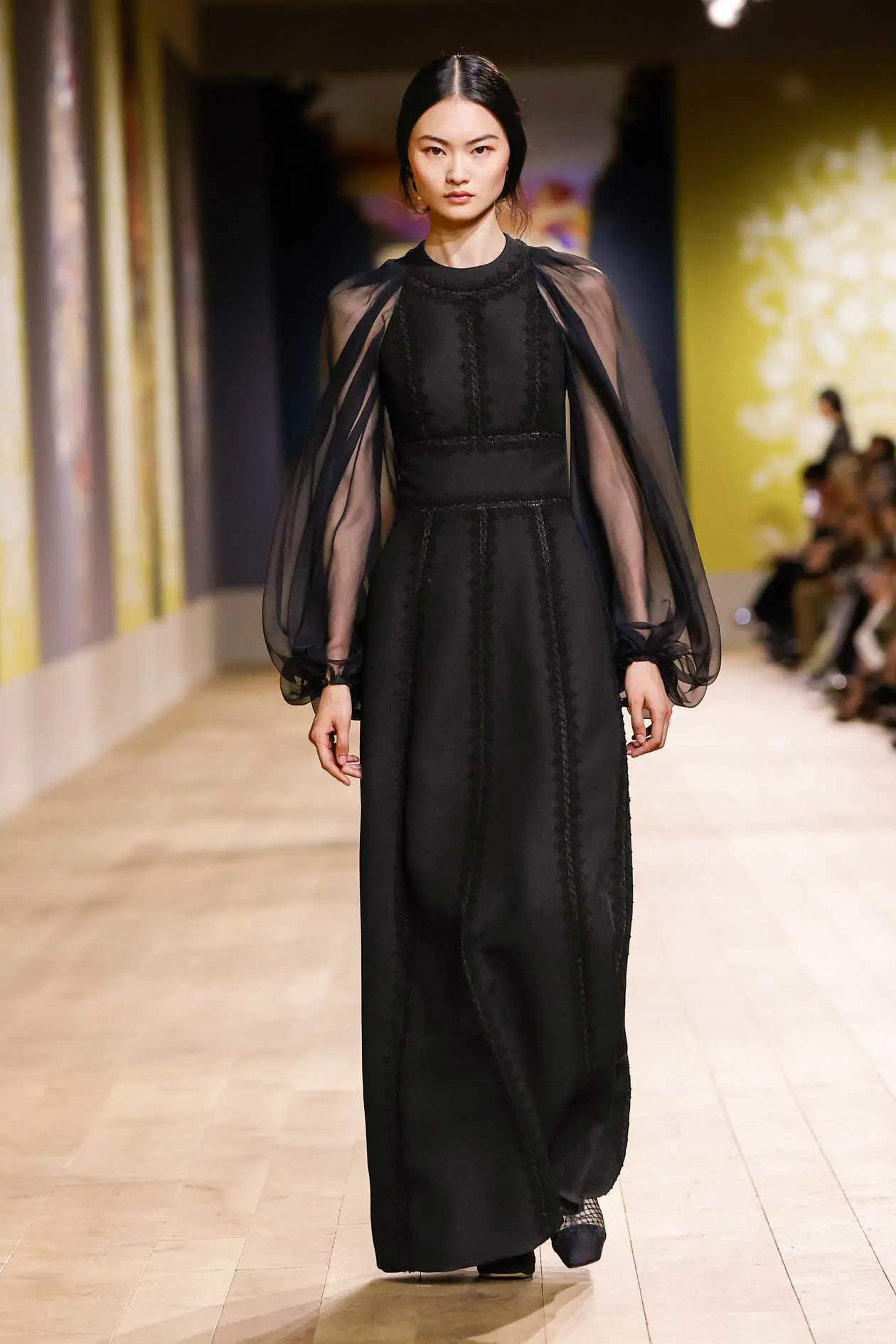 Passage 52 - Numéro 569. Long dress in wool crepe embroidered with trims and openwork in block gonse braid
and guipure with silk chiffon sleeves. Copyright: Dior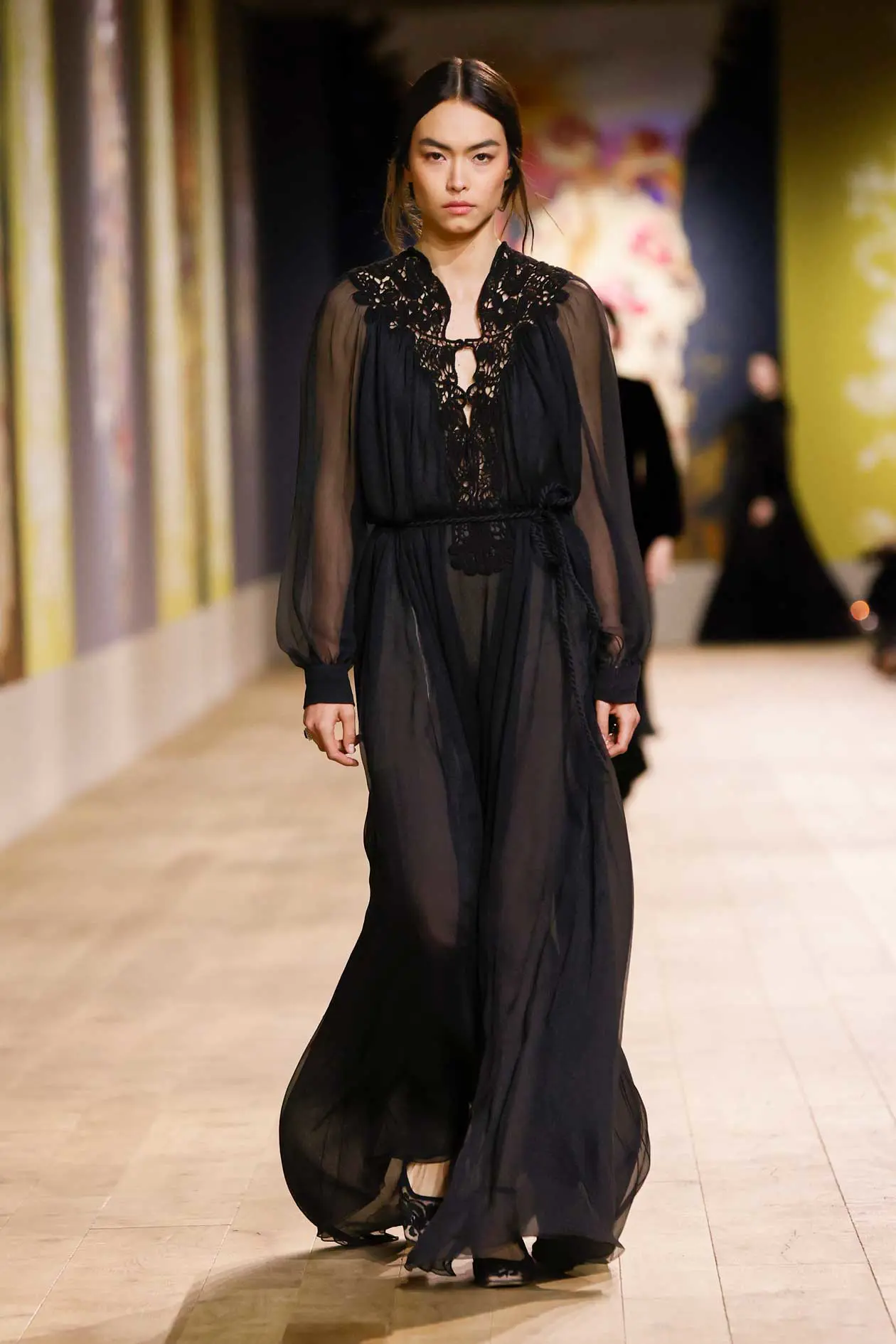 Passage 55 - Numéro 572. Block silk chiffon dress embroidered
with a crochet breastplate. Copyright: Dior
The dresses are adorned with patchworks of braids composed of bronze and black lace and guipure. Silk chiffon was selected for the long, airy dresses that follow the lines of the body in a virtuoso interplay of smocks. The materials reinterpret the New Look silhouette: the Bar iacket is distinguished by vertically smocked fabric and the skirt is structured by ribbons forming a basque.
Passage 56 - Numéro 573. Long dress in block silk velvet highlighted
with delicate smocking. Copyright: Dior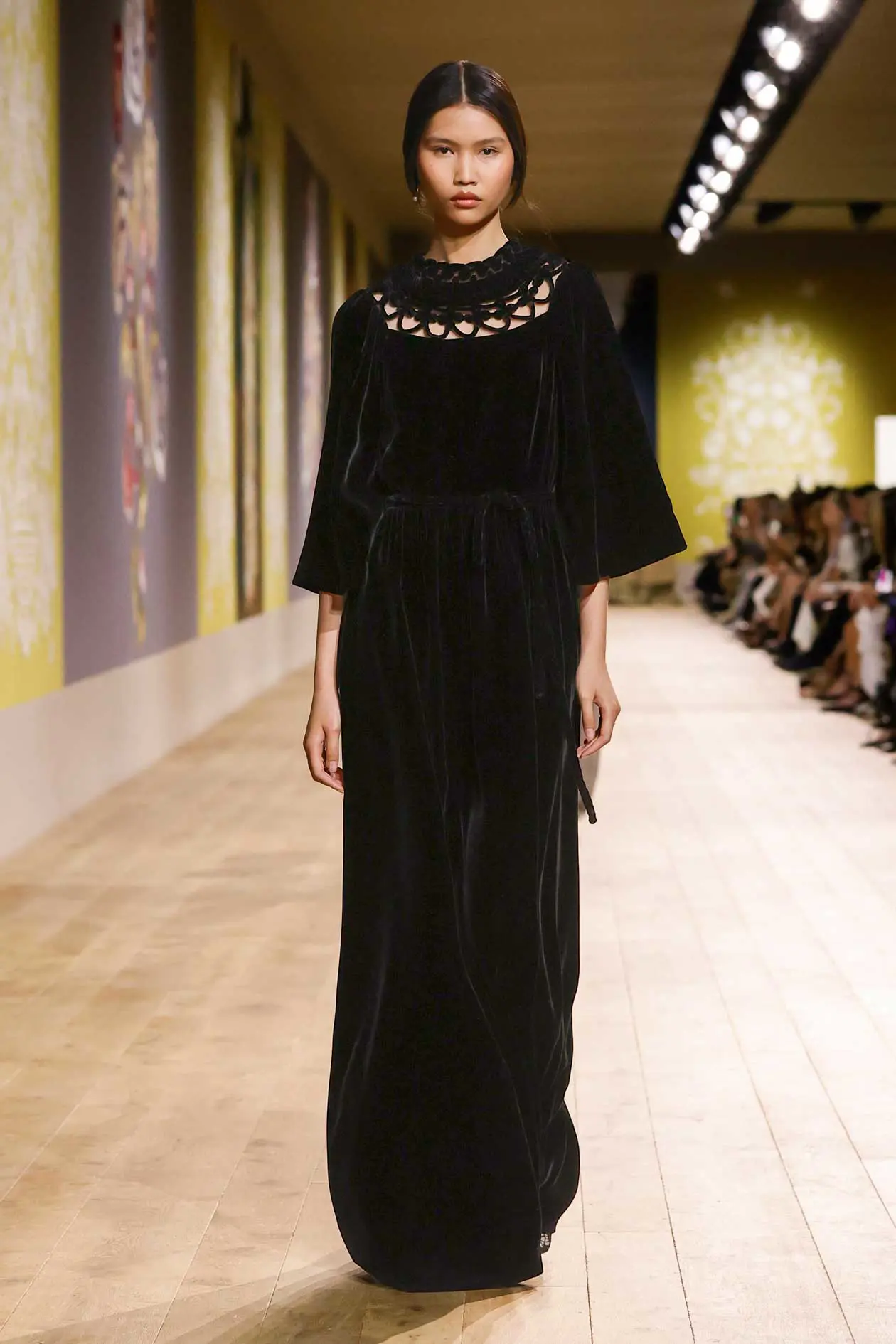 Passage 59 - Numéro 576. Long dress in silk velvet, openwork neckline in velvet bias
with passementerie effect. Copyright: Dior
Hand-loomed fabrics display precious, irregular textures in garments that banish all hems. Elsewhere, wide silk or cotton embroidered trench coats are associated with long dresses. This is a matter of shaping materials and forms in the space for reflection that the Atelier represents, permeable to the social reality in which we live; a matter of recalling what it means to be human today. Gestures passed on, learned and always perfectible, are repeated.
AVION LUXURY MAGAZINE
in digital version
DESTINATIONS Aruba, un viaggio ai Caraibi. HOTELS Un Bvlgari Hotel a Roma. JETS La serie Phenom 300 di Embraer - La cabina Executive di Bombardier. CARS Bugatti Chiron Profilée -1000 Miglia Experience UAE.
YACHTS Grande 26M di Azimut - Nautica e benessere con Arcadia. WATCHES Planetarium Dunes of Mars Limited Edition.