02 January 2023
The Bakst Capsule Collection by Sicis
Through its mosaic works, the company has always expressed the bond that unites it to the world of art
An unbreakable bond is what unites Sicis with the world of art. Perhaps due to the close relationship between the company and the city where it grew, Ravenna, a place rich in history and culture, which boasts 7 UNESCO cultural heritage monuments. From this area, so fertile in artistic terms, the company has been able to draw the lymph that has nourished and inspired the study and evolution of mosaic works. A deep passion for this ancient technique, cultivated with care, grown and made original by introducing innovations and forming a team of skilled masters who have transformed Sicis into the biggest artistic mosaic laboratory in the world.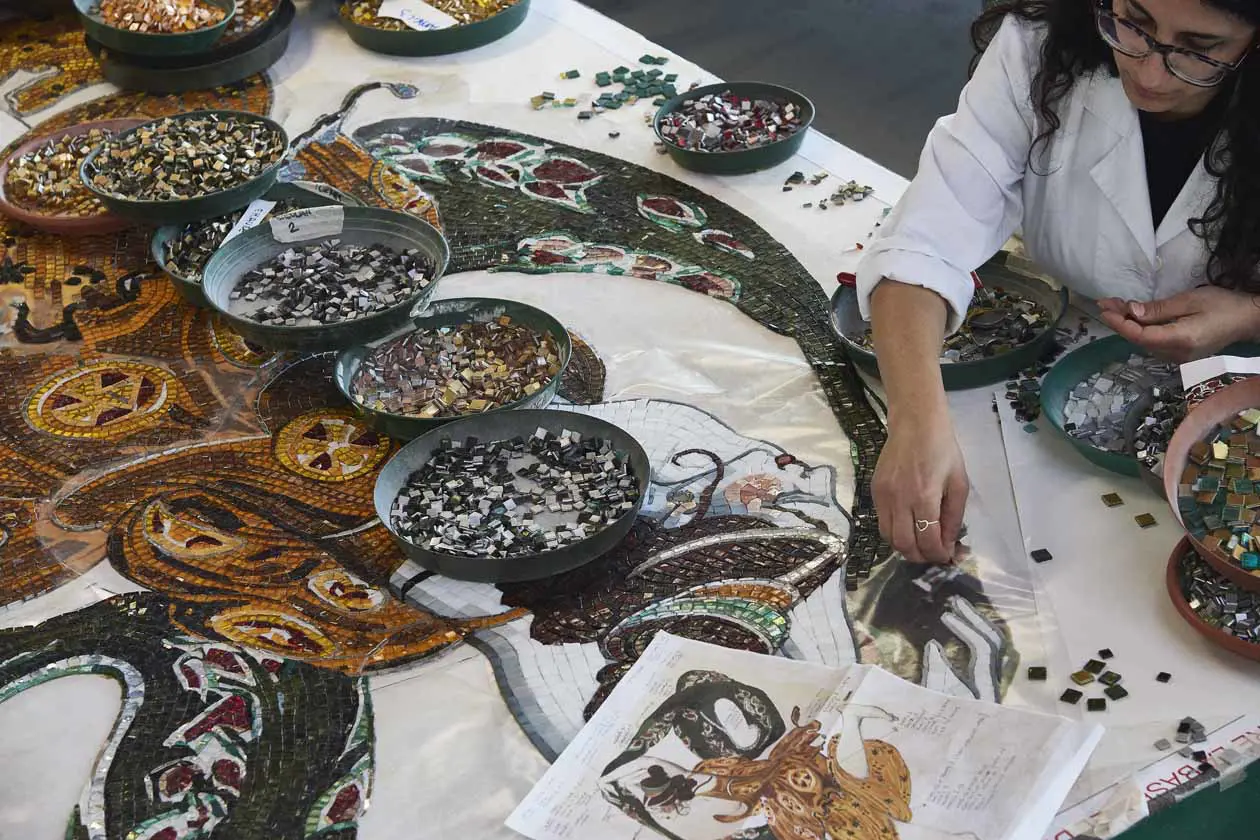 Copyright © Sicis.
This magnetic attraction towards the
greatest artists
of the past and present has prompted Sicis to transform famous paintings, by their nature delicate and ephemeral, into eternal
mosaic interpretations
. It happened in 1998, when the Comune of Rome involved Sicis into a great project: to
decorate with mosaic art entire walls
of the most important underground stations in
Rome
. It was the first use of mosaic art in this specific field, unlike the use of simple single-colour tiles. The project, of international significance, brought together 27
contemporary artists
from Italy, Belgium, the Netherlands, England, Spain, Russia, and many other countries.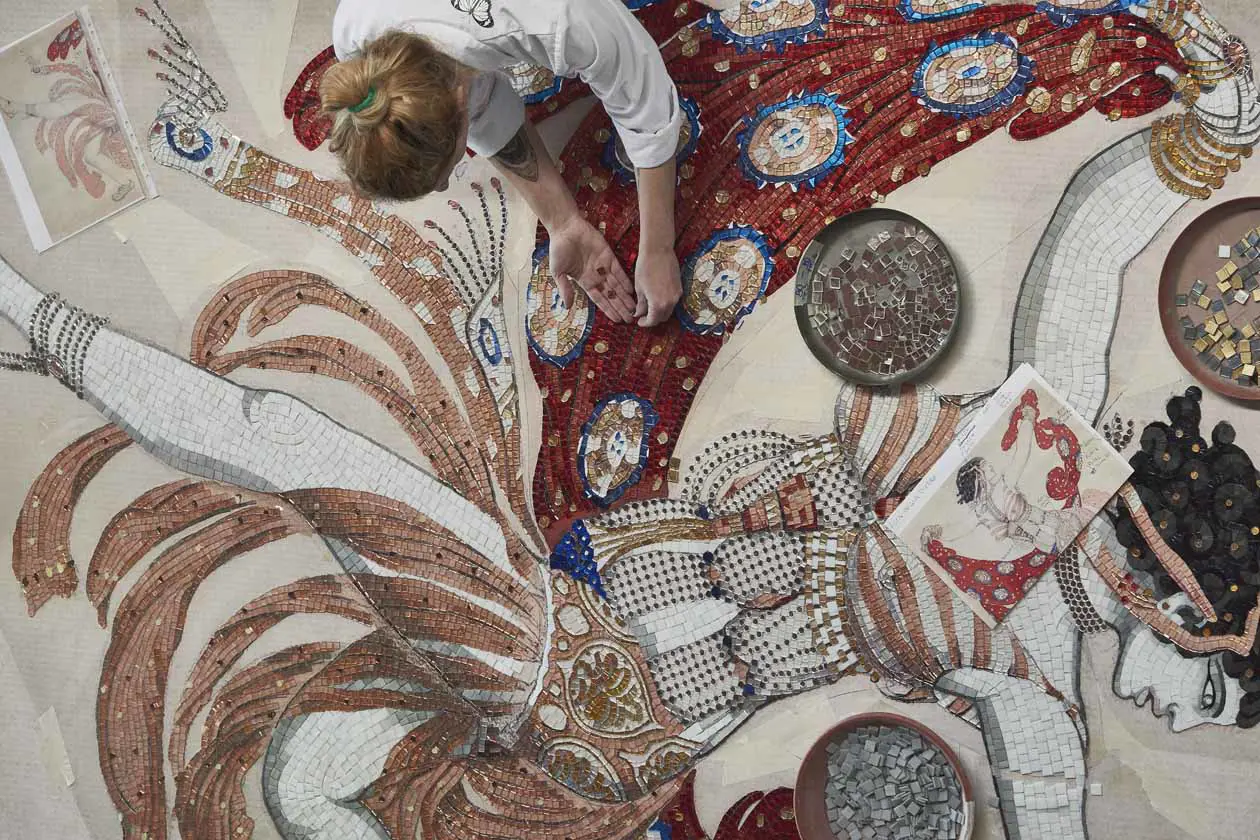 Copyright © Sicis.
During the following years Sicis has then trasposed in
mosaic famous artworks by Arcimboldo, Klimt, Jakuchu
until 2020, which saw it involved in a project that definitely sanctioned its link with art and beauty. As sponsor of the Italian Pavilion at Expo
Dubai
2020, it created the internal artistic mosaic coverings for the Theatre of Memory. The official claim of Padiglione Italia, 'Beauty unites people', represents exactly the vision of Sicis, according to which art is a passion that goes beyond any place, religion, ideology, or difference.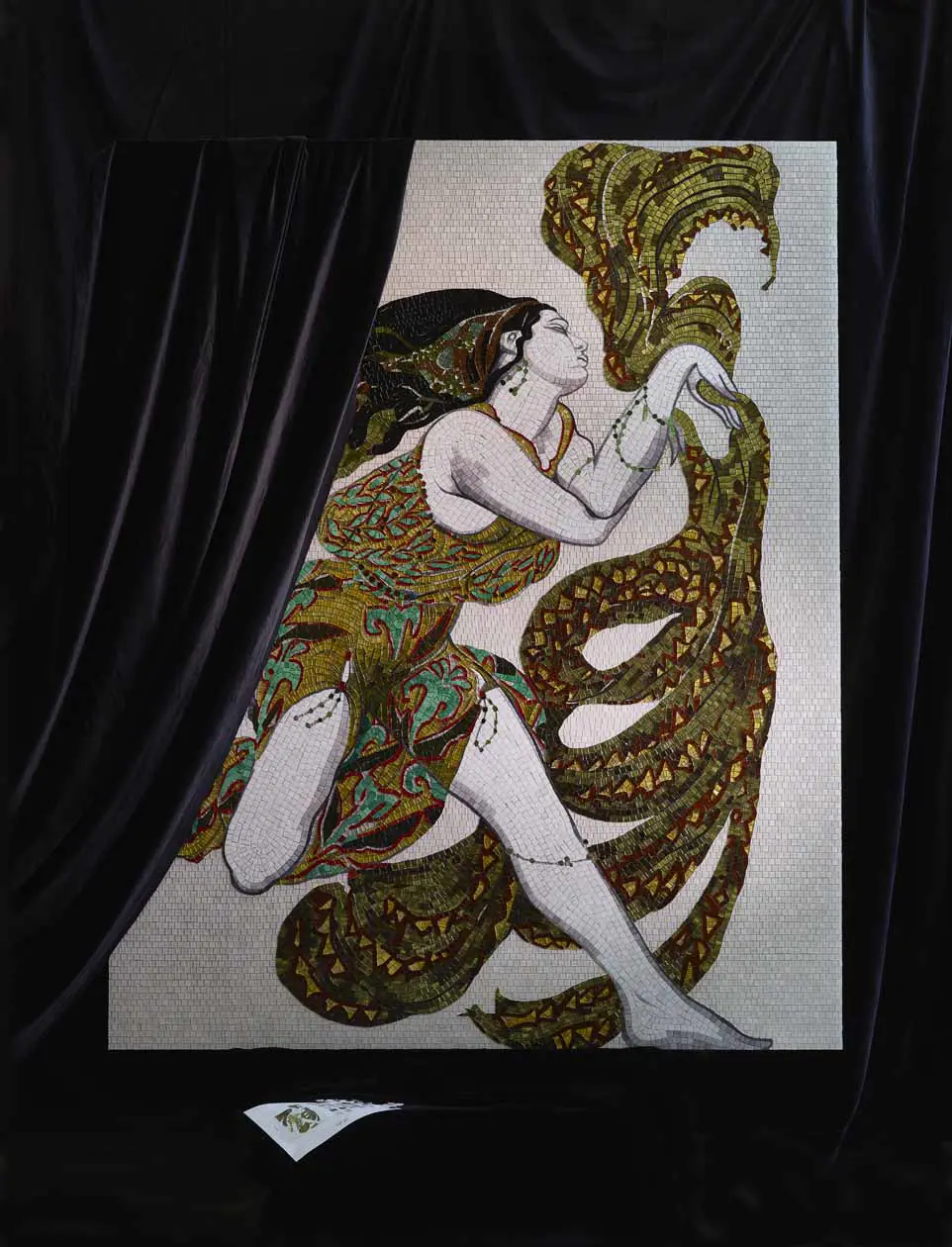 Bacchante. Copyright © Sicis.
And it is by following this philosophy that, at the beginning of 2022, Sicis decided to face its new challenge, interpreting through glass tiles some artworks of one of the personalities that most characterized the fashion and design of the 1900s: Léon Bakst. It was during the search for new artists to represent that Sicis realized how deeply Europe had been influenced by this extraordinary character at the beginning of the century. Illustrator, portraitist and then set designer for the famous Ballet Russes, in his scenes and costumes he skilfully managed to combine the refinement of French symbolism with various popular traditions, achieving a success that soon crossed the borders of the old world.
Copyright © Sicis.
Sicis has reproduced in life-size some of the most celebrated drawings made by Bakst, those for the costumes of "Cléopâtre", "Narcisse", "Carnaval" and "La Péri". With incredible professionalism, and combining ancient artisan techniques with new pictorial languages, the Sicis mosaic masters have been able to recreate the precious effects of Bakst's drawings. Glossy, opaque, iridescent, and metallic glass materials that reinterpret the rich robes in silk, organza, brocade, and georgette, and the marvellous jewels in metals and precious stones, with which Léon Bakst loved to adorn the bodies of the dancers.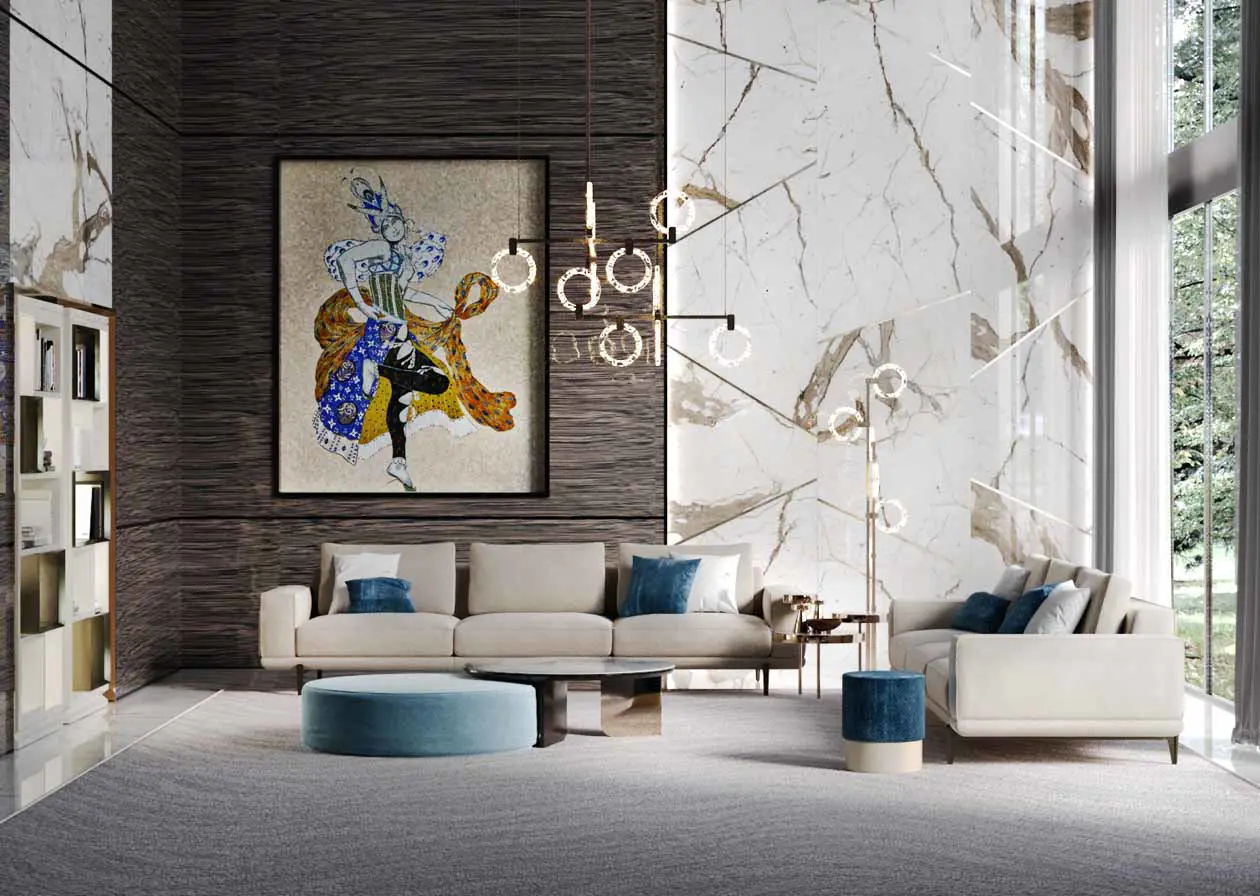 Copyright © Sicis.
The raw material combines with the mastery with which the skilled Sicis mosaic artists are able to unify traditional mosaic techniques with innovative techniques specifically designed project by project.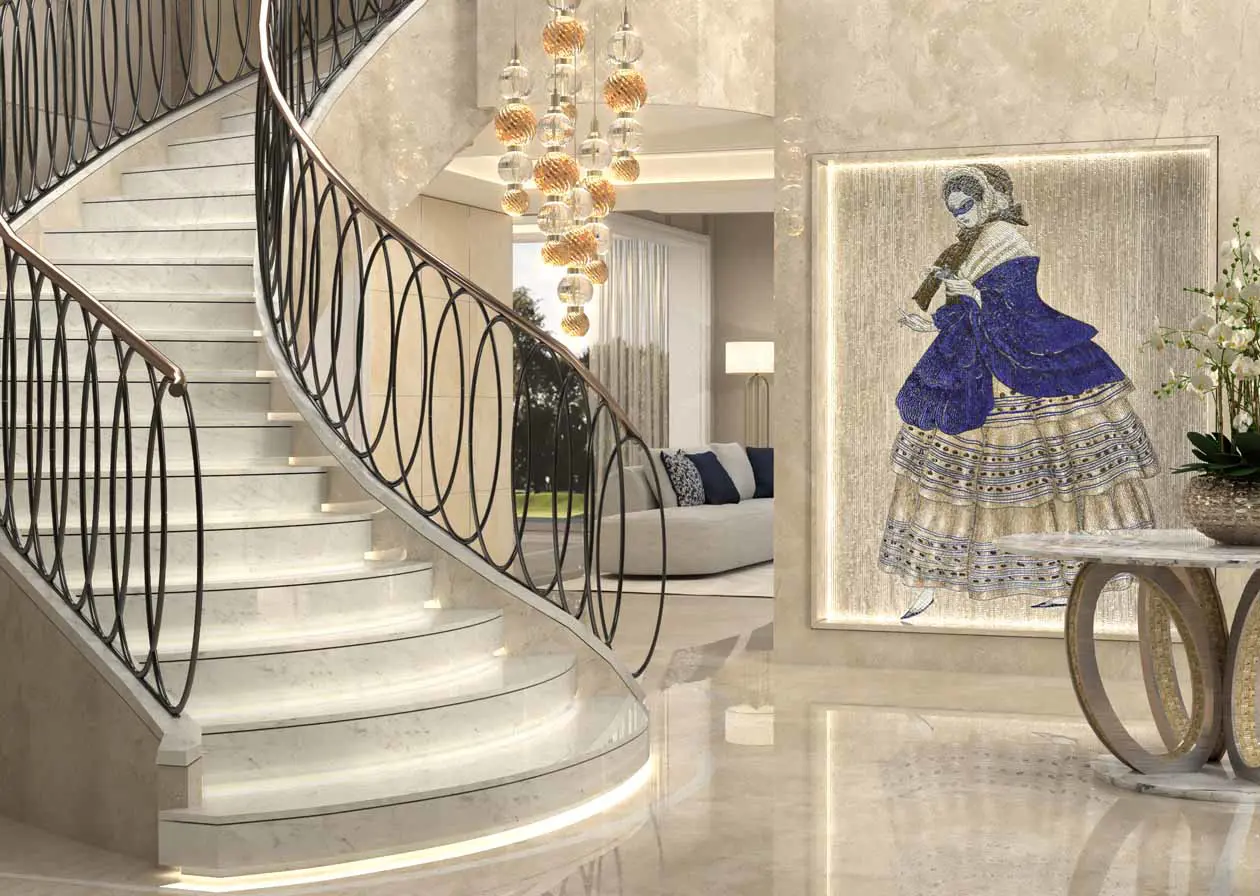 Foto Copyright © Sicis.
Non ultima la pazienza, la precisione e la dedizione con cui, tessera dopo tessera, riescono a dare forma a questi capolavori. La personalità poliedrica di Bakst, la sua capacità di interpretare la bellezza nei più diversi ambiti, dall'arte, alla moda, al design, è ciò che più ha attratto Sicis spingendola a creare questa straordinaria capsule collection, portando il bello in ogni aspetto della vita.
The skill in the use of colour, like the skilful brushstrokes of a master creator of art. Last but not least, the patience, precision, and dedication with which, tile by tile, they give shape to these masterpieces. Bakst's multifaceted personality, and his ability to interpret beauty in the most diverse fields, from art to fashion, to design, it's what most attracted Sicis, prompting it to create this extraordinary capsule collection, bringing beauty into every aspect of life.
AVION LUXURY MAGAZINE
in digital version
DESTINATIONS Aruba, un viaggio ai Caraibi. HOTELS Un Bvlgari Hotel a Roma. JETS La serie Phenom 300 di Embraer - La cabina Executive di Bombardier. CARS Bugatti Chiron Profilée -1000 Miglia Experience UAE.
YACHTS Grande 26M di Azimut - Nautica e benessere con Arcadia. WATCHES Planetarium Dunes of Mars Limited Edition.