16 February 2021
Driade: Nemo Skin Tone and Nemo Custom
Driade launches the most relevant range extention ever since 2010
"'Nemo, omni', nobody is alone, all together we can overcome prejudices and ignorance; Nemo has become over the years an icon of Italian design recognised all over the world, it is a face with classical features, with universal and mythical beauty."
Fabio Novembre
Driade
launches the most relevant range extention ever since 2010, the year in which
Fabio Novembre
designed what is now one of the major icons of international design. The success achieved by "
Nemo, omni
", the installation presented in
Milan
during the
Milan Design City
2020 exhibition, encouraged the company to include the 5 new colours "
Skin Tone
"
Nemo
in the
Driade Collection
.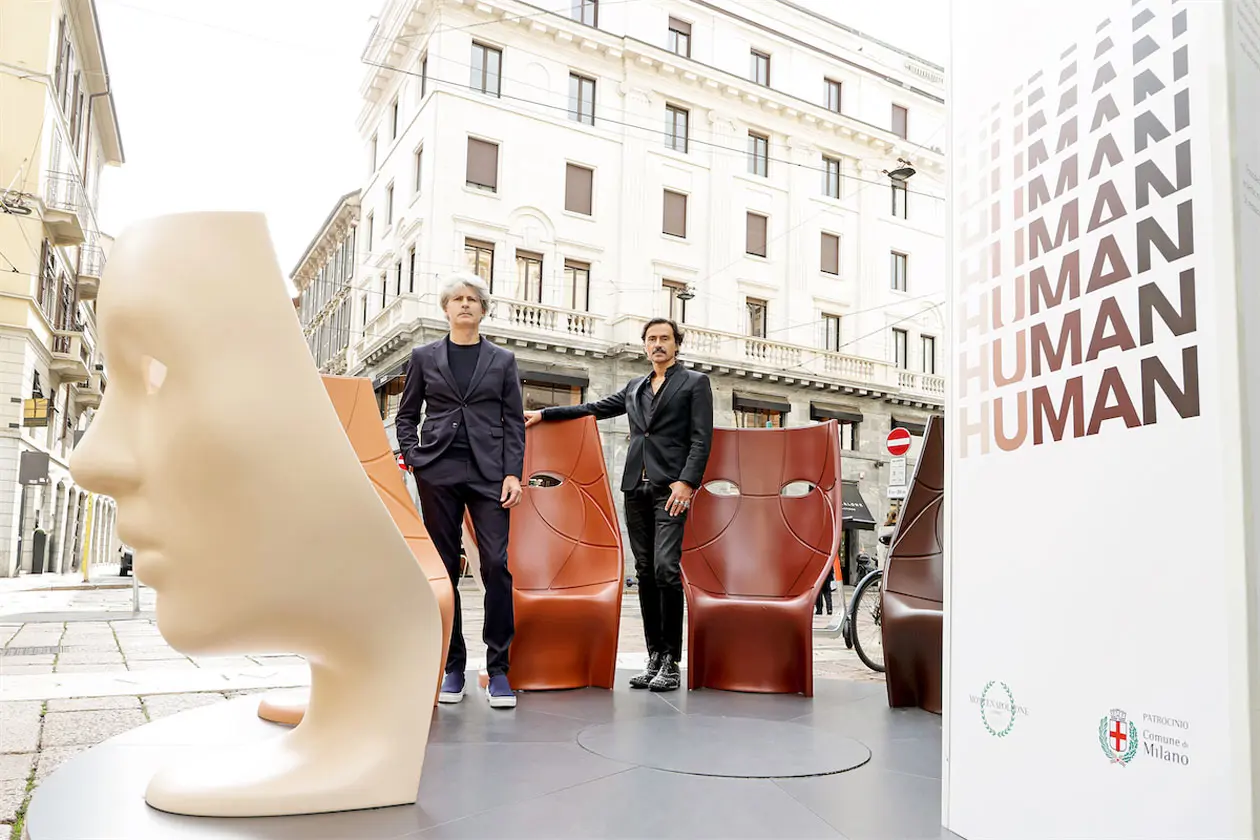 Installation Nemo Omni with Giuseppe Di Nuccio and Fabio Novembre. Photo: Copyright © Settimio Benedusi.
A project designed to promote inclusiveness and equality, underlining how important is the commitment against racial discrimination at all levels of society around the world. From this project, the idea to further expand the range, starting from the 7 colours of the rainbow as an element of inclusiveness - Red, Orange, Yellow, Green, Blue, Indigo, Violet - and encompassing all the colours, up to the declination in 100 different variations.

Nemo by Driade in colours of the rainbow. Photo: Copyright © Driade.
There are countless possible combinations to personalise your Nemo by choosing your favourite colour for the outside of the armchair and deciding whether to keep the inside of the same colour or choose a neutral version: black or white. The inside of Nemo thus becomes an enveloping shell while the outside can be customised with the preferred colour among the 100 proposed in the Nemo Custom Collection, which can be ordered exclusively from Driade Authorised Dealers. Everyone gets their personal Nemo with the Nemo Custom collection.

Nemo by Driade with the new colors in human skin tones. Photo: Copyright © Driade.
Both the Nemo Skin Tone and the Nemo Custom are eco-friendly because they are made using new generation paints. Driade continues its research towards a production that foresees the lowest environmental impact thanks to the use of water-based matt acrylic paints that give the product a particular resistance to the use, to the light and to atmospheric agents as well as an aesthetic appearance, a soft and "silky" touch that combines perfectly with the new colors in human skin tones.
"With Nemo's anniversary, Driade is taking the opportunity to stand against all forms of discrimination, not only of ethnic origin but also of gender, religion, sexual orientation, age, disability and personal beliefs", says Giuseppe Di Nuccio, CEO of Driade and ItalianCreationGroup.
Edited by Lisa Maria River
Text source and photos: Driade Press Office
Photos: Copyright © Driade e Settimio Benedusi
All rights reserved. Reproduction prohibited.

AVION LUXURY MAGAZINE
in digital version
DESTINATIONS Aruba, un viaggio ai Caraibi. HOTELS Un Bvlgari Hotel a Roma. JETS La serie Phenom 300 di Embraer - La cabina Executive di Bombardier. CARS Bugatti Chiron Profilée -1000 Miglia Experience UAE.
YACHTS Grande 26M di Azimut - Nautica e benessere con Arcadia. WATCHES Planetarium Dunes of Mars Limited Edition.