18 April 2023
Bentley Home at Milan Design Week 2023
Bentley has collaborated with world leading designers: Federico Peri, Riccardo Cavaciocchi and Carlo Colombo – a true meeting of minds who share Bentley's vision of working sustainably
"When Bentley collaborates with world renowned designers, it's more than just a meeting of minds, it is a relationship based on shared purpose. The new capsule collection for 2023 brilliantly combines our relentless pursuit of innovative sustainable materials to provide finishes that are truly unique in shapes inspired by the flowing lines and elegant curves of a Bentley car with expert craftsmanship and comfort."
Chris Cooke, Head of Bentley Design Collaborations
Bentley Home launches a new seven strong collection during Milan Design Week 2023, in collaboration with three world renowned designers and architects. The Bentley Home Atelier at the historical Palazzo Chiesa is transformed for the occasion providing a multisensory backdrop within its inner courtyard garden.
The collection reaffirms the substance and elegance of Bentley Home Design in collaboration with leading designers engaged for their talent and innovative use of sustainable materials, organic forms, expert craftsmanship and cutting-edge production technology. Each piece translates beautifully into practical, contemporary furniture for the home.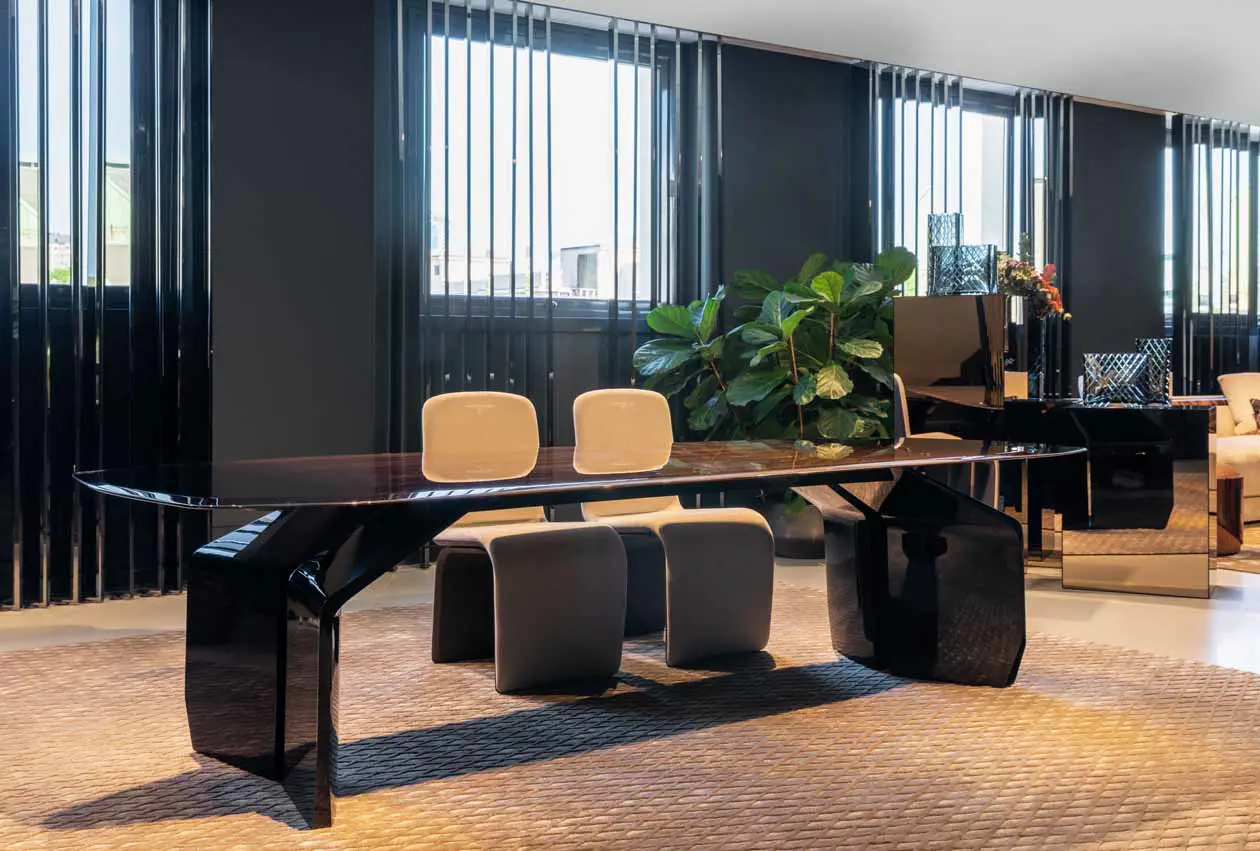 Bentley Home Collection, Camden table. Copyright © Bentley Home
Bentley Home has collaborated with Federico Peri on a new table series including a coffee table, which is available in beautiful veneer options as well as in a new Paper Marble finish by Paper Factor®. Architect Riccardo Cavaciocchi, the founder of Paper Factor®, has created a tabletop finish which is similar in look and feel to marble but created using 'raw paper' and natural pigments.
In line with Bentley's focus on sustainability, expert craft and materiality, Paper Factor® harnesses traditional techniques using both hand and machine. Fully customisable, it will be offered more widely across the Bentley Home collection during 2023.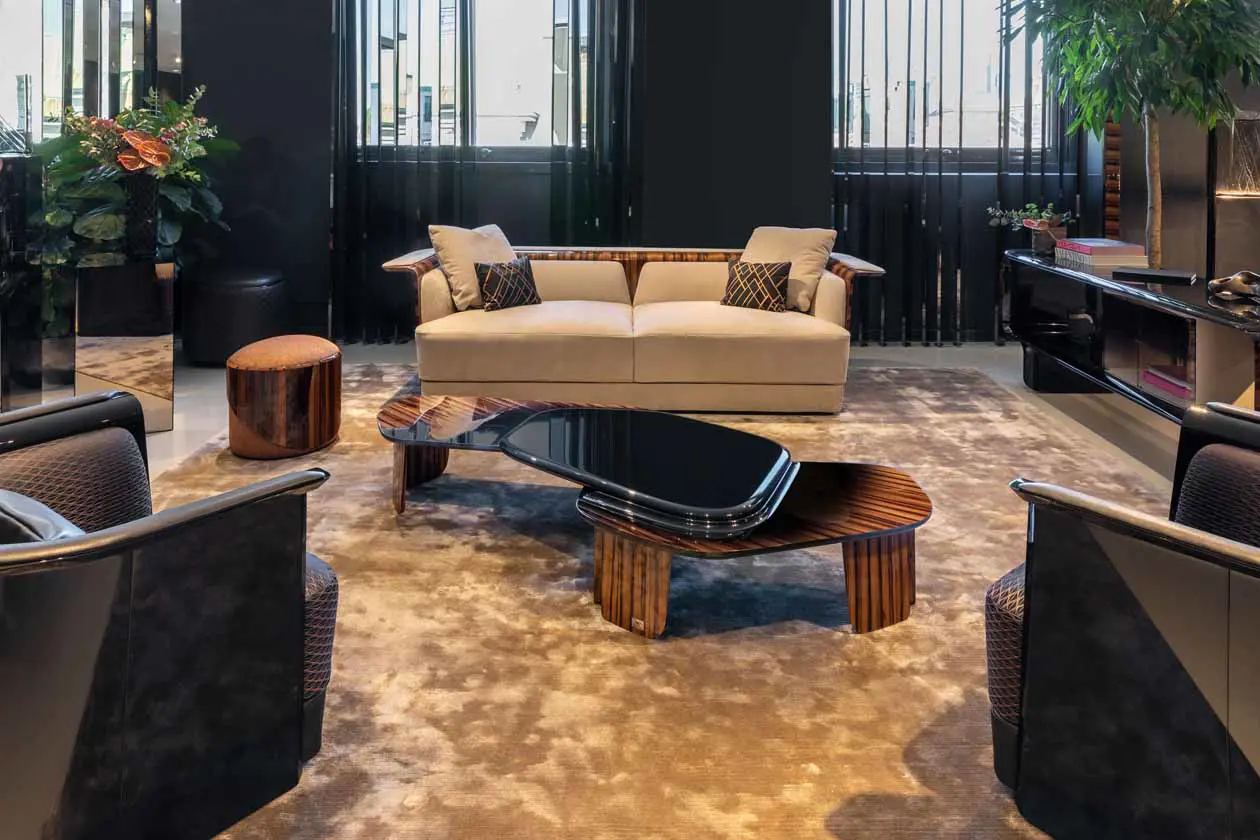 Bentley Home Collection, Bayton sofa. Copyright © Bentley Home
BENTLEY HOME 2023 COLLECTION
The new collection reaffirms Bentley's most distinctive design features: well-defined lines, the skilful use of wood, iconic curves and contoured shapes.
Designed by Federico Peri with Bentley Home.
The Thames coffee and side table
Designed by Peri and available as two-or three-piece sets, the Thames tables sum up Bentley Home's vision based on painstaking attention to detail, sustainable materials and craftsmanship. Their atoll-like design features a contrasting core set inside dynamically curved veining patterns on well-defined elegant legs. One of the coffee tables is available in a Paper Factor® version designed by Riccardo Cavaciocchi. It is made from a "raw paper" micro cellulose compound and natural pigments, processed to obtain a tabletop that is like marble and available in monochrome or with burgundy accents.
The Camden dining table
Milan based designer, Federico Peri has created the new Camden dining table in collaboration with Bentley Home. Its design exemplifies some of the main concepts behind the Bentley Home 2023 collection: energy, sharp and clear-cut lines, lightness and substance. The elegant legs of the table are designed to give a suspension-like effect and a heightened sense of weightlessness that results in an elegant dynamic finish.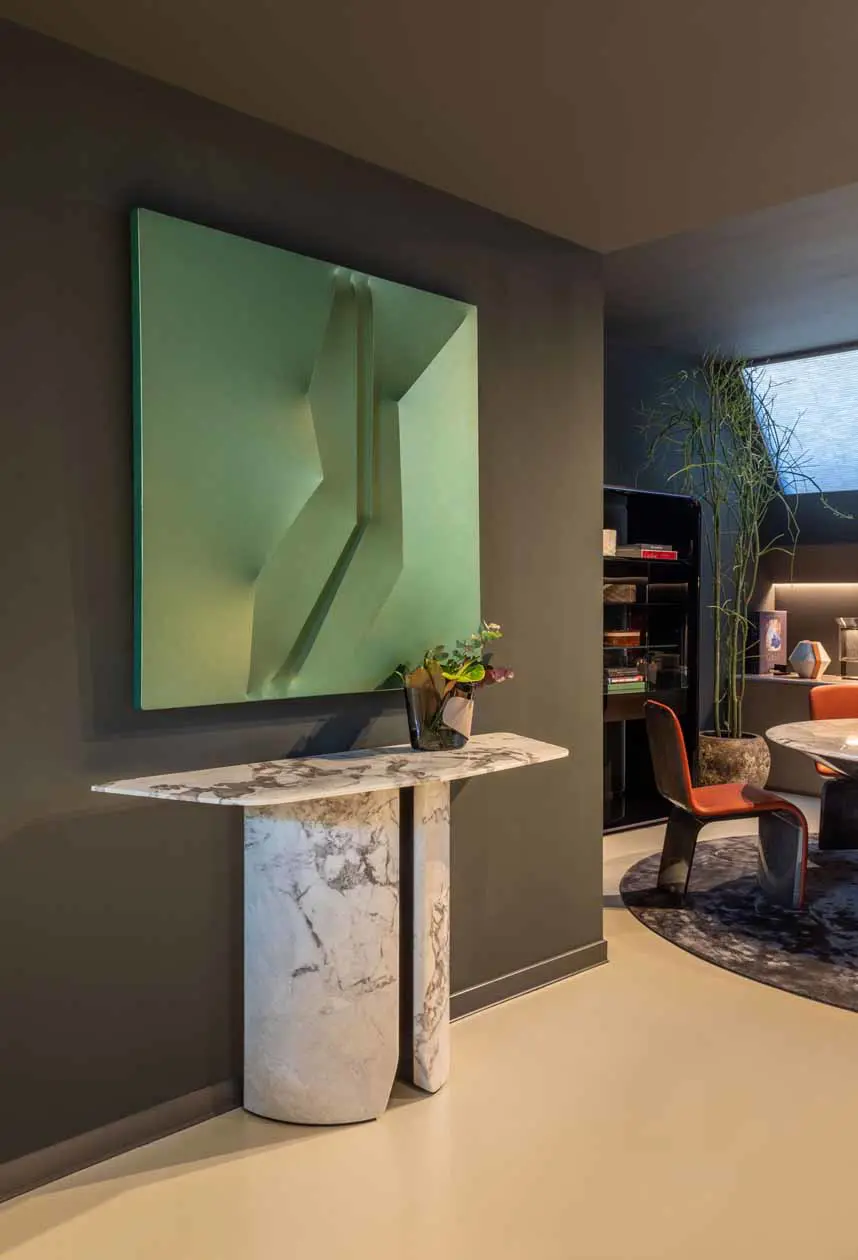 Bentley Home Collection, Dalston table console. Copyright © Bentley Home
The Dalston console table
The geometric console features a dynamic trio combination and unique marble effect with delicate sinuous lines. Its shape, inspired by the front of a vintage Bentley, provides a sense of power and movement. Set on a rich dark base, the artist applied degradé effect, which was launched by Bentley Home in 2021, offers customers a further customisation option in an ombre effect finish applied to their chosen veneer, and new for 2023 this is now offered on the marble console. This is just one the extensive options available enabling customers to create highly personalised specifications.
Bentley Home Collection, Outdoor. Copyright © Bentley Home
Designed by Carlo Colombo with Bentley Home
The Bayton sofa and armchair
Designed by architect Carlo Colombo in partnership with Bentley Home, the Bayton sofa is elegant and refined in form and exudes comfort. Its shape takes inspiration from a Bentley car with a fine wooden frame and beautifully proportioned curves, combined with streamlined, tightly fitted upholstery.
Designed by Bentley Home
The Brixton bed
Curved and dynamic lines define this highly comfortable bed, fusing minimalism, and elegance. The inner frame of the double headboard is available with a natural wood or lacquer finish and contrasts with the slim upholstery to simulate the concept of movement. An optional light can be integrated into the headboard, both beautiful and functional, highlighting the diverse textures of the bed. The inner frame, the bedside shelves and the footboard are available in a choice of veneers.
The
Bentley Home Atelier
Palazzo Chiesa, Corso Venezia, n. 36, 20122
Milan
. Open to the public during Salone del Mobile: Monday 17 April - Sunday 23 April, 10.00am - 9.00pm. The Bentley Home Atelier is open to the public (by appointment) all year.
AVION LUXURY MAGAZINE
in digital version
DESTINATIONS Aruba, un viaggio ai Caraibi. HOTELS Un Bvlgari Hotel a Roma. JETS La serie Phenom 300 di Embraer - La cabina Executive di Bombardier. CARS Bugatti Chiron Profilée -1000 Miglia Experience UAE.
YACHTS Grande 26M di Azimut - Nautica e benessere con Arcadia. WATCHES Planetarium Dunes of Mars Limited Edition.