17 April 2020
Aston Martin New Home Collection 2020
Formitalia interpreters once again the design by Aston Martin to create a new, unique and contemporary home collection
Formitalia presented the new collection of furniture resulting from the collaboration with the luxury car brand Aston Martin. The firm partnership between the two brands allowed to create a new, unique, contemporary and timeless collection of furniture which reproduces the tradition and craftmanship of sporting cars by Aston Martin.
This year, the latest items focus on colour: details with bright shades blend with woods, metals and natural stones with magnificent elegance thus creating exclusive items which, at the same time, are perfectly harmonized. The full collection was impeccably hand made in Italy with luxury materials. Each item, offered in a wide range of colours, can involve and go along with all the senses.
Sofa V215. When the details make the difference...
Elegantly asymmetrical, the new sofa V215 by Aston Martin attracts not only for the elegance of its design, but also for the choice of different materials which are skilfully matched, able to convey the value of a contemporary and timeless luxury.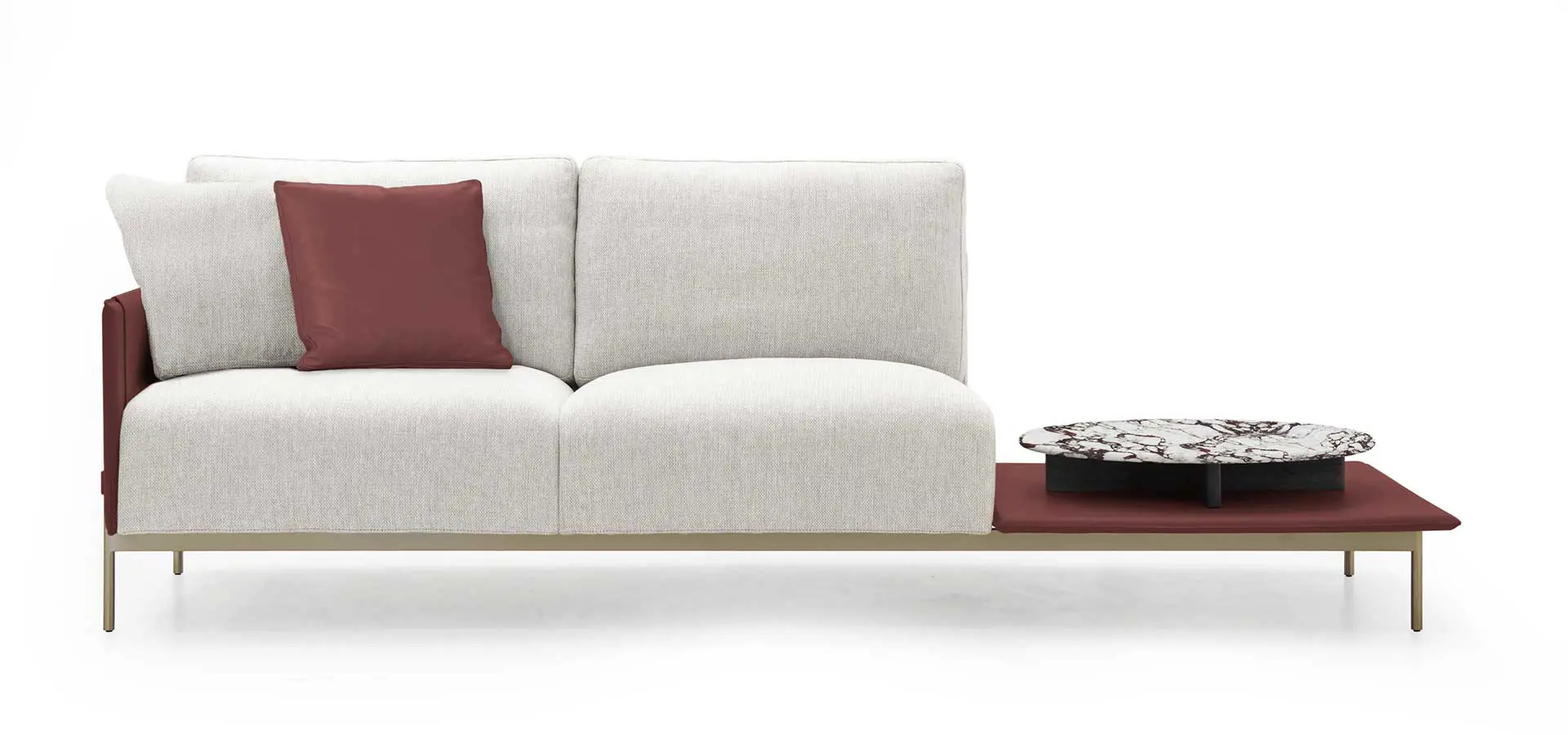 Sofa V215 by Aston Martin. Copyright © Formitalia Luxury Group / Aston Martin / Formitalia.
Characterized by a champagne coloured satin finished frame, it has a back, an armrest and a side top all upholstered in leather Cuoio in a warm burgundy shade, definitely contrasting with the pure white fabric upholstering of the padded parts. The model is completed by a useful and special tray made of Breccia Medicea marble emphasizing once again the care for details and for colour as a prevailing element of a neat and minimalistic design.
Sideboard V268. Wood, marble, metal, leather….
The new furniture TV V268 by Aston Martin embodies the will to be able to create unique and chromatic combinations which make the excellent quality of materials stand out together with the ability to skilfully blend elements whose natures are so different.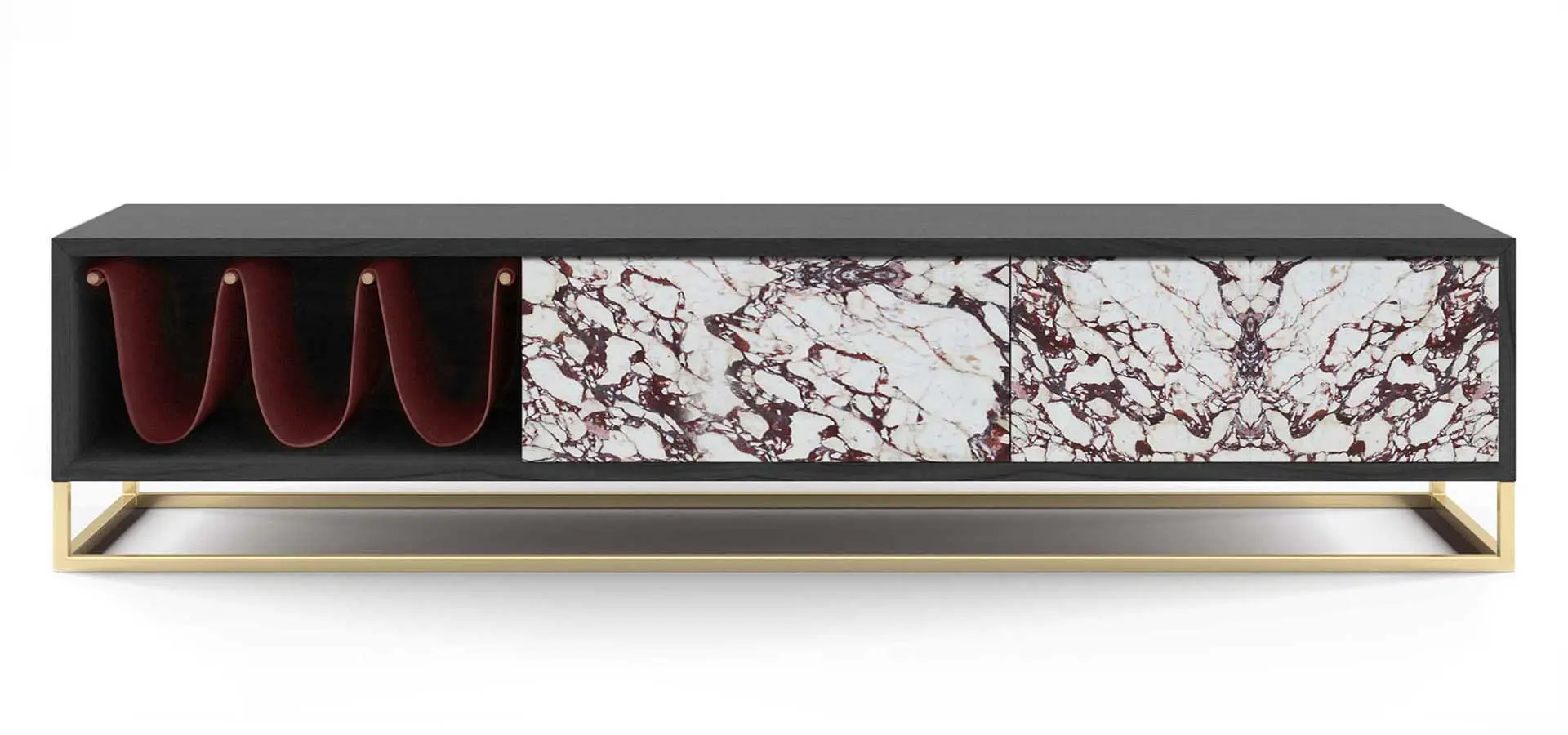 Furniture TV V268 by Aston Martin. Copyright © Formitalia Luxury Group / Aston Martin / Formitalia.
Characterized by a geometrically linear design, it has a wooden frame with an open pore mahogany finishing leaning on an open base made of champagne coloured satin-finished metal. It is equipped with three containing spaces; it is offered with two doors made of Breccia Medicea marble and with an open part and equipped with a magazine rack of Cuoio leather and a colour which is perfectly in tone with the marble veins.
Essential design embellished with original details also for the small armchair V221 by Aston Martin and the new small table V212: a very simple item which is distinguished by the charm of those details which do not go unnoticed.
Edited by Lisa Maria River
Text and photos: Press Office Formitalia Luxury Group
Copyright © Formitalia Luxury Group / Aston Martin / Formitalia
All rights reserved. Reproduction prohibited.
AVION LUXURY MAGAZINE
in digital version
DESTINATIONS Aruba, un viaggio ai Caraibi. HOTELS Un Bvlgari Hotel a Roma. JETS La serie Phenom 300 di Embraer - La cabina Executive di Bombardier. CARS Bugatti Chiron Profilée -1000 Miglia Experience UAE.
YACHTS Grande 26M di Azimut - Nautica e benessere con Arcadia. WATCHES Planetarium Dunes of Mars Limited Edition.