The airport of Mykonos is located 3 km east of the town of Mykonos. Mykonos Airport has been operating since 1971 and has a new Terminal with gates for domestic and international flights, lounges, duty free, shops and restaurants.
Fraport Greece is involved in the development of the Mykonos airport. The modernization of the airport is characterized by various redevelopments including: expansion of 3,450 m2 and renovation of the existing terminal; complete makeover of the runway; reconfiguration of the aircraft parking area; increase in the number of check-in desks; increase of gates at departures; increase in safety lanes; installation of a modern baggage handling system.
Fraport Greece operates 14 airports in Greece (eleven island airports plus three mainland airports across Greece) and has implemented a comprehensive plan for the modernization and development of the airports, transforming them significantly to improve the travel experience of travelers, responding at the same time as the expected increase in passenger traffic.
INFORMATION
Management company: Fraport Greece
Address: Mykonos Airport - Mykonos (Greece)
Telephone no.: +30 22890-79000
Website: www.jmk-airport.gr
TECHNICAL DATA
IATA Code: JMK
ICAO Code: LGMK
Country code: GR
Text by Alisè Vitri
Avion Tourism Magazine
Photos: Sisterscom.com /
Shutterstock
All rights reserved. Reproduction prohibited.
Copyright © Sisterscom.com
Flights departing and arriving from Mykonos
Find a flight to and from Mykonos

Transportation to/from the Mykonos airport
Bus
Bus service between the airport and Mykonos town (Chora) and other destinations (only during the summer season). The bus stop is located in front of the terminal building. Tickets can be purchased from the bus driver.
Car
Mykonos airport is a 10-minute drive from Mykonos town: about 3.5 km via the provincial Epar.Od. Mikonou.
Ornos, Psarrou, Platis Gialos are 3.5 km from the airport and the journey from the airport takes about 10-15 minutes.
Taxi
At the airport there is a taxi service to the city of Mykonos (Chora) and vice versa. Normally the fare from / to Mykonos-Airport is 15 Euros and the journey takes about 10-15 minutes.
Car hire
The car rental companies present at Mykonos airport are: Avance, Avis, Budget, Hertz and Sixt.
Destinations found in the vicinity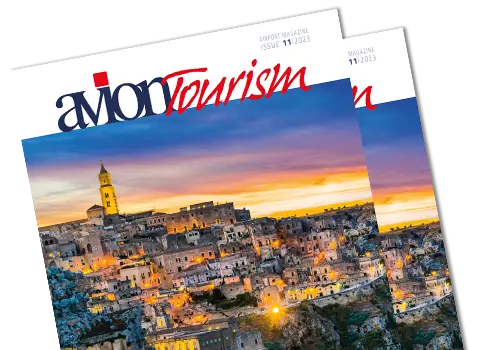 AVION TOURISM MAGAZINE
in digital version
On this issue: The World Heritage Sites of Basilicata and Puglia.