The Hammamet Airport was built from 2007 to 2009 in a record time of 823 days. Enfidha Airport is a new facility with a perfect location for holiday makers.
Located 100 km south of the capital
Tunis
, the airport is close to 80% of the Tunisian holiday resorts and cities like
Hammamet
. Connected to the main highway, Enfidha-Hammamet International Airport considerably reduces the access time from the airport to the resorts.

INFORMATION

TECHNICAL DATA
IATA Code: NBE
ICAO Code: DTNH
Country code: TN
Flights


Transport to/from the airport
Train
The city of Enfidha is served by rail transportation (Sncft) to/from the major cities and localities of the country.

Bus
The transportation company for the schedule of trips to/from the airport is Société de Transport du Sahel (STS). Buses depart to/from Enfidha and the airport.
Buses from/to
Hammamet
are managed by the Société de Transport Regionale de Nabeul (SRTN).

Car
Enfidha-Hammamet Airport is located 53 km from
Hammamet
. Journey time: 40 minutes via the A1.

Taxi
Touristic taxi services are available at the airport around the clock. Travelling by taxi to/from Enfidha-Hammamet Airport offers the flexible way of getting into the nearby touristic region.

Car hire
The car rental agencies at the airport (like Dine e Avis) offer a wide range of car makes and services and are located in the Arrivals Hall, on your hand right side after exiting from customs.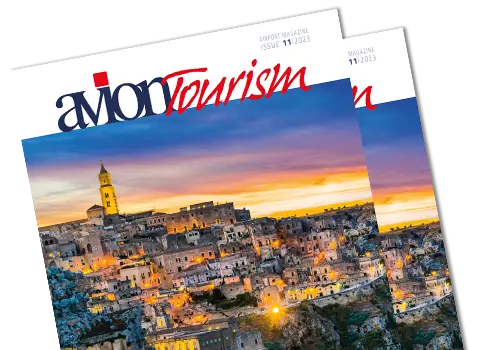 AVION TOURISM MAGAZINE
in digital version
On this issue: The World Heritage Sites of Basilicata and Puglia.