31 January 2023
The new Web App of Avion Tourism Magazine
The Html digital magazines, technological and sustainable, will also be available offline
On the occasion of the 20th anniversary of the magazine, Avion Tourism Magazine evolves into a new digital format that allows its content to be read both online and offline. The publication's history continues its digital HTML evolution through a Web App, to offer its readers a more technological, practical, and sustainable tool, accessible with or without Wi-Fi, anywhere and at any time: before, after, during the journey, and even in-flight.
In fact, starting from spring 2023, Avion Tourism Magazine readers will be able to download the offline version of their desired magazines onto their device in just a few seconds before the flight and read them offline, even aboard any airline.
The reading of Avion Tourism Magazine's HTML digital magazine requires an internet connection and can be done:
before departure,
at the airport while waiting for the flight,
upon arrival at the destination.
The new web app allows you to download the offline version of the magazine, with the possibility to read it aboard any airline (even if it does not have Wi-Fi on board).
Even the website user can consult the magazine on all devices: after downloading the magazine in offline mode, they can continue reading it anywhere without an internet connection.
Una novità che tutti i lettori, amanti del viaggio, apprezzeranno perchè avranno a disposizione un prodotto editoriale digitale, di pratica e facile lettura.
Un approccio multimediale ideale per tutti i viaggiatori, che amano spostarsi alla scoperta di nuove
destinazioni
,
transitando in diversi
aeroporti
e volando con differenti
compagnie aeree
.
A novelty that all readers, travel enthusiasts, will appreciate because they will have access to a digital editorial product, easy and practical to read.
An ideal multimedia approach for all travelers who love to explore new
destinations
, transit through different
airports
, and fly with different
airlines
.
Avion Tourism Magazine
accompanies you wherever you want to fly: with your imagination, when the idea of ​​vacation is just a desire, or during your travels around the world.
Edited by editorial staff, Avion Tourism Magazine
Photo visual: Copyright © Sisterscom.com / Depositphotos
---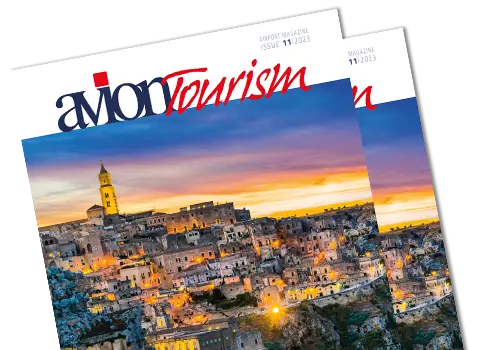 AVION TOURISM MAGAZINE
in digital version
On this issue: The World Heritage Sites of Basilicata and Puglia.