11 March 2020
Ukraine International adjusts schedule in response to Covid-19 further transmission
Variazioni su diverse rotte da/per Italia, Israele, Turchia, Regno Unito e Ucraina
In response to quarantine measures introduced by the Governments of some countries following the recommendations of the World Health Organization, Ukraine International adjusts flight schedule on several routes.
Italy

Passengers may
leave Italy on the UIA flights from
Rome
and
Milan
which will be operated mainly to bring
Ukrainians back home
.

Travelers that need to
travel from Venice
or any
other Italian city
to catch their
flight to Ukraine
are obliged to fill out a special declaration (info: https://www.enac.gov.it/sites/default/files/allegati/2020-Mar/modulo_autodichiarazione_Ministero_Interno_10.3.2020.pdf).
Israel

In response to the
new entry rules introduced by Israel
,
Ukraine International
has adjusted its
flight schedule of flights
connecting the
cities of Ukraine
and
Tel Aviv
.

Notably, within the period of March 12 – April 08, the airline will cancel flights between
Odesa
and
Tel Aviv
(except March 18 and 25) and
Dnipro
and
Tel Aviv
.

Kharkiv - Tel Aviv
flights
will not be operated between
March 15 and April 08
. UIA will continue to operate
Kiev - Tel Aviv
flights twice daily. Passengers from
Dnipro
-
Tel Aviv
flights will be offered an alternative option of traveling via
Kiev
.
Turkey

Until May 22, Ukraine International suspends its
Kiev - Izmir
. Passengers holding tickets for
flights to/from Izmir
will be offered to travel via
Istanbul
.

Flights between Odessa and Istanbul
will be
suspended until April 01
.
United Kingdom

From
March 13 through April 7
,
Ukraine International
will be operating
daily flights between Kiev and London
(
LGW
).
Ukraine Domestic

Domestic
flight schedule
will be adjusted as well. Until April 08,
UIA
will cut the second frequency of
flights between
Kiev
and
Kherson
,
Chernivtsi
,
Ivano-Frankivsk
,
Lviv
and
Zaporizhzhia
.
Passengers of all cancelled flights who have filled out their contact details while booking their tickets will be contacted proactively.
"In response to lower demand, many international carriers cut frequencies or suspended flights to some countries, – noted Evgeniya Satska, Ukraine International Communications Director. – Ukraine International is no exception. We stay attuned to our passengers' ever-increasing anxiety regarding trips to the regions under quarantine. Therefore, we adjust our schedule so that the demand for traveling by air is fully met and the safety of our passengers and crews is ensured."
To ensure health safety,
Ukraine International
will be performing complete
disinfection of all aircraft arriving from Italy
until
epidemiologic level
returns to normal. The airline will inform of any further decisions regarding schedule adjustments.
Edited by Alisè Vitri
Source text: Servizio stampa Ucraina International Airlines
Copyright © Sisterscom.com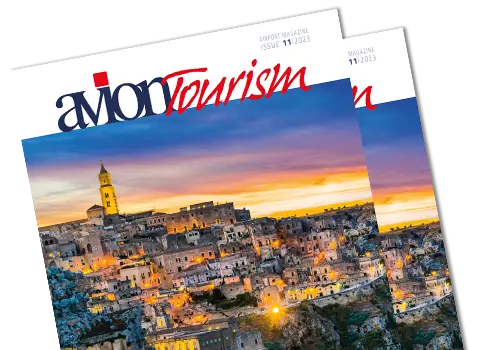 AVION TOURISM MAGAZINE
in digital version
On this issue: The World Heritage Sites of Basilicata and Puglia.