01 June 2023
New restaurants and shops to open at Helsinki Airport
Since April there are 17 new shops, restaurants and cafés: a reason to arrive earlier at the airport and enjoy the journey before the flight
The passenger experience at
Helsinki Airport
will be further improved as a record number of new restaurants, cafés and shops open at the airport. The airport's services are developed on the basis of trends and the wishes of passengers.
In total, 17 new restaurants and shops will open at Helsinki Airport during the summer and autumn. The new services will create about 170 new jobs at the airport. Approximately 3,000 square metres of additional retail space will be completed, which will expand the retail space in the terminal to 29,000 square metres. A total of ten new restaurants and cafés will open in the summer. These include the Bastard Burgers burger restaurant, Fafa's, which serves mostly vegetarian food, and the casual Toastery café. The legendary Oak Barrel will add plenty of seats and expand its menu during the summer, but otherwise the pub, which is a favourite of many passengers, will remain the same.
In the autumn of 2023, seven new shops will open. The shops include, for example, the eco shop Ruohonjuuri, Moomin Shop, Kankurin Tupa's year-round Christmas shop and the jewellery and design shop Via Minnet.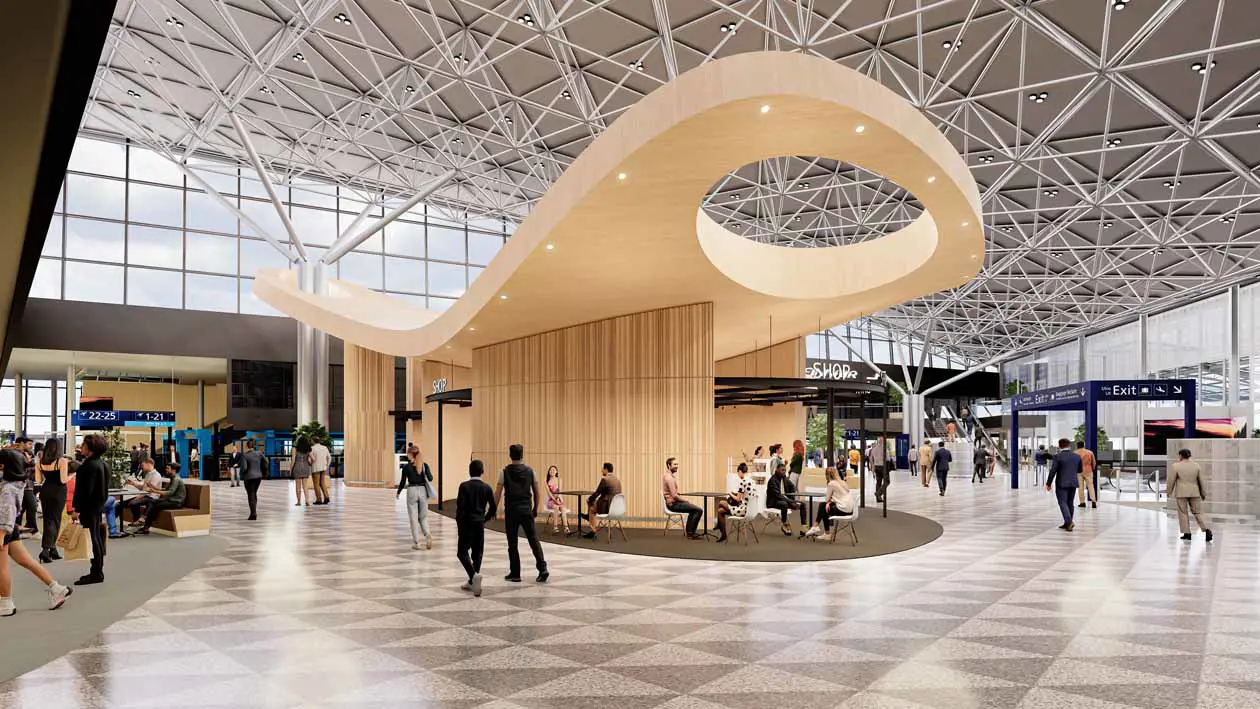 Helsinki Airport. Illustration pes architects. Copyright © Finavia.
Most of the restaurants and shops are located in the new and exciting service and meeting area, which is currently being built on the site of the former departures hall. Helsinki Airport's major service revamp and the completion of the service and meeting area will also be the culmination of Finavia's 10-year investment programme, which will end in the autumn.
Helsinki Airport's new restaurants, cafés and shops
Asian Kitchen, an Asian restaurant
Bastard Burgers, a burger restaurant
Fafa's, a Finnish mostly vegetarian restaurant
Souvenir shop Finspiration by Kankurin Tupa
Year-round Christmas shop by Kankurin Tupa
Kaffet Bakery, a café specialised in baked goods
Moomin Shop
Pala Pizza Bar, a pizzeria
Robert's Coffee, a Finnish café
Ruohonjuuri, an eco shop
Toastery Café & Bar, a Finnish café
Tori Kitchen & Café, a Finnish café
Relove, a second-hand shop
Subway 24/7, a sandwich restaurant
Starbucks, a café
Via Minnet, a jewellery and design shop
Boss & Ralph Lauren, a clothes shop.
"Now there is an even better reason to arrive at the airport early and enjoy the international atmosphere and Finnish experiences. The revamping of Helsinki Airport spotlights Finnish work and expertise, as the majority of the services to be opened are Finnish,"
says Nora Immonen, Finavia's VP and Director of the Commercial Services Business Unit at
Helsinki Airport
.
Edited by editorial staff, Avion Tourism Magazine
Text source and photos: Copyright © Finavia Press Office
Photos and illustration: Copyright © Illustration pes architects; Finavia.
Helsinki poto: Copyright © Sisterscom.com / Shutterstock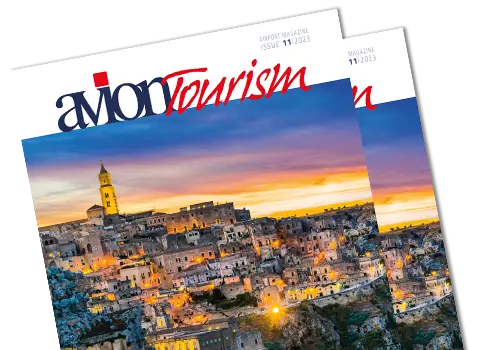 AVION TOURISM MAGAZINE
in digital version
On this issue: The World Heritage Sites of Basilicata and Puglia.