01 June 2023
Helsinki Airport's Food Hall wins Airport Food Hall of the Year 2023
The Food Hall at Helsinki Airport consists of six restaurants: Levant, Lopez y Lopez, TGM Asian Fusion, Pretty Boy Wingery, Bär Bar, and Richie's Gourmet Hot Dogs
"We are very pleased to see that Helsinki Airport's restaurants and services are recognized internationally. We have developed the food and beverage sector at Helsinki Airport, and this award shows we have been able to create a restaurant area that appeals to our passengers", says Director of Commercial Business Nora Immonen of Finavia.
"Food Hall creates opportunities to gather to enjoy a meal together in a shared seating area. We have put emphasis on fast customer service and a wide range of food and beverage products."
Finavia's Food Hall at
Helsinki Airport
has won the
Airport Food Hall of the Year award
at the international
Airport Food and Beverage and Hospitality Awards
. Finavia received the award in
Bangkok
on September 13th, 2023.
The Food Hall at Helsinki Airport consists of six restaurants: Levant, Lopez y Lopez, TGM Asian Fusion, Pretty Boy Wingery, Bär Bar, and Richie's Gourmet Hot Dogs. Food Hall brings international kitchens, authentic high-street flavours and popular Finnish restaurant concepts under one roof.
The global Airport Food and Beverage and Hospitality Awards (FAB Awards 2023) are organized annually. Finavia's Food Hall at Helsinki Airport won in the category Airport Food Hall of the Year. The criteria included the quality of the service, its suitability for passengers, its performance at the airport, the integration of technology, and the integrate of sustainable or environmentally friendly materials. The winner was selected by a jury.
Helsinki Airport
's Food Hall is located in the Arrivals hall
and it serves all customers visiting the airport, in addition to passengers. Food Hall is locally known as a popular lunch place, and meals from the restaurants can be ordered via the Wolt and Foodora delivery apps.
"Planning and building the restaurant area has been a special project for us at Finavia. We are proud to receive this award, and I want to thank all of our partners and the people behind the Food Hall restaurants for this success story we have achieved together", says Nora Immonen.
Edited by editorial staff, Avion Tourism Magazine
Text source and photos: Copyright © Finavia Press Office
Helsinki poto: Copyright © Sisterscom.com / Shutterstock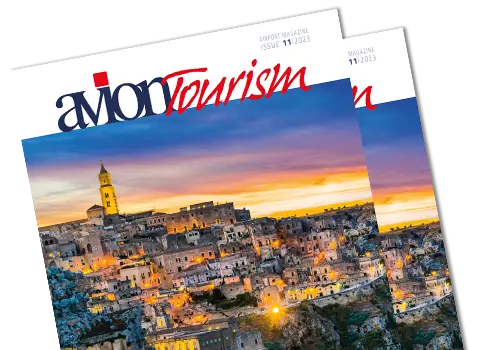 AVION TOURISM MAGAZINE
in digital version
On this issue: The World Heritage Sites of Basilicata and Puglia.